10 Unique Guest Book Design Ideas for your Wedding
The wedding function is almost like a blink and miss, and before you know it you are hitched for life! If there is anything that remains forever, it is the everlasting memories!
Although your wedding films, videos and album document all the happy, emotional, embarrassing and funny moments of your wedding affair, what it does not document is the emotions of all those present at your wedding. Other than the couple and their close friends and family, it is quite a possibility that you hardly meet some guests who attended your wedding. So, what better idea than to preserve or capture their feelings at that very moment?
Here are some innovative ways in which you could ask your guestlist to jot down their feelings and you can over them whenever you like:
1. Ask your guests to sign on pieces of a jigsaw puzzle.
After your wedding, you can assemble the pieces and read out messages written on each one.
2. A simple and personalized idea- Get an oversized alphabet (preferable the first letter of your's/your partner's name) and ask your guests to write down a special message for you.
3. Big pebbles with messages written on them, all stored in a big jar. This guestbook can double up as a great decorative element in your house.
4. You could also experiment with something a tad bit more exciting like asking your guest to mark and sign a place on the map, indicating where they have come from.
5. Buy a large bottle of your favourite wine and ask your guests to write messages all over it. Even after the wine is over, you can keep the bottle.
6. How about these Jenga blocks rather than the pieces of paper!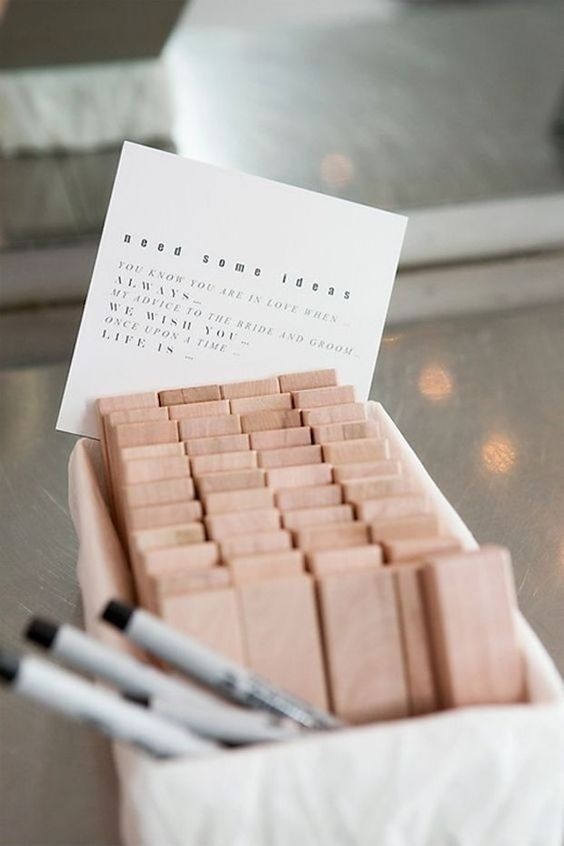 7. Get your guest to snap themselves and stick the pictures immediately in the scrapbook.
Image source: Paper Bound Love
8. Such an innovative idea, isn't it? This way you won't be restricting your guests and they can speak for as long as they want.
9. Square patches sewed together to make a rug, bedsheet or duvet; having messages from all your guests- isn't this a brilliant idea?
10. The guests can help you create an adventurous bucket list, and you can take your own sweet time to complete it!
Are you all set to let your guests have some fun?
Images source: Pinterest (unless specified)