10+ Ways To Personalise Your Wedding Lehenga!
Always wanted to stand out from the sea of brides who wore the same old heavy and gorgeous lehengas? Well, then you are at the right place. We have zeroed down on some of the coolest ways to personalize your wedding lehengas and make it totally yours.
We at weddingz.in are all suckers for love stories and when it's said in a never-done-before and the most interesting way, it just melts our hearts. Here are some real brides who found some really stunning ways to tell their love-journeys through their wedding lehengas:
1. With love notes on the lehenga:
This is one gorgeous lehenga skirt by Kresha Bajaj, but the highlight of this lehenga is the story behind it!
If you look closer into the border of the skirt, you will notice something written on it. These are the love poems from the groom to his to-be wife which have been embroidered onto each kali, while roses intertwined with their names go up the lehenga into vines. The hem is finished off with a starry night skyline of their favorite city – New york!
2. With the couple's favourite city's skyline:
This lehenga's border consists of the skyline of Singapore (where the couple first met). Also, there are hidden roses, embroidered names and some more of the couple's special moments in the lehenga skirt!
What makes it the most special is that the dupatta's entire hem is embroidered with a love letter from the groom to his bride.
3. With the couple's special moments on it:
Samantha Ruth Prabhu's wedding was quite the talk of the town and her wedding lehenga made headlines by itself. Each piece of the lehenga was crafted using a combination of zari and zardozi embroidery techniques and personalized to incorporate milestones and special details of the couple's love story!
4. With the full baraat procession:
This lehenga has the bride and groom's names embroidered on it with the whole baraat procession too making it entirely one-of-a-kind!
5. With a customised blouse:
Image Source – Colour Frames
It's really hard to take our eyes off this quirky blouse and we love how the bride has personalized it.  
6. With the engagement picture:
What a fabulous idea! Don't u think?
7. With the proposal etched in it:
Including your wedding proposal, which can be as simple as an embroidery of your hands intertwined with each other, the wedding ring being the highlight of it!
8. With the couple's names on it:
Another brilliant way of customising your wedding lehenga is to get your names written on the wedding outfit.
Image Source – Stories By Joseph Radhik
This one is a slight exception to the list, but we couldn't help ourselves from including it. Here the bride went a step ahead and personalised the ring bearer's tulle frock with the couple's name in the hem! *so damn cute*
9. With the love story embroidered on it:
This one is another stunner in the personalized lehenga category. The lehenga features a beautiful London-meets-Mumbai love story with elements of London and Mumbai's skyline embroidered on it. This couple who met in a Spanish class, had scenes from their proposal and Christmas in London embroidered into the lehenga along with the words 'Enamorado Siempre' which mean 'Forever in Love' in Spanish. *how cute*
10. With the 7 vows:
Image Source – Photo Phactory
Yes, this is one creative bride! She got the 7 vows of a marriage etched onto her wedding lehenga skirt and looked stunning!
11. With your wedding date on the outfit:
12. With the couple's journey: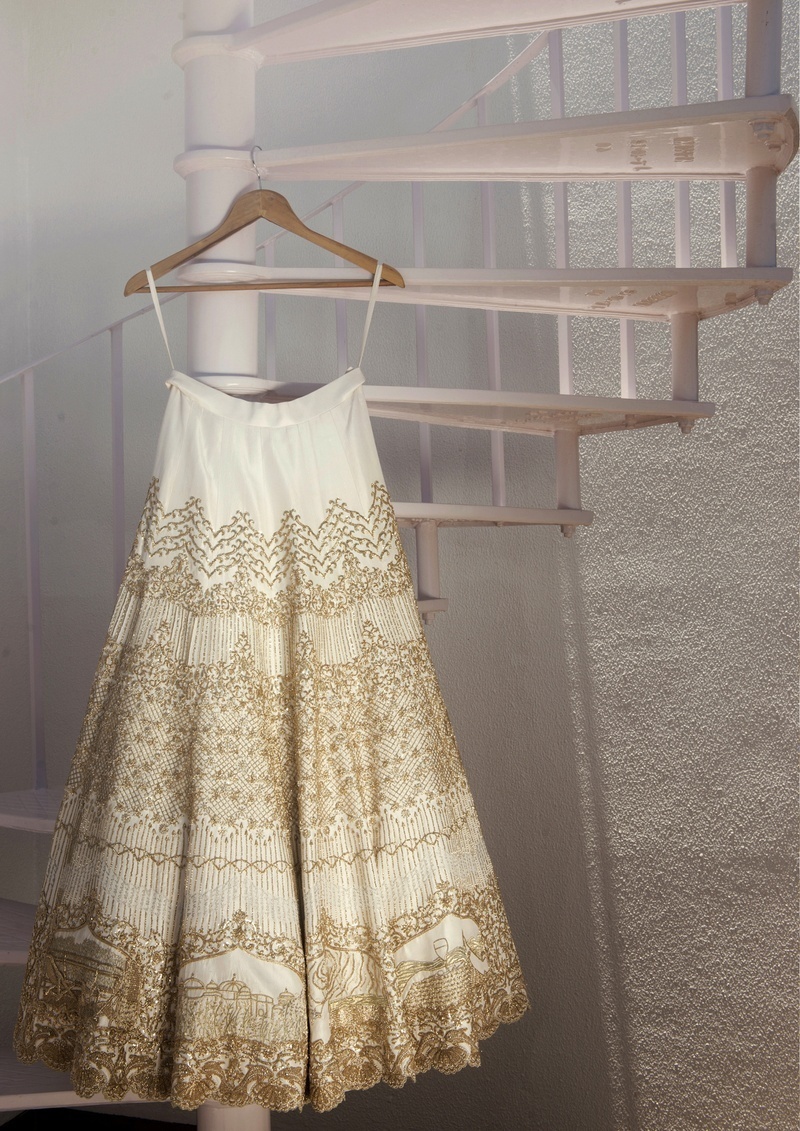 This is where it all began! This lehenga as we see now is the first personalized lehenga Kresha Bajaj designed and it was for taking her own wedding vows. She has embroidered her entire journey as a couple on the wedding lehenga and it looked fabulous.
13. With personalized latkans:
Image Source – Plush Affairs
How about telling your love story through tassels or latkans on your lehenga? We say go for it. Add your hashtag, your wedding date or just your names to the latkans and see you bridal lehenga stand out!
So which one is your favorite way to personalize your bridal lehenga? We say anything that showcases your love story in the best possible way is worth going for!