10 Wedding ceremonies which saw the most scintillating nature-themed decor ideas!
When it comes to wedding decor, Indian weddings have seen a flood of new ideas and themes. Most of them have left us swooning over their uniqueness, creativity and unconventional approach! Whether it is a nautical-themed chic wedding or a hatke Bollywood one, every theme has its own flavour and effect. However, one theme which has started grabbing a lot of attention at weddings is the nature-themed decor.
The enviable decor revolves around ferns, foliage, greenery, flowers and baskets, which add a rustic vibe to the wedding. This decor has managed to become a rage; owing to the rejuvenating vibes and the freshness it oozes. From table centerpieces, to mandap backdrops and from ceiling hangings to photo booths- this decor can transform every ordinary facet of your wedding decor and make it awe-inspiring!!
Here's me listing some of the most scintillating nature-themed decor ideas which I came across:
1. Backdrop with flower baskets
Image source: With Love, Nilma
Totally swooning over this backdrop made up of can baskets, filled with vibrant flowers and foliage.
2. Stage made-up of flowers and foliage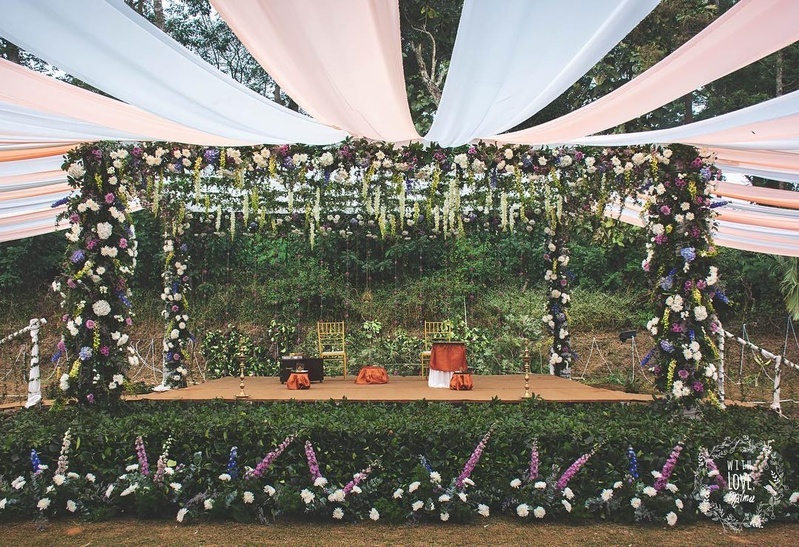 Image source: With Love, Nilma
Love the way the colours of the flowers and the drapes are coordinated. Also, the cascading foliage steals the show!!
3. Vibrant nature-themed decor
Image source: DotDusk
This decoration looks straight out of a fairy tale! Seating arrangement surrounded by bright coloured flowers and lush greenery, along with a floral wreath as the backdrop. Not to miss beauuuutiful butterflies, adding colour to the decor!
4. Simplistic nature-themed seating
Image source: Atisuto
This minimalistic reception seating arrangement, surrounded by peppy-coloured flowers and foliage is a treat to the eyes!
5. All-floral wedding mandap
Image source: Saurabh Rungta Photography
The nature-inspired mandap with pretty pink flowers and cascading foliage from the ceiling of the mandap is stunning, rustic decor idea.
6. Cascading baskets
Image source: Devika Narain & Co.
An uber-cool and chic, casual seating arrangement with cascading cane baskets is a great pick for a daytime function, where you want to keep it rather minimalistic and understated.
7. Nature-themed dinner setting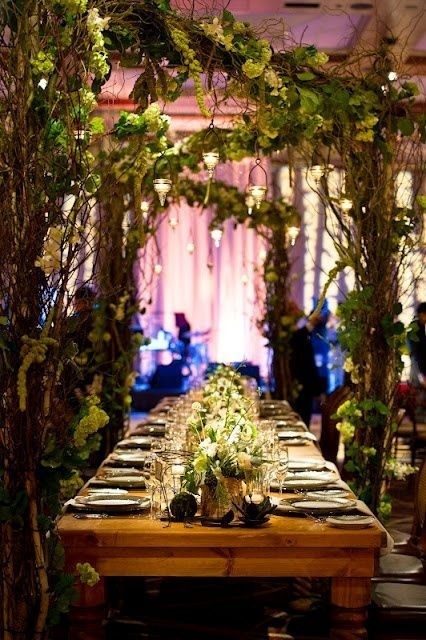 Image source: Edmonton weddings
If you are planning to have a cosy sit-down reception, post your wedding ceremony, this is one way you can add a rustic vibe to the entire decor. 
8. Bar area with greens
Image source: The Wedding Designers
The bar area decorated with gobs of foliage, greens and dainty crystal chandeliers is an elegant and classy decor idea!
9. Nature-themed engagement ceremony
Image source: The A-3 project
I am totally drooling over the decor of this engagement ceremony! It has left me completely dumbfounded. Greens exploding from upturned cane baskets, bright flowers all-green backdrops make this an enviable nature-themed decor!
10. Nature-themed photo booth
Image source: Aash Studio
An ever-simple yet breathtaking photo booth idea is a great pick for if you are planning an all-green wedding!
Are you all set to have a rustic nature-themed wedding?