10 Wedding Signage Ideas to Jazz up Your Wedding
Wedding signages have become a common element in the wedding decor. The signages not only add a charm to your decor but also comes handy in guiding guests.
From papers, cardboard, wooden slates, acrylics to LED sign boards, you can use any of these to add personality to your party. Here are 10 amazing signage ideas that you can use in your wedding decor.
1. Love you to the moon and back! 
We spotted this beautiful LED signage at the cocktail counter and we love it to the moon and back! This kind of quote signage is perfect for sangeet and reception evenings.
2. With sandy toes and salty kisses…the couple becomes Mr. and Mrs. 
Image Source: Hartman Outdoor Photography
This beautifully painted beach wedding signage with the bride and groom's squad name is just perfect. It fits right in with the beach wedding theme too. I am zeroing it in!
3. A signboard blocking the way to the aisle
This adorable wooden telltale signage tied with ribbons is absolutely delightful. The signage reads "this is how our story begins" marks the beginning of a beautiful journey.
4. For a fairytale love story
Customize the signboards and share your love story with your guest. How you two met, the milestones achieved and memories made! Use some of your photos to add a charm to these signboards.
5. A welcome and ceremony program signage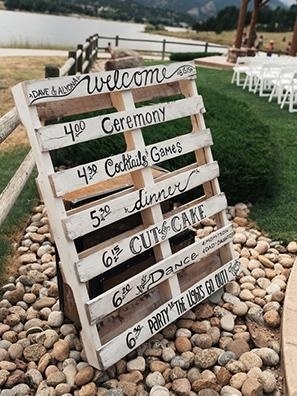 Rustic and informative, this wooden signage will surely steal the show at your wedding! 
It is perfect for an outdoor wedding.
6. Terrarium welcome signage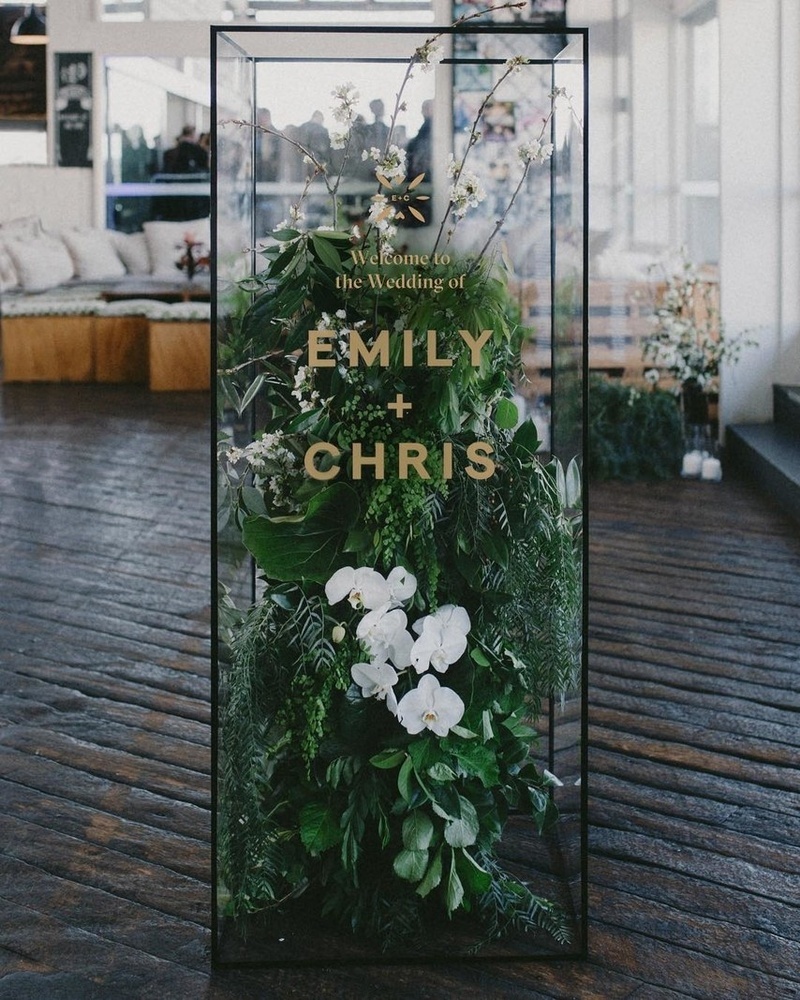 Welcome your guests with this minimalist signage installation at your wedding. 
7. Till death do us PARTY
Add some celebratory feel to your wedding with this quirky after-party signage.
P.S. it would be perfect for your sangeet or reception after-party.
8. Help your guests with parking!
This wedding would have won the best signage award because of this amazing and the most creative parking signage that helps the guests to find their parking spot in the lot.
9. The unplugged wedding signage 
Planning on staying off the grid in the era of Instagram? Great Idea!
Here's what you can do: Notify your guests on the invitation of your unplugged wedding. Then put up signage with the details on the day of the wedding. It's a great idea, isn't it?
10. Crazy in love!
"Got me looking so crazy right now, your love's got me looking so crazy right now" This song is stuck in my head after seeing this signage. It's perfect for an engagement party or your reception, don't you think?
Which one did you like the most?