11 Favour Ideas for Indian Winter Weddings That Your Guests Will Love. #WinterWeddingSeries
With all the wedding decor planning, selecting the perfect lehenga, arranging the yummiest foods, your minds may get jammed by the time it comes to thinking about favours for your guests. Especially when you really don't want to stick with the standard mithai ka dabba. Well, luckily, we've already done the thinking and jotted down a list of favours that would suit an Indian winter wedding the best. Well, it may not slip below freezing in India but it still could get prettyyy cold so, so the ideal wedding favour would be something that helps fight the chilly weather and keep your guests warm – during the wedding or after it, that's something you can decide. Most of these favour ideas work well for both!
Check out our WinterWeddingSeries for all you need to know on winter weddings! Fashion, colour themes, décor, cocktails, cakes and more included.
 
CANDLES
Candle double up as something pretty and something warm at the same time! In this new-age world that we live in, we don't really use candles for their functional purpose all that much but they certainly do add a beautiful touch to anything. Give them out fun sizes and cute packaging!
LIP BALM
Winter weather is synonymous to chapped lips and nobody likes those. Hand out lip-balms or chapsticks to help your guests avoid those. You could pick out specific flavours to match your wedding theme as well. Once again, cute packaging goes a long way!
GINGERBREAD COOKIES
Ginger definitely boosts your body heat so delicious gingerbread cookies are a fun and yummy way to get to that goal. Have them decorated in Mehndi designs for an Indian feel!
BRANDY
One shot of this would warm you up through and through from the insides! You might just have those old college roommates sneaking away a few though.
SHAWLS / BLANKETS
Most of your girlfriends are going to show up in sexy backless blouses or swanky cocktail dresses that may result in them shivering the night away! Because fashion before comfort is the motto, right. This is where you swoop in and save their freezing bones by handing out shawls! They'll be counting you in their prayers.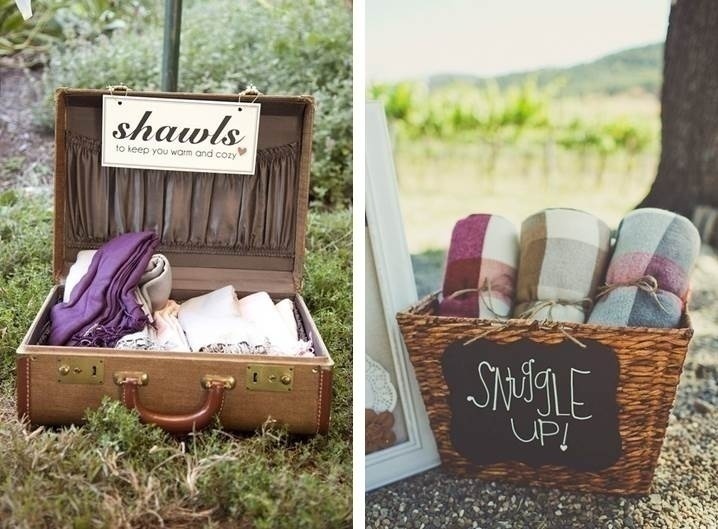 HOT CHOCOLATE
One sip of sinful dark hot chocolate with a few marshmallows is all you need to reach paradise on a cold winter's night. Make sure they're packaged well though! Since it would be Christmas season anyway, you could hand out hot chocolate mixtures in Christmas tree ornaments. A few other options are decorated jars and cones. For an adult touch to it, give it away with a mini-bottle of Baileys whiskey attached! Any other kind of whiskey would work just fine, though.
SOCKS / MITTENS / GLOVES
Once again, life-savers in those cold Delhi winters! A little work, but you could engrave your wedded initials or wedding hashtag on the inside of the item for a nice touch.
WINTER THEMED MACARONS
Everybody loves sweet treats! And macarons are just perfect for decorating into any shape, any design and any colour. Try out some snowman patterns or frosted decorations!
WINTER LOTIONS
Winter weather = dry skin. We all know that. So laying out a bunch sweet-smelling, moisturizing lotions could really help! Lay out products with cocoa or Shea butter for really keeping away that flaky skin.
SOUP
Hot soup is perfect for the cold. Home-made would be the best! But if you think that's too much work, just ask your caterer to do the job.  Package them in convenient jars for your guests to take home. If you're worried about leakages or improper packaging, you could just pack soup mixes instead, though it would take away the authenticity of it. 
Spicy tomato soup works the best!
SPICES
Every Auntyji at your wedding is definitely going to love you for this thoughtful addition to her kitchen collection!
Click here for more unique favour ideas!
Image creds: pinterest.com; bridalguide.com