12 Earth Toned Wedding Outfits For The Modern Groom
Earthy tones range from the darkest browns to a beautiful olive green. It embraces the colours that are present naturally in the environment. These make for great palettes for wedding clothes – for both brides and grooms. Using these tones for your wedding attire or for the decor at your wedding will help you embrace a more sophisticated and elegant style. Here are a few looks that we think you should consider for your groom's attire. 
The Grey Palette
Grey is predominantly a colour you should consider while picking your wedding attire. They range from lightest shade to a dark rock like shade. The best part of picking a grey suit for your big day is that it blends in well with almost all colours. Adding tiny splashes of colour to your suit or sherwani by using colourful ties, dupattas and beautiful floral boutonnieres will bring your outfit to life. It looks royal, classy and elegant, everything you would want on your special day. 
1)A Grey Suit For A Winter Wedding
Image Source: DukeImages
The grey contrasts with the bride's orange saree making her radiant and gorgeous. It also works well for the cold winter morning. The blue turban adds a splash of colour to the ensemble. 
2) A Grey Suit with a Floral Boutonniere
Image Source: TheEveryLastDetail
The Orange boutonniere with the brown bow tie, which are both earthy tones, work in harmony for this groom. 
3) As Long As I've Got My Grey Suit And Tie
Image Source: Found
Adding a bow tie to this look is a great touch. The polka dots bring out the dapper in this groom
4) A Grey Suit With A Ray Of Sunshine
Image Source: WeddingGawker
Using yellow ties for groomsmen gives a warm, welcoming summery feeling. 
5)  A Grey Sherwani With A Pink Dupatta
Image Source: Bargello
The sherwani itself stands out among the rest. With its subtle tones, the pink dupatta is an amazing way of adding a touch of colour to the outfit.
The Brown Palette
Browns are great colours to choose especially for destination weddings. They are subtle, offering the groom a more modern look while also keeping in mind the serenity of the wedding.
Using around earth tones like olive green and a dusky yellow is a great way to incorporate them into your outfits as well as the decor.
6) A Brown Velvet Suit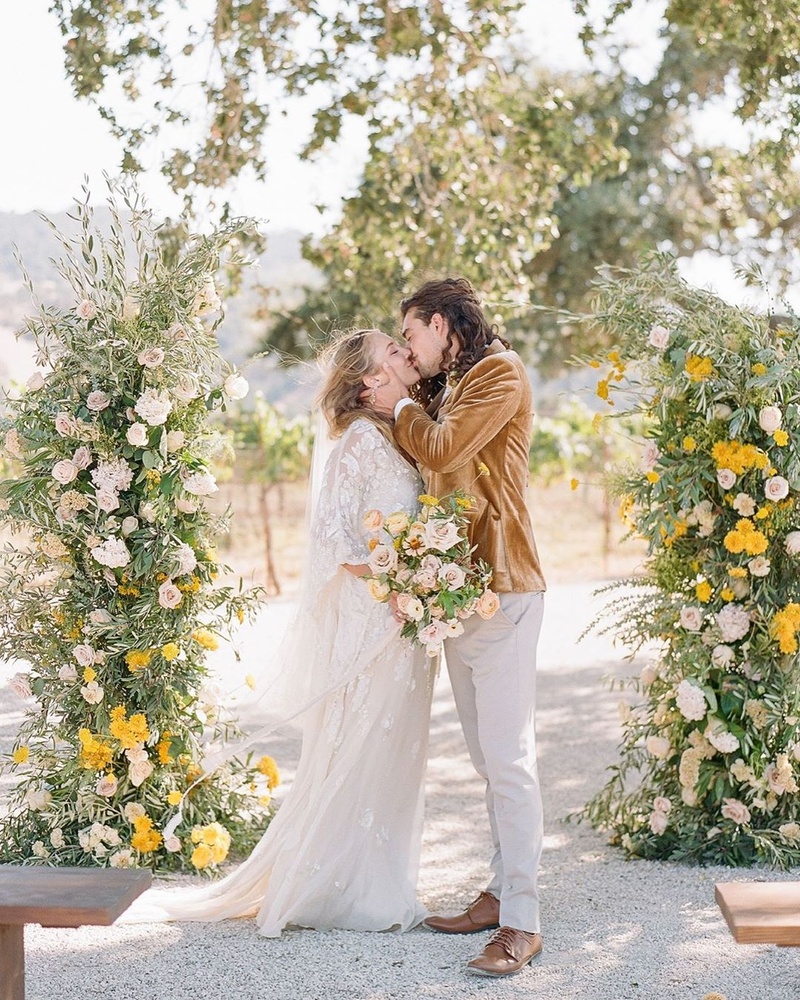 Image Source: JanineLicare
This ensemble is perfect for your outdoor white wedding.
7) A Brown English Suit
Image Source: EmpireDuMarie
Though this may look like a costume out of a movie, it adds a touch of grace and tradition to the wedding look.
The Green Palette
Green is known as the colour of life – the green grass, the green mountains, etc. So it certainly fits into the earth tone palette of colours. Green is also a colour of royalty. Use this colour along with shades of brown, white or dark dusky pinks for a more refined look.
8) An Olive Green Sherwani
Image Source: theUnstitchd
Twinning with your partner on your big day especially in green and ivory is most definitely Elite couple goals.
9) A Green Dupatta On A White Sherwani
Image Source: Janine Licare
This loosely draped shawl with a gold border connects the bridal ensemble making them look royal and oh so in love!
The Warm Palette
These shades consist of dull yellows, oranges and dark reds. They may not seem like a good fit, but once you try it out there's no going back.
10) A Burnt Orange Suit
Image Source: HappyWedd
This colour works well with the groom and the ambience of the wedding. They've picked a natural setting and the orange suit makes our groom look classy, stylish and modern.
11) An Orange Elegant Sherwani
Image Source: Utsavfashion
Gorgeous and elegant with a touch of tradition, the orange sherwani is a great pick for any modern groom.
12) A Maroon Suit
Image Source: DotDusk
Maroon is a great colour to pick especially for sherwanis. Here the groom has picked a maroon suit and paired it with beige pants and a light blue shirt. This is the perfect look for any beachside destination wedding.
Embrace the planet you live on and pick your favourite palette for a handsome wedding look.