12 Gorgeous diamond necklace for your wedding reception!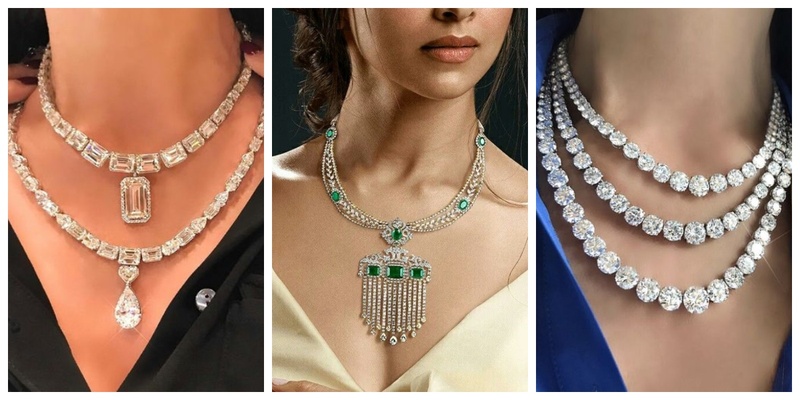 Your reception is the last soirée of your wedding celebration and that would be your first appearance as a married couple. And,  it's okay to be a bit picky about your wedding outfits.
It's time to embrace the best trendy hairdo, makeup, a classy and elegant outfit and not to forget jewellery; which is the most important aspect of your entire reception look. And with the changing trends, brides look for something that matches their personality.
We have curated a few beautiful diamond necklaces and jewellery sets for you, take a look.
1. Piggy chops wore this stunning diamond necklace at her Mumbai reception. It literally left us floored.
2. Deepika Padukone wore this beautiful Tanishq Diamond set graced with emerald.
Image Source: Tanishq
It will look absolutely graceful with a V-neck gown.
3. Simple yet so elegant by Tanishq
Image Source: Tanishq
Receptions speak of elegance and simplicity. And this not-so-loud necklace would be perfect for the last bash of your wedding celebrations.
4. Interconneted hoops
Image Source: Vidhi and Tushar
This elegant polki set epitomizes the feminine facet of your persona.
5. Dainty princess necklace
Image Source: Jai Girard Photography
It's your triumphant moment and this dainty necklace will be perfect for your reception.
6. Setting ablaze trails of grace and beauty!
Image Source: Pinterest
This beautiful necklace is oozing artistic grace and mesmerizing charm. Surely a perfect pick for your reception.
7.  For a sparkling soiree
Image Source: The Diamond Girl
Be the heartbeat of your evening with such a dazzling necklace.
8. Let your jewellery do the talking
Image Source: Pinterest
Dazzle your significant other as you celebrate your love story!
9. The contemporary diamond
Image Source: The Diamond Girl
10. A necklace fit for a queen
Image Source: The Diamond Girl
11. The necklace boasting off interconnected gold spirals studded with diamonds.
Image Source: Pinterest
12. This dainty diamond necklace with an emerald placed at the heart of it will perfectly compliment your reception gown as well as your lehenga.
Image Source: Pinterest
So which diamond store are you heading out to?