12 Mandaps which are so gorgeous, they look straight out of a fairytale wedding!
When it comes to writing anything related to wedding decor, my eyes automatically light up with happiness and excitement. If you were to ask me why, my answer would be because wedding decor is something I simply cannot get enough of and I am pretty much sure neither can y'all!
Indian weddings are filled with oodles of decor ideas to pick and choose from. One integral part of Indian weddings is the mandap- under which the bride and groom tie the knot! In terms of decor, these mandaps have come a long way. From floating mandaps to the simplistic ones at the beach and from opulent floral mandaps to minimalistic rustic ones- there is no limit to the kind of creativity infused in this element of decor!
Here's me listing the most gorgeous mandaps I came across and trust me when I say gear up yourselves to handle these pieces of sheer beauty:
1. Chic and vibrant floral mandap with pastel hues, large peacock motifs on the pillars and a subtle seating arrangement!
Image source: Weddings by Vivaah
2. A pretty mandap with white drapes and vibrant flowers! Perfect for a classy afternoon affair.
Image source: Weddings by Vivaah
3. How about this stunning, ornate dome, decorated with beautiful  flowers and foliage?
Image source: Anand Gorasia
4. This opulent mandap decoraated with cascading exootic flowers, surrounded by delicate lavender lanterns and a rather casual baithak arrangement is a must-see!
Decor by: Altair Decor
Image source: The Wedding Salad
5. Anita Dongre's son had one of the best wedding mandaps, I spotted this season!! It had pretty powder blue drapes and a messy arrangement of flowers and foliage, giving a rustic feel!
Image source: Mazda Studios
6. Simplistic white drapes and a whole lot of pastel coloured flowers- this mandap is the perfect choice for a classy afternoon wedding!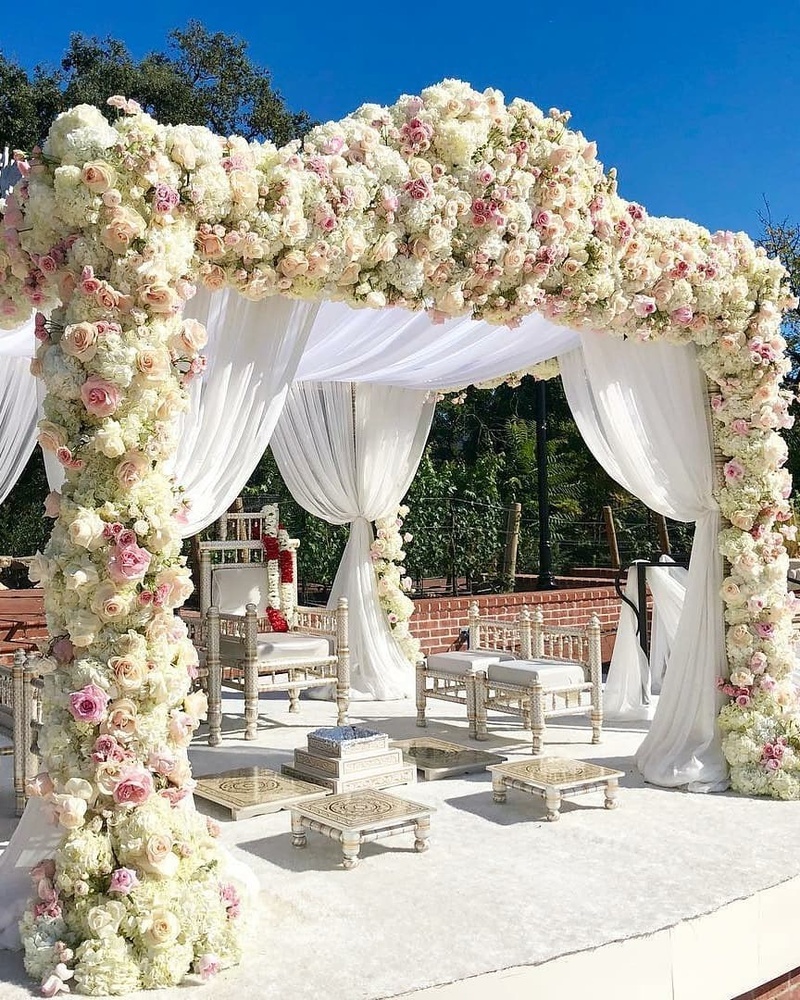 Image source: Flowers by Edgar
7. How about this floating mandap with rustic decor surrounded by lotuses and leaves floating on water?
Image source: Hitched & Clicked
8. Lush baby pink drapes, covered with a crown of vibrant flowers- elegant yet breathtaking!!
Image source: Jerome Tso Photography
9. A mandap which is so opulent you cannot get enough of it!! Humongous cascading floral chandeliers, pretty tiny lights and a crystal chandelier in the centre.
Image source: DreamzKrraft Weddings
10. This beach mandap setup is a beautiful, rustic and super simplistic!
Image source: Pinterest
11. I am totes in love with this all-floral, absolutely gorgeous beach-side mandap!
Image source: Vows and Tales
12. Suuuuper pretty pastel-hued flowers, pink drapes and comfy seating!
Image source: I Do Etc
All set to have an unmatched mandap setup at your shaadi?