12 Veil Designs For The Modern Bride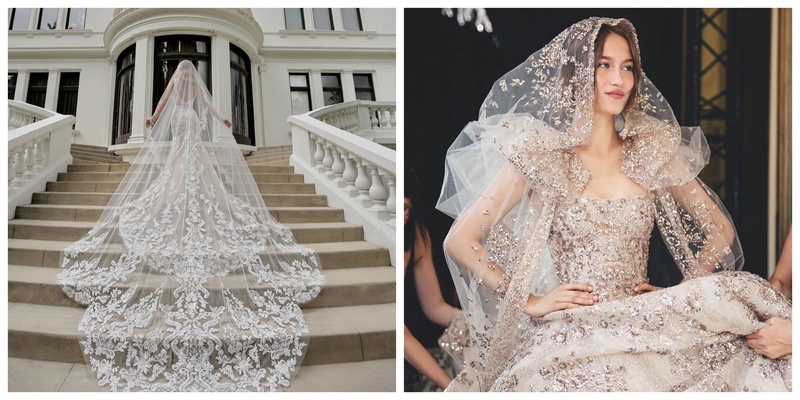 The veil is a big part of the Catholic wedding attire, that has been passed through generations and through many different cultures. It is believed that the veil protects the bride from any type of bad luck and wards off all the evil that might harm the bride. So we've looked for veils that have added a modern touch to the traditional wedding attire. You may want to incorporate some of these in your wedding ensemble because they are beautiful.
1) The Middle-Eastern Bridal Veil
Image Source: Greenweddingshoes
Inspired by the middle-east this veil is a beautiful fusion of traditional and modern wedding attire. This is the perfect veil for those brides dare to be different and embrace a more SoHo style. 
2) The Broad Lace Bordered Veil
Image Source: twigsandhoney
This veil in this light peach colour is great for the blushing bride. With a bold headband and stand out earrings, the bride looks stunning. She has opted for a fresh makeup look to add to her modern wedding ensemble. 
3) The Personalized Engraved Veil
Image Source: Jeanneandco
This bride has embraced her love for DIY tutorials and used her favourite quote on her wedding veil. This is a great way to personalize your outfit and create a unique piece for you. 
4) The Spray Of Lace Flowers Veil
Image Source: somethingbluelb
This intricately designed veil with a simple bun gives the bride a royal as well as a classic feeling. The spray of flowers is great for any spring wedding. 
5) The Bedazzled Veil
Image Source: Luxury_bridal_
This beaded veil along with a jewelled tiara will leave you feeling like a princess. Add a touch of colour with a range of beads or go all white for that classic look. 
6) The Pearl Veil
Image Source: Twigsandhoney
Pearls are perfect for the classic bride. You need not wear it as jewellery but can use it to decorate your veil for a modern twist on a classic traditional accessory.
7) The Floral Cinderella Veil
Image Source: Clairepettibone
This fairytale veil will make you feel like you are walking on a bed of roses. Incorporating earth tones in along with white will make your wedding a story of its own.
8) The Classic Polka Dotted Veil
Image Source: thecurator.nz
Polka dots were famous in the '80s but why not bring back the fun? This veil uses polka dots to add a twist to the traditional wedding veil.
9) The Classic Church Veil With A Lace Border
Image Source: Clairepettibone
This western religious veil though normally worn for rituals and ceremonies will make your ensemble stand out. Picking a colour other than white for your wedding day is a great way of breaking traditions while not straying too far away.
10) The Less Lace, More Net Veil
Image Source: Peterlangner
Plain net is a style that will never go out of style. With minimal lace, this veil will give you a modern look for the traditional bride. 
11) The Classic Trail Veil
Image Source: Laviamordesign
A gorgeous veil that follows you is every bride's dream. This is net and lace veil will steal the show as you walk down the aisle. 
12) The Hooded Veil
Image Source: glimpseofheavenaustralia
This hooded masterpiece is a modern twist on the age-old Red Riding Hood story. The beads on the hood make the net look glamorous and gorgeous.
So pick the best veil for you to protect you on your wedding day.