13 Top Makeup Brands for Brides Used By Professional Makeup Artists (Psst! – Our Favourite Picks Included)
Besides the décor, food and couture, the brides, oh the brides get super anxious when it comes to makeup. Well ladies, just a heads up, if you think you're everyday primer or eye shades or lipstick is going to make you look drop dead gorgeous on your D-Day.  Sunshine, it's time to wake up and smell the coffee!
Weddings are not the time when you pick out your everyday makeup to deck and look flawless. While you may think this is the safest and cheapest option to cut down your overall budget, lovelies this is an extremely bad or rather worse thought that could ever cross your mind.
Hiring a professional makeup artist is the way to go if you want to achieve a photo-ready look. Professional artists use top makeup brands for brides like MAC, Bobbi Brown, Christian Dior and techniques like HD and airbrush to give you a celebrity look on your wedding day, which is why they charge you a bomb. But some of these are happy to accommodate the brands you have and want to use on your skin, which in a way could considerably cut the overall package cost. And, if you closely observe on how they apply it on your skin, you get to use you own products later on for a friend's mehndi, sangeet or cocktail parties. It's a win-win situation!
So here are the top makeup brands for brides and affordable alternatives you could begin to hunt and stock right away until your D-Day.   
Note on Price Range:
High: Product pricing starting from Rs. 1500/-
Medium: Products pricing starting from Rs. 1000/-
Low: Products pricing starting from Rs. 500/-
Lakmé
Most of us have started our makeup application journey through Lakmé. One of the oldest and most trusted cosmetic brands for brides in India has been beautifying women worldwide. Over time, the brand has transformed and continues to trendify the makeup industry with its unique makeup reinventions. With the introduction of its Bridal Dream Team and Absolute Collection, Lakmé has changed the way brides look at dressing up for their big day.
Our Favourite Picks:
Everything under the Lakmé Absolute Collection
Price Range: Low to Medium
Revlon
Revlon was the first international brand to ever hit the Indian makeup industry and continues to reign as the best and most trusted choice of all. This super reliable cosmetic brand is a personal favourite of women of all ages. Its Ultra HD and PhotoReady collection are the ultimate choices of TV, Bollywood celebs and brides-to-be.
Our Favourite Picks:
All Products under the Ultra HD and PhotoReady Collection
Price Range: Medium
Clinique
Have sensitive skin and afraid to use any cosmetic products? Clinique has the premium range of products that suits all skin types, including the most sensitive, which is why it is one of the most sought after brands across the world. Whether it's their endless skin care options or incredible cosmetic products range, Clinique doesn't disappoint.
Our Favourite Picks:
Clinique Superbalanced Foundation and Superbalanced powder foundation
Clinique Air brush concealer
Clinique High Impact Curling mascara
Clinique Instant Lift for Brows
Clinique Fresh Bloom All over colour
Clinique Quick Blush
Clinique High Impact Lipstick SPF 15
Price Range: High
Colorbar
Love MAC products, but can't afford them? Then here is a cheaper alternative. Its products are somewhat similar to Mac and provide an incredible finish. From an unknown to one of the top cosmetic brands for brides today, Colorbar has come a long way and is here to stay. 
Our Favourite Picks:
Colorbar Ultimate Blemish Corrector
Colorbar Spotlight Illuminating Lotion
Colorbar Creme Touch & Colorbar Velvet Matte Lipsticks
Colorbar Radiant Touch Highlighter Pen
Colorbar Enchanting Trio Eye Shadow Palette
Colorbar Perfect Match Face Primer
Colorbar Metallics Body Shimmer
Price Range: Low – Medium
Faces Canada
Have you ever wondered how attractive Canadian women look? Faces Canada, one of the leading skin care brand in Canada, helps you achieve that exact beauty with high quality products at the most reasonable prices. For brides-to-be on a budget, this brand comes to your rescue.
Our Favourite Picks:
FACES Canada Glam On Lip Glosses
Faces Ultime Pro Longwear Matte Lipstick
Faces Sparkle Dust Stackable
Faces Long Wear Eye Pencil
Faces Cosmetic Hi Shine Nail Enamel
Faces Glam On Eyeshadow
Price Range: Low – Medium
Chambor
This Swiss makeup brand is picking pace in the Indian market. These maybe hard to find, but if you manage to find one, don't let go! Its face products are a huge craze for makeup lovers but can be slightly priced on a higher side.
Our Favourite Picks:
Chambor Lightening Wet Dry Powder Foundation
Chambor Trio Eyeshadow Coffee Shimmer
Chambor Powder Matte Lipstick
Chambor Glitzy Gloss
Chambor Blusher
Chambor Dazzle Smooth Eye Pencil
Price Range: Low-Medium
Maybelline
Did you know mascara was introduced to the Indian market by Maybelline? No wonder this is the most sought after luxury cosmetic brand after L'Oreal Paris. Any and every new range of makeup introduced by this company is an instant hit and gets makeup artists running to grab their hands on them first.
Our Favourite Picks:
Maybelline Color Tattoo 24 hour eye shadow
Maybelline Clearglow Shine free BB Stick
Maybelline Blush Studio Cheeky Glow
Maybelline Eyestudio Lasting Drama Gel Eyeliner
Maybelline Colorsensational Lip Polish
Maybelline Dream Lumi Touch Highlighting Concealer
Maybelline Color Show Glitter Mania Nail Color
Maybelline the Colossal Volum' Express® Mascara
Price Range: Medium – High
Current Favoutite: Gigi Hadi's X Maybelline new collection.
Fresh, bold and fierce it's all what a girl wants and can dream of. 
L'Oreal Paris
A cosmetic brand that is endorsed by many leading celebrities across the world is a reason enough why L'Oreal Paris is the most loved brand and every girl's dream beauty product range. This brand never fails to deliver products that make you feel and look no less than a Hollywood celeb. Their products not only suit the Indian skin tone, but also well adapts with the weather conditions.
Our Favourite Picks:
Loreal True Match Super-Blendable Two-Way Powder Foundation
L'oreal Paris Base Magique Transforming Smoothing Primer
 Loreal Professional Tecni Art Hair Mix Sublime Shine Review
L'Oreal Paris Infallible Eye shadows
L'Oreal Paris Volume Million Lashes Mascara
L'Oreal Paris Color Riche Moist Matte lipstick
L'Oreal Paris Shine Caresse Lip Colours
L'Oreal Paris Gelmatic Super Liner
L'Oreal Paris Color Riche Nail Polish
Price Range: Medium – High
Inglot Cosmetics
This brand can be called a heaven for makeup. The countless range of face beauty products offered by Inglot Cosmetics can easily get you confused and excited about makeup. Its product range is made using innovative scientific technology and high quality ingredients that is skin-friendly; therefore, this is a must-have in your trousseau.
Our Favourite Picks:
Inglot Brow Shaping Pencils
AMC Cream Foundation
Fusion Blushers
Freedom System Eyeshadows
Sparkling Dust
Freedom System Lipstick
Inglot Kohl Pencil
Price Range: Low -Medium
MAC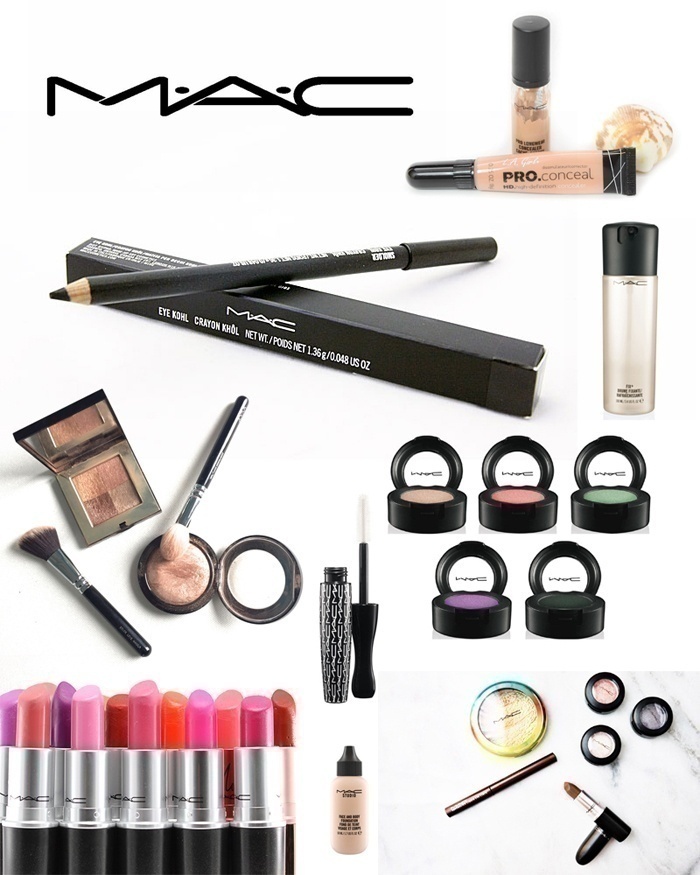 This brand needs no introduction. Makeup lovers know all about it. One of the most desired makeup brands for brides across the world, MAC never rests and is always inventing to deliver makeup, styling, cosmetics and cosmetic tools that meet the demanding needs of women who love to look glam at all times. 
Our Favourite Picks:
MAC Fix + Spray
MAC Face & Body Foundation
MAC Mineralize "Soft & Gentle" Highlighter
MAC Pre and Prime Highlighter Pen
MAC Mineralize Skinfinish Powder
MAC Prolongwear Concealer
MAC Eyeshadows – Shroom, Soft Brown, Cork/Embark, Carbon (Create a palette of four)
MAC Lipsticks – Ruby Woo (Red), Brave (Pink Nude), Blankety (Warm Nude), Hue (Peach Nude)
MAC Paintpot – Painterly
MAC Kohl Eyeliner Pencil Smoulder
MAC In Extreme Dimension Mascara
Price Range: Medium – High
Bobbi Brown
When one of the makeup gurus of the world made its grand entrance into the Indian market, Indian makeup artists went berserk. Why, what's the big deal about Bobbi Brown you may ask? If you've ever watched English makeover reality shows and wondered how international television actresses achieve such natural and glam look? It's all Bobbi Brown! Her products are blindly trusted and set so prettily even on an Indian skin tone.    
Our Favourite Picks:
Bobbi Brown Corrector and Concealer
Bobbi Brown Foundation Stick
Long-Wear Gel Eyeliner
Pot Rogue for lips and cheeks
Shimmer Brick Compact
Lash Glamour Extreme Lengthening Mascara
Creamy Matte Lip Color
Long-Wear Cream Shadow Sticks
No Smudge Mascara
Long-Wear Cream Shadow
Sheer Lip Color Gloss
Shimmer Blush
Price Range: High
Dior Cosmetics
The French luxury brand founded by Christian Dior is a personal favourite of many celebs and makeup artists. To achieve a picture-perfect bridal look for their clients, professional makeup artists swear by international brands with Dior being their ultimate choice. For brides who are not every keen on having an over-the-top look on their D-Day, Dior is your perfect choice.
Our Favourite Picks:
Diorskin Nude Foundation
Diorskin Nude Concealer
Diorskin Nude Powder
Dior 5 Colour Eyeshadow
Dior Waterproof Eyeliner
Diorshow Lash Maximizer
Diorshow Waterproof Mascara
Dior Addict Lipstick
Dior Addict Ultra Gloss
Price Range: High
Make Up For Ever (MUFE) Professional
Every professional makeup artist's choice, the MUFE international cosmetic brand products give you a look that is classic, elegant and long-lasting. Ever wondered how do makeup artists create the flawless magic on your skin instantly without making you look too cakey? The base products from MUFE are the wand they whoosh. They're naturally light on your skin and are amazingly long lasting. No wonder professional makeup artists charge a hefty amount to make you look spotlessly attractive.  
Our Favourite Picks:
Step 1 Skin Equalizer
Ultra HD Invisible Cover Stick Foundation
Rouge Artist Intense Lipsticks
HD Microfinish Powder
Smoky Extravagant Mascara
Lash Show Instant Drama False Lashes
Artisan Brush 108
Price Range: High