14 Lehenga Latkan Designs For The Experimental Bride
14 Lehenga Latkan Designs For The Experimental Bride
Latkans are a must have accessory for any Indian bride. These are the hang-as-waist extensions on your lehenga or as blouse tie up extensions. If you want to bring out your quirkiness through these dainty trinkets that swirl with your lehenga, these ideas are bound to help you bring out your experimental side and look outside the box to complement your wedding outfit theme!
1) Monogrammed Latkans
Image Source: Archana Rautela 
Get your latkans monogrammed with your partner's name. This is a great way of adding that personal touch to your lehenga and we're hoping your hubby ends up singing 'My name in latkan.'
Image Source: Desi Royale
You can never go wrong with tassels. These are simple and you can even learn to make your own with your bridesmaids.
3) Gota Patti Latkans
Image Source: Photo Buddies
Go traditional and add a bit of Rajasthan to your lehenga. These little bubbly beauties are bound to draw a lot of attention with a pinch of delight. 
4) Beaded Latkans
Image Source: Etsy
Another DIY latkan for you and your tribe. Beads are a match made in heaven for any lehenga. You can use beads from your grandmother's sari and create a latkan as pretty as this one!
Image Source: Pinterest 
Mirrors add a touch of tradition to your lehenga. Play with vibrant coloured threads and mirrors to make your latkan sparkle.
6) Animal Motif Latkans
Image Source: Swati Velandi
Unleash your animal spirit and let it show on your latkan. There are a variety of animals you can choose from. This elephant one is a beautiful representation of culture and festivities.
7) Pearl Latkans
Image Source: Etsy
Add a touch of elegance with a string of pearls to your lehenga. You can also coordinate your jewellery with your latkan for a classy look.
8) Flower Latkans 
Image Source: Weddingz 
Floral motifs on your lehenga add a soft and earthy touch to your lehenga. The flowers will make it look vibrant and oh so gorgeous.
9)    Ornamental Lehenga
Image Source: Buddha Electrified
This latkan emanates a peaceful vibe, while being fashion-forward and pleasing to the eyes at the same time!
Image Source: Artfoto Studios
These help you portray a fun and flirty bride. If this suits your personality, wave your pom poms high in the air.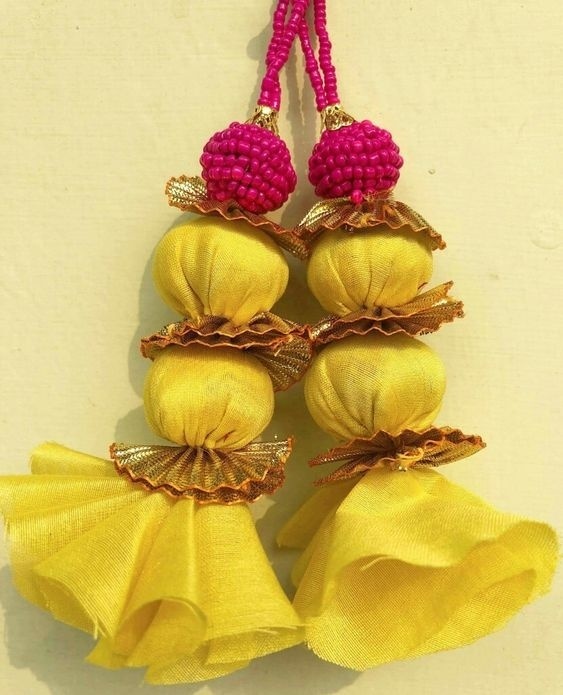 As a kid, our mothers loved dressing us girls in frills. Add a touch of your childhood to your lehenga with a frilly latkan.
Always dreamed of a fairytale wedding? Let the fairytale be a part of ensemble. Pick your story  from Cinderella's gown or Alladdin's magic lamp to add a touch of magic to your lehenga.
Image Source: Atiyaawardrobes
Make way for these latkans that speak for themselves with all their beaded goodness, perfect for the bride wholoves her culture but wouldn't mind a bit of European couture.  
14) Mix and Match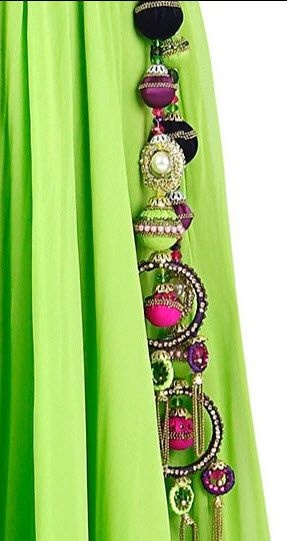 You need not stick to a particular type of latkan. Let your creativity shine through. Mix some of the pom poms with mirrors for a more traditional look. Or beads and pearls for an elegant look.
Let your latkans define you and elements that you hold close to your heart. You could totally opt for a customized latkan option, complete with healing crystals!
Get creative and let your personality tie together your ensemble
Image Source: Pinterest Unless Specified