14 Photobooth Ideas For A Destination Wedding
You know you've had the perfect wedding when you look at your pictures. You've got to make that wedding album the most sought-after artifact passed down generations. One thing we can ensure is having an incredible photographer and also a photo  booth. This is a great way to get everyone together in a perfectly thought out picture. If you're planning a destination wedding, make use of your ambience for those fancy shots. Here are a few ideas for some great pictures taken from celebrity weddings. Take your pick and get snapping.
1) The Instagramholic Photo booth
Image Source: Zankyoubrasik
If Instagram is your favourite cup of tea, this frame is the perfect photo booth idea. It is simple to make and also uses the destination for a great shot of your friends, family and most definitely of you and your partner.
2) The 'Call Me Maybe' Photo booth
Image Source: samanthastokes
Though phone booths are now a part of history, it would make for a great photo booth. This beautiful piece with a bunch of flowers and matching paint will make some great unique pictures for your album. 
3) The 'Vibrant Romantic' Photo booth
Image Source: electricConfetti
Embrace that 90s vibe with this cute backlight with red decorations. These Instagram-worthy pictures will be remembered forever and rake in the 'Likes' for all your guests.
4) The 'You've Been Framed' Photo booth
Image Source: peppermintpictures
These gorgeous frames are a fun way of making sure you have pictures of all your guests at your wedding. You can either go with a number of coloured frames or just full white portraits of your guests.
5) The 'Hopeless Romantic' Photo booth
Image Source: haflazawaj
This photo booth has everything that a hopeless romantic has ever dreamed of, right from the flowers to the candles complete with strings of glitter and sprays of olive leaves will make this photo booth one for the pictures. 
6) The 'Tipi Love Story' Photo Booth
Image Source: therusticweddingcompany
If you've planned an outdoor destination wedding in the hills, this is a simple and adventurous photo booth idea that will keep the thrill alive. This tipi inspired photo booth will make your pictures look classy and full of warmth. 
7) The 'Shades Of Blood' Photo booth
Image Source: everaftervintageweddings
Balloons are a great way of making your photo booth stand out. Adding some bouquets of flowers to this frame will give your pictures a touch of grace. 
8) The 'Retro Bollywood' Photo Booth
Image Source: plushaffairs
Let this Bollywood inspired photo booth complete with a Vespa, colourful paper flowers and marigold flowers make you have the most dramatic time of your life!
9) The 'Typical Prom Night' Photo Booth
Image Source: mibelDecorations
Prom night pictures remain for years. This photo inspired by    those awkward poses will make some great memories for your wedding day.
10) The 'Classic Outdoor' Photo booth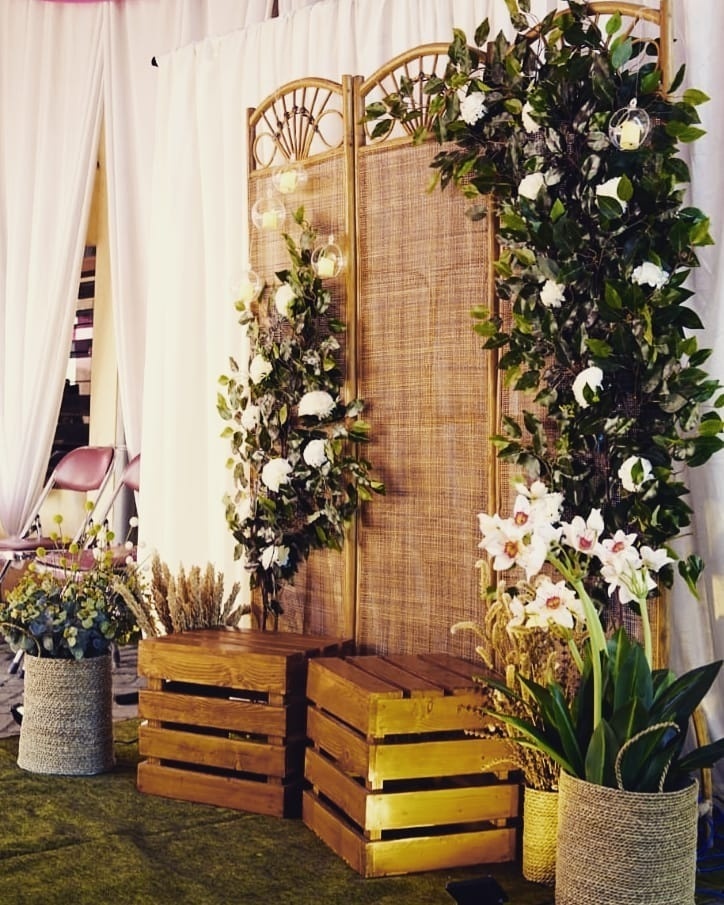 Image Source: ryda_decor
This is perfect for those outdoor loving couples. Complete with crates, jute baskets for the flowers and wooden panelling this photo booth will add panache to your album.
11) The 'Circle Of Life' Photo booth
Image Source: budgetbridal
This amazing masterpiece will give you a forest vibe. If you and your guests have travelled miles for the perfect wedding, this photo booth will give you those perfect memories.  
12) The 'I Purple You' Photo booth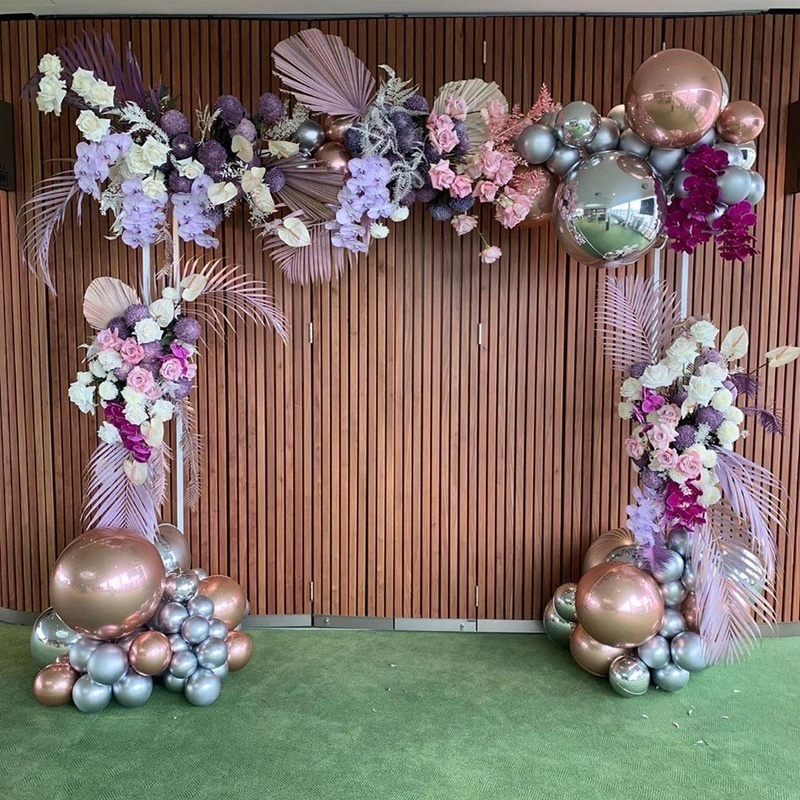 Image Source: Littlebigcompany
Purple flowers, purple balloons and sprays of purples leaves for that couple that loves the colour purple. This photo booth adds a whole lot of love to your pictures. 
13) The 'Door To Wonderland' Photo Booth
Image Source: Zankyoubrasil
If you are an Alice in Wonderland fanatic, this simple-to-make frame with a ton of small white flowers is a great way to immortalize portraits of you and your guests.
14) The 'Start Of A New Journey' Photo booth
Image Source: Electric_confetti
You can never go wrong with this photo booth. You have a red car, a backlight and floral arrangements. All you need to do now is wait for those amazing pictures.
So take your pick or look up more styles. You can never go wrong with a photo booth.