15+ Brides who told their Love Story through their mehndi design!
A dulhan's mehndi design is the whole essence of her entire bridal look. Not only is it a sign of good fortune, but is also believed to calm her nerves before the D-day. No bridal portrait is complete without a gorgeous pair of mehndi-laiden hands!
If you thought your only options for your bridal mehendi designs include baraat motifs and bride & groom portraits, you've got it all wrong. We have been seeing a lot of brides opting to tell their love stories through their henna designs and it's too beautiful to put in words.
Scroll down to find out how can you too recreate your love story through your henna design:
1. The long distance story:
 Image Source – Design Aqua Studio
This bride got her journey from Dilli 6 to Dubai, which was a major part of her love story, etched in her henna design and it's just too pretty.
2. The bride who recreated her proposal:
Image Source – The Wedding Crashers
This bride recreated her proposal-in-London. Totally loving the London Eye and London bridge engraved beautifully in her bridal mehndi design.
3. The bride who has a pilot-husband:
Image Source – The Cheesecake Project
This bride's got beautiful aeroplane motifs in her bridal mehendi as her to-be husband is a pilot!
4. The first date story:
Image Source – Cupcake Productions
The bride got coke, fries and burger (which tells a story about her first date) etched in her bridal mehndi. There is also a caricature of the groom wearing a watch (the first gift from the bride to him)! Also, don't miss out the London Bridge and the Caribbean as they're the couple's honeymoon destinations!
5. Another lovely long-distance love story: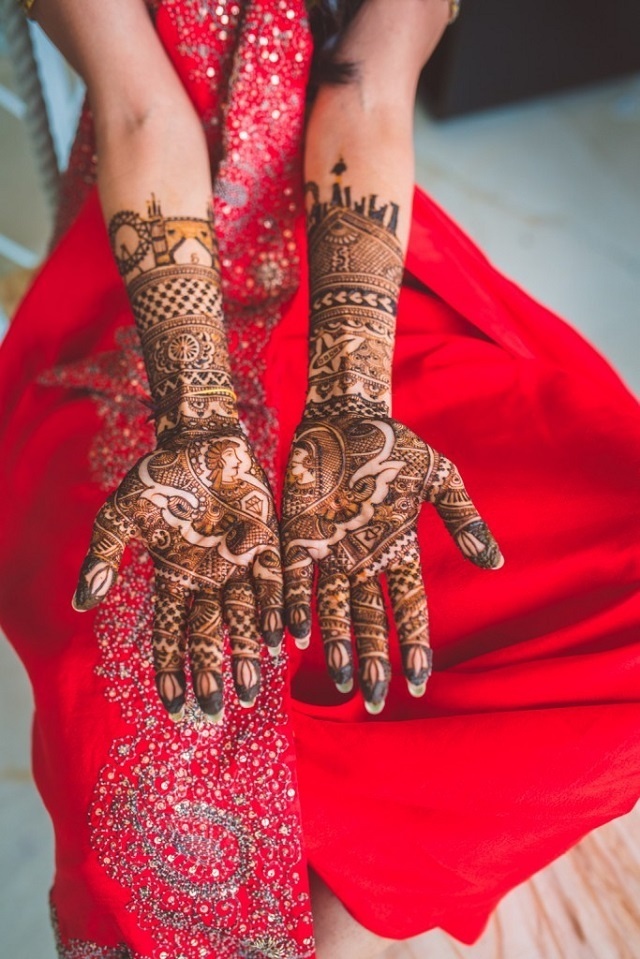 Image Source – What Knot
London Eye and London Bridge have a special place in blogger
Masoom Minawala
's heart as well as that's the place where Shailin, her now-husband, also proposed to her!
 6. The whole love-story in stages:
Totally loving the Eiffel Tower, Statue of Liberty, the girl holding the ring and then the couple finally getting married – these are the stages of how their love story evolved through the years.
7. For the love of music:
Image Source – Shutter Down
How cool are these music motifs on this bride's mehendi? Totally gushing over how simple and yet so beautiful this henna design is!
8. The Poetry slam:
Image Source – PhotozApki
 How about getting your favourite poetry included in your mehndi design? We say 'totally romantic'!
9. With the couple's portrait: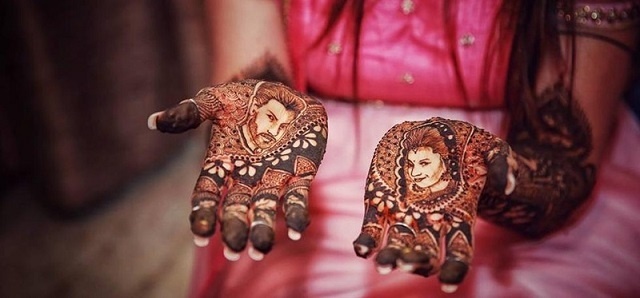 Image Source – The Wedding Story
Noticed the palm of this bride already? Yes, Divyanka Tripathi got her and her Husband's  portrait etched in her mehendi design. *how cute*
10. A love note for the groom:
Image Source – Jodi Clickers
If you find it hard to express your love for him in just 2 lines, then get the whole love note included in your mehndi design, sister! We are totally eyeing this creative yet simple way of incorporating a heartfelt message in the mehendi design!
11. The one that marks the couple's special journey:
Image Source – Saras Hena
For the bride who likes to focus on details and wants to keep her bridal mehndi design elaborate, this is the perfect example. Complete with planes and social media logos, city skylines and road signs, this one marks a very special journey.  
12. The Basketball lover's bride:
Image Source – Neeta's Mehendi
This bride got her Husband's favourite basketball team etched in her mehndi. *Go Lakers*
13. With the whole baraat and doli sequence:
Image Source – Morvi Images
If you're a tad too crazy about your baraat, then get your whole baraat and doli scene included in your mehndi design.
14. For the love of fairy tales:
This bride loved Aladdin and Jasmine as a child and she got it in her mehendi design when she decided to tie the knot married. *how cute*
15. With the mehendi telling a special story:
 Skylines on the arms were getting old so this bride got this done! Delhi ✈️ Toronto. The mehendi sports a silhouette representing Delhi and of the Qutub Minar. The reason being – the bride & groom lived very near back in Delhi but fate brought them together after their families moved to Toronto and they connected through mutual friends in the University. That's something I call 'destiny'.  
16. The toronto to San Francisco love story:
Tanvi and Siddharth met as two Engineering students at University of Toronto, fell in love & now both work in San Francisco. So, her mehndi represents the same.
17. Keeping the hashtag game strong:
It's a very popular yet age old tradition of hiding the groom's name inside the intricate mehendi pattern. This trend being a little jaded right now, you can also opt for including your wedding hashtag in your mehendi design.
So girls, go creative with your mehndi design and get that personal touch to it!
Image Source Pinterest unless specified.