15+ Heart-Melting Marriage Proposal Ideas With Videos!
"Will you marry me?" the most awaited question in anyone's life, the question that makes you go weak in the knees, the question that can change your life forever, the question that will be shared with friends and family forever is kinda important, don't you think so (no pressure though) ! 😀
Some of the best marriage proposals are downright plain, sweet and simple, while others are so elaborate that it's even hard to plan a wedding that can actually top the excitement of the big question.
We have jotted down a few of the best marriage proposals from all around the web. This list of outrageous proposals is sure to get the ladies' hopes up for their own big day, and hopefully inspire all of the gentlemen out there who are constantly worrying about when & how to pop this question to their lady love! Read on guys –
Warning: You might wanna keep tissues handy before hitting play.
1.The flash mob proposal:
When the guy takes the parents permission too:
2. The long distance relationship Proposal:
3. The helicopter proposal:
4. The Proposal at a yacht:
5. The one where the boyfriend literally starred in a movie:
6. The 365 day proposal:
7. The surprise proposal at Paris:
8. The Eiffel Tower proposal:
9. The water skating proposal:
10. The surprise proposal with a lot of mush:
11. The restaurant proposal:
12. The On live TV Proposal:
13. The beach proposal:
14. The lady's favourite song Proposal: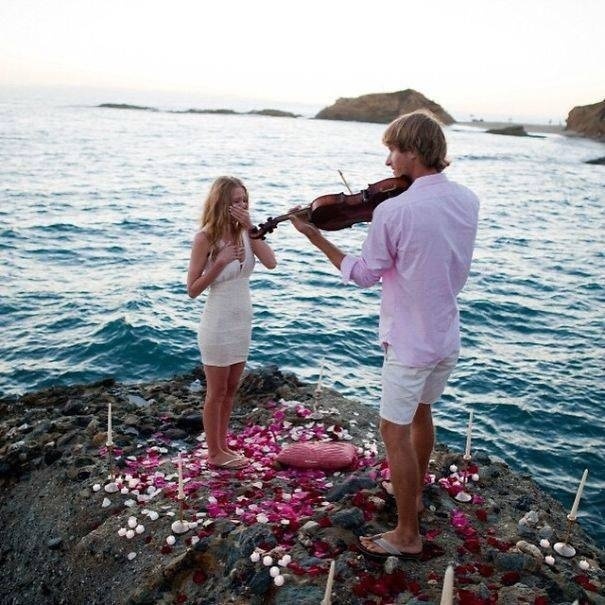 15. With roses and candles:
16. Using your pet for it:
17. Under the northern lights:
We are sure you are now going awwwwwwwww…… Tag your guy in this post to drop that not-so-secret but yet-very-subtle hint that you are ready to to spend your forever together. If you are the gal who wants to pop the question yourself, we hope you've found your inspiration too!