15 home decor ideas perfect for a shaadi house!
Getting married soon?
Confused about how to decorate your home?
There is absolutely no limit to the amount of decor ideas you could experiment with during a wedding! From the house to the lawn to the trees to the terrace – there is so much space that you could use in different and creative ways to bring out the best decoration possible!!
The good news is you don't need to fret much over the budget as there are sooooo many pocket-friendly ideas that you could try out and transform any dull and boring space at your house into a vibrant, peppy corner. After all, your home is where all the wedding planning & dance practices will take place, and it should shout out 'WEDDING' from all corners!
I've got you some simple and some offbeat home decoration ideas for your wedding that you wouldn't be able to resist trying out:
1.A simple and traditional set-up with white and red flowers with electric lanterns, which you could definitely try out in your living room.
2. A rustic ladder with beautiful lanterns is a nice prop that could add a great vibe to your home decor
3. If you want something that stands out but is pocket friendly, try out this DIY look with candles and roses.
Image source: Memoirs photography
4. Colourful and chic traditional hangings that will add the extra authenticity to your home decor
Image source: Going Bananas Photography
5. Want to go in for something more elaborate? Try out this fusion decor idea with old baskets and tassels. A great decor element for trees in your lawn!
Image source: Hitched and clicked
6. What's more cute and comfortable than having a cosy corner for your swing and some minimalist decoration around it?
Decor by: Altair Decor
7. Vibrant, colourful tassels can be brilliant decor elements for your in-house mandap!
Image source: The Snap Patch
8. Why not try out a DIY wall of some messily put up kites? This will totally up your shaadi game!
Image source: The Snap Patch
9. The most basic and reasonable decor idea- old bulbs and small pretty flowers! Works, right?
10. Paper hangings and flower pots – Adding the peppy, contemporary look to your wedding functions! You could try doing this in your balcony or a small cosy corner of the house
11. All you need is some coloured vases and genda flowers to ace this look!
Images source: Stories by Joseph Radhik
12. Crushing over these cute and chic paper kites hanging from the tree! Looooving the colourful look!!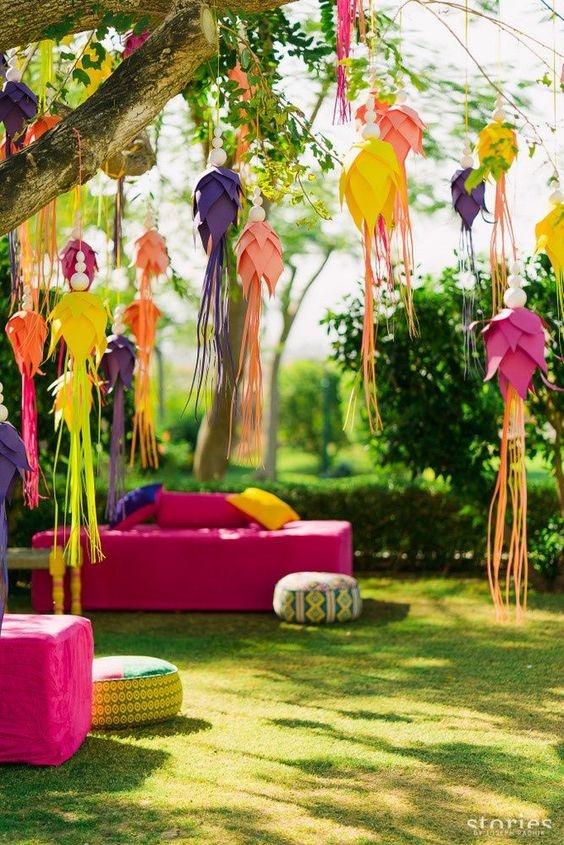 Image source: Stories by Joseph Radhik
13. Kaleeras can give the entire set-up warm and exciting wedding feels, a great element you must consider trying!
14. Give your wedding a Bohemian touch with these beautiful dreamcatchers!
Image source: The Wedding Salad
15. Bells have always had a pious and sacred vibe to them. If you are too confused about which element will go well with your decor, give this a shot!
Which decor ideas has impressed you the most?

Images sources: Pinterest unless specified