15 Real Wedding Mandap Décor Ideas You Should Totally Take Cues From! #mandapgoals
Wedding décor plays a huuuge part in setting the ambience and overall mood of your special day. And a ton of green is blown on ensuring that every detail is spot on and not a flower is out of place! But when so much effort is put into decorating your venue, why stick with the standard mandap?
Mandap décor as well has come a long way from the tried and tested format and we've picked 15 mandaps and their gorgeous décor that we fell in love with. Check them out for some inspiration and ideas to incorporate at your own wedding!

Pristine-white outdoor wedding mandap decorated with carnations, topiaries, drapes and floral strings.

Uniquely shaped, canopy style wedding mandap with floral arrangement of gladioli, roses and ferns.

Mandap décor with a backdrop of greenery along with fresh lavender and white flowers.

Open-air dome-like wedding mandap set up with a wrought-iron cut mandap decorated with colourful flowers.

Poolside wedding mandap decorated with floral pastings, Kalire strings and clustered floral arrangement.

White and pink themed vedi mandap decorated with strings of matching flowers.

Left: Conical vedi mandap decorated with jasmine strings and hints of green, giving it a garden fresh touch.
Right: Mandap decorated with warm tones like orange and red accompanied by drapes of pink and floral arrangements.

Vedi mandap decorated with high chairs and strings of jasmine with rose petal ends suspended from the brass canopy.

Wedding mandap made of four arched pillars adorned exclusively with an abundance of red roses.

Rustic wedding mandap adorned with strings of white and yellow marigolds suspended decoratively.

Red lotus-like wedding mandap décor along with floral arrangements.

Gold and red mandap decorated with drapes, tie-backs and clustered floral arrangements.

Beachside outdoor wedding mandap with white drapes and warm lighting accompanied by red and white flowers.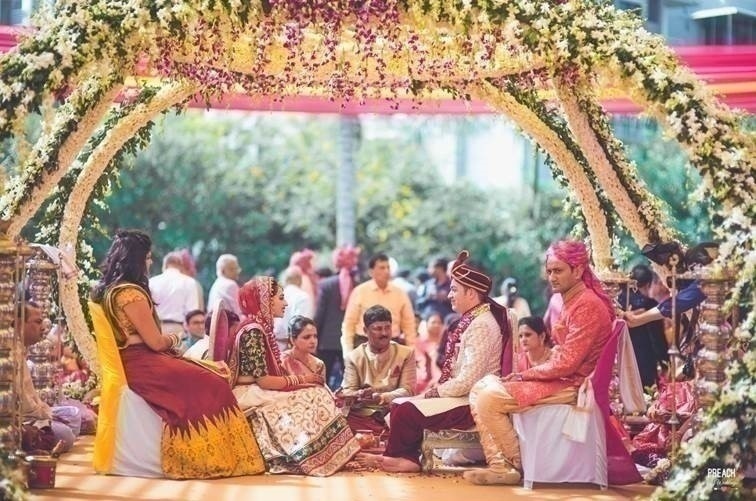 Uniquely shaped wedding mandap decorated with lilies, orchids and greenery.