15 trending gajra hairstyles that we spotted on real brides!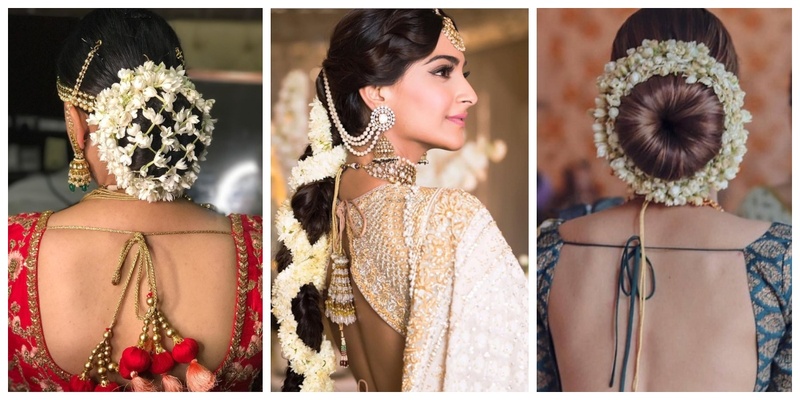 Gajra has been a part of the Indian legacy since forever. The soothing smell of those sweet smelling flowers are alone enough to brighten up your day.
We have curated a list of 15 amazing ways in which brides included the gajra in their bridal hairstyles! Check it out-
1. A layer of gajra all around the donut bun
Image Source: The styles by Sha hair and makeup
2. Dainty gajra flowers covering the bun completely
Image Source: Flashwave Studios
Image Source: Pratishtha Arora Makeup
3. Criss-cross gajra patterns partially covering the bun
Image Source: Malvika Periwal Photography
4. The trending Gajra Dupatta for your mehendi
Image Source: Aviraj Saluja Photography
Image Source: Vows and Tales
5. The Maangtika to the braid gajra
Image Source: Make up by Minee
6. All around the bun gajra with additional dainty flowers
Image Source: Face Stories by Leena Bhushan
8. The hanging mogra gajra
Image Source: Tony the makeup artist
10. Double encircle gajra with a gorgeous juda pin!
11. Criss-cross gajra all along the braid
Image Source: The house of pixels
11. Dainty floral gajra with layered jewellery
Image Source: Drama Queen makeup by Marisa
12. Falling cascade gajra
Image Source: Paran Singh Photography
13. Tip to toe heavy floral jada gajra
Image Source: Light Bucket Productions
14. Under the bun, layered Gajra
15. Rubber band like gajra for that perfect braid
Image Source: LeFleur Jewels
So ladies, it's time for me to sign off but I hope I was able to give you gajra lovers some unique and amazing ideas!
Image Source Pinterest unless specified!