20 Boys Mehndi Design for Grooms that are Anything but Basic
Looking for the perfect boys mehndi design for your groom-to-be? Well, you've landed just at the right place. I have put together 20 beautiful men's mehndi designs; which grooms can wear on their big day! Gone are the days when grooms wore mehndi for their wedding just as a mark of shagun. Modern grooms don't shy away from painting their hands red with henna for the women they love! 
These boys mehndi designs range from traditional and minimal to modern and bold. Pick a groom mehndi design that perfectly matches your style and persona and show it to your mehndi artist for inspiration. Also, let us know in the comments below if you would like to see more groom mehndi design images! 
1. Minimal boys mehndi design for the no-fuss groom
This men's mehndi design is as minimal and beautiful as it gets. It is simple, clutter-free and has the initials of the bride! How cute is that! 
2. Mehndi design for the quirky groom
Image Source: Jason Alan Henna
For boys who can never get enough of their favorite fictional characters, this groom mehndi design is all the inspiration you need. Pick an image of your most loved character and ask your mehndi artist to replicate in the form of a mehndi design. 
3. Mehndi design inspiration for the symmetry loving groom
Image Source: Henna by Divya
Straight lines, symmetric curves and all things geometry! This boys mehndi design is for all the grooms out there who appreciate a bit of symmetry and aesthetics!
4.  Intricate boys mehndi design for fingers
Don't want a hand full of henna? But don't want to stick to basic designs too? This gorgeously intricate finger mehndi design is perfect for the groom who wants minimalism that's hatke too! 
5. Men's mehndi design with single band and geometric motifs
Image Source: Jason Alan Henna
A simple band of henna across the palm does the magic at times! Add some geometric elements to it, and you're good to go.
6. A stunning backhand boys mehndi design
Image Source: Ritual by Design
If you are willing to experiment, then this beautifully abstract henna design on the backhand is something you should definitely pick for an off-beat look. 
7. Intricate groom mehndi design with Ganesha portrait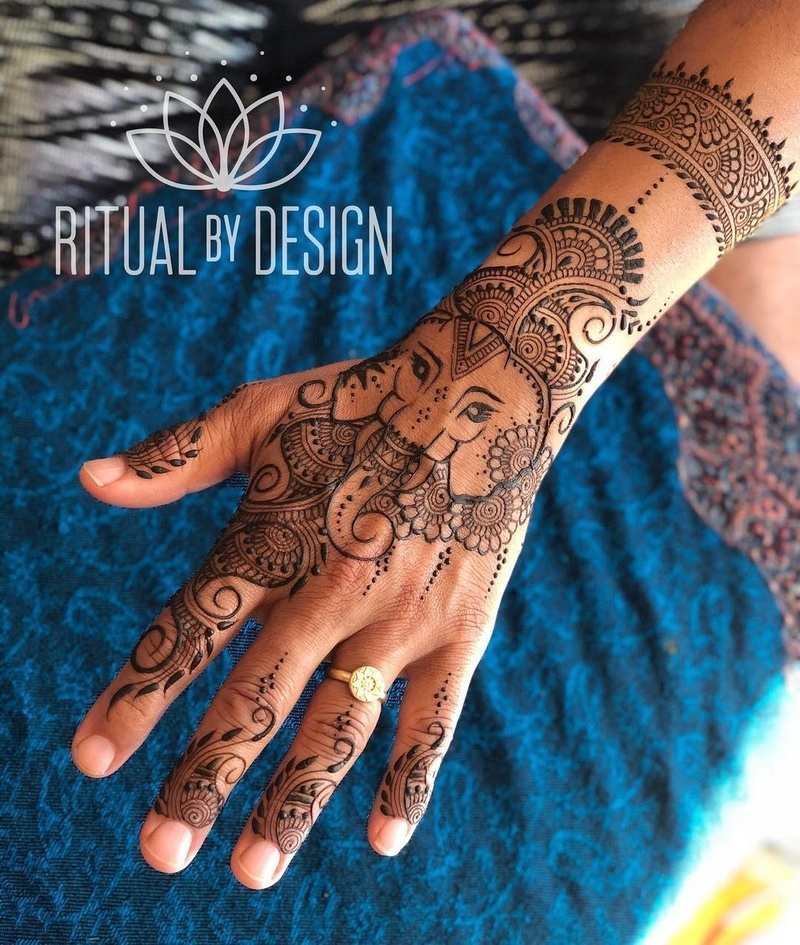 Image Source: Ritual by Design
If this is easily not one of the best boys mehndi designs you have seen, I don't know what is! The delicate intricacy of the curves along with Lord Ganesha's portrait makes this a fantastic pick for the groom to wear on his big day! 
8. A groom mehndi design on forearm to resemble a tattoo
Always wanted to get a tattoo on your forearm? This boys mehndi design that resembles a permanent tattoo is a great one to pick! Pro tip: Ask your mehndi artist to use black mehndi to give it an authentic tattoo look! 😉
9. Netted groom mehndi design for backhand
Want to try something out-of-the-box for your big day? This netted mehndi design that looks like a glove is something you can definitely give a shot. 
10. Quirky boys mehndi design with Celtic motifs
Image Source: Jason Alan Henna
Think peacocks, flowers and paisleys are too feminine for your taste? Get a quirky mehndi design with some Celtic or Greek motifs to rock on your wedding day, and leave everyone wondering what it means!
Pro tip: You can get Celtic symbols of love, passion and friendship with your wife's initials to signify your everlasting bond.
11. Simple floral groom's mehndi design
Image Source: Jason Alan Henna
Not the one to fancy groom henna but still want a little something for the shagun? This cute floral mehndi design is a simple yet elegant choice for you! 
12.  Mens mehndi design with wrist band and abstract details
This boys mehndi design is a dapper one, to say the least! The abstract details and thick wrist band motif makes it a total standout.
13.  Boys mehndi design with Aztec motifs for backhand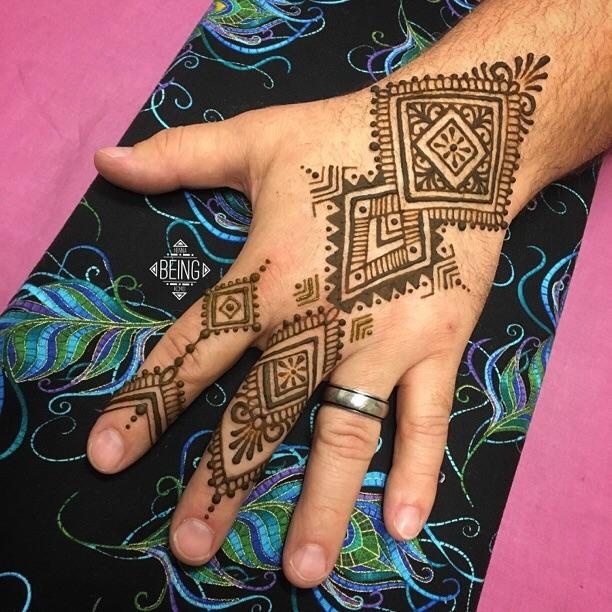 Image Source: Jason Alan Henna
While mehndi designs with Aztec motifs have slowly begun to catch pace among the brides, the grooms too aren't shying away from the amazing style of mehndi! If you love Aztec patterns too, then this boys mehndi design is a great option to either have on your backhand or palm.
14. Groom mehndi design with single artistic band on the backhand
Image Source: Jason Alan Henna
A simple band of mehndi pattern on the backhand is always an eye-pleaser. And if the motifs used are modern, it's all the better, isn't it?
15. The all-out groom mehndi design
If you are not the one to stick to conventions, then this full hand forearm groom mehndi design is something you should definitely opt. The fact that it resembles so much to a tattoo sleeves only makes it more interesting.
16. The leaf trail boys mehndi design for backhand
Who said leaves and floral motifs are only for girls? This backhand mehndi design for grooms is giving us all the modern metrosexual man feels!
17. Boys mehndi design with simple lines
Lines after lines arranged to look like a maze! Who wouldn't love that? This modern men's mehndi design is a hit if you dig simple patterns that have a complexity to them!
18. Traditional men's mehndi design for wedding
There's a kind of simplicity in traditional mehndi designs, isn't it? This groom mehndi design is the perfect one to choose if you love classic patterns!
19. Groom's mehndi design with bold patterns for backhand
Not the one to shy away from bold patterns? Then, this boys mehndi design is just perfect to wear on D-day!
20. The classic groom's mehndi design with mandala motif
Image Source: Ritual by Design
Last, but not the least, you can always stick to the basics and choose a simple groom mehndi design with the classic mandala motif on your palm!
Hope you found a boys mehndi design that's perfect to wear as a groom on your big day! Tell us which design you would love to wear in the comments below!