20 Irresistible Edible Wedding Favours which you must try!
Food is THE most important aspect of an Indian wedding, at least this is what I personally feel. Whether or not people discuss the decor, the outfits and the functions, it is a MUST to talk about food- before, during and after the wedding.
In this case, why not give your guests mouth-watering, delectable and unique edible wedding favours. Yes, they won't last forever and your guests cannot cherish them for long, but trust me, you will win many more hearts with this choice!!
 
Here are some sumptuous wedding favours which your guests won't be able to resist and of course by gifting them you will be raising the shaadi game!
1. You may or may not love strawberries, but could you refuse these assorted strawberries, coated with chocolate, nuts and coconut?
Images source: Chocolate No 5
2. If your guests don't have a sweet tooth, but in fact 32 sweet teeth, this is a smashing wedding favour for them!! A box full of cakes, cookies, macarons, scones and loads more!
Image source: Baryeah Oueik
3. Aesthetically appealing ginger biscuits for your bridesmaids!
P.S- Gals, there is no way they can refuse the offer.
Image source: The ginger bites
4. If you have a big chunk of your guest list who is health conscious, then organic jams are a brilliant option.
Image source: Hearth and Heritage
5. Healthy, reasonable and super irresistible!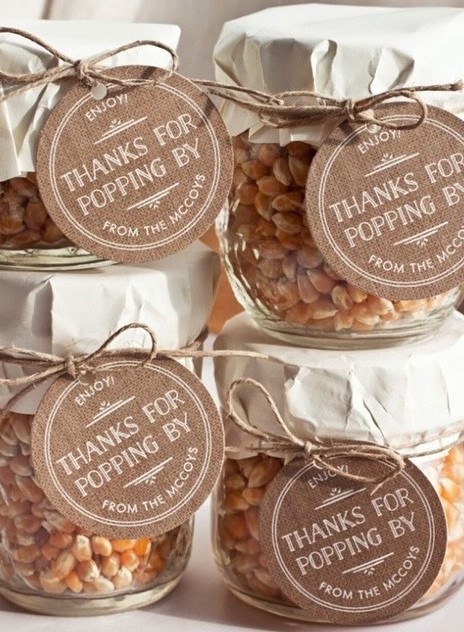 Image source: Cristina Samper Pearl
6. Super cute, colourful macarons for your bestie!
P.S- You better be keeping her happy!
Image source: MACARONik
7. A post Indian meal delight-give your guests jars full of mukhwaas, churan, fennel seeds and more.
P.S- This is a sure shot mehman pleaser!
Image source: Dipti Shah
8. Keeping it simple with nutilicios options!
Image source: Mavora
9. More than the idea of giving out hot and fresh pretzels, the tagline on the paper bag stole my attention!
Image source: Wedding Favours
10. These dulha-dulhan cupcakes are sooooo cute to even bite into!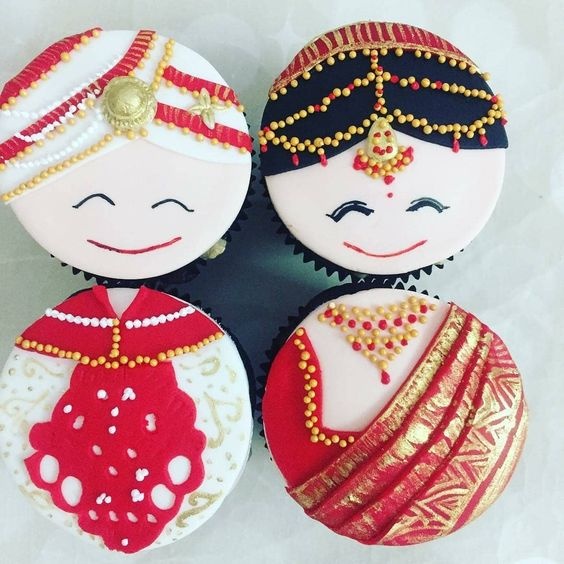 Image source: Pinterest
11. Simple and elegant wedding favours for chocolate lovers, with the initials of the couple.
Image source: Not On The High Street
12. A unique, minimalistic option for guests!
Image source: Style Me Pretty
13. Want to give your guests something toooo sweet to handle? Try this!!
Image source: Mikkel Paige
14. If you don't have a lot of budget constraints, flatter your guests with an assorted pack of authentic tea leaves!
Image source: Chiisana by Weiyeen
15. Spicy flavour and sassy favour!
Image source: Cute Wedding Ideas
16. Cute, chic and colourful- such an inviting wedding favour!
Image source: Hearth and Heritage
17. If you want to make it more personalized, then give your guests something homemade like this mango dressing!
Image source: Whisky affair
18. Something refreshing and something enjoyable even in smaller portions! Let your guests indulge in these beautiful bride and groom themed cake pops.
Image source: Exquisite Wedding Cakes
19. For the coffee lovers out there, this can be quite delightful!
Image source: Top Wedding Sites
20. Confident about nailing it with a homemade desi recipe?
Gift them a jar full of special garam masala and let them remember you whenever they have some lip-smacking food!
Image source: Etsy
You better start prepping already and I better go before these pictures make me hungry (again)!