30 Bridal Gold Necklace Designs to Check Out Before Buying Your Wedding Jewellery!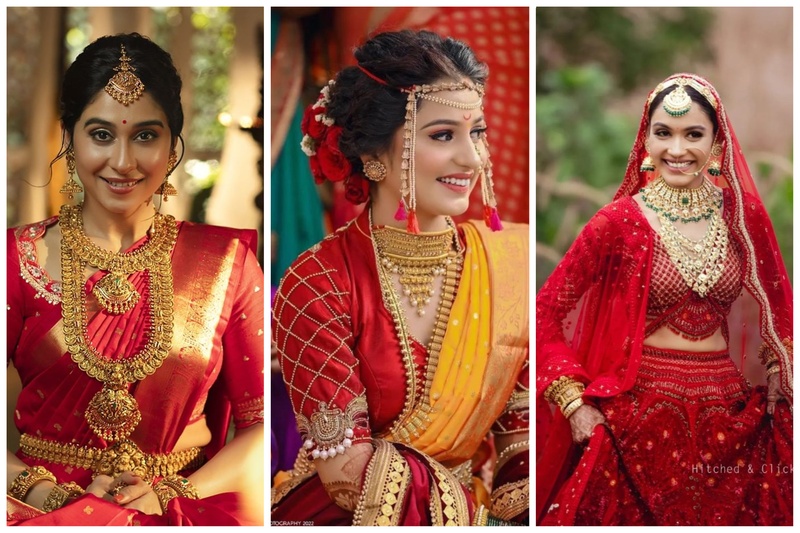 If you are on the lookout for wedding jewellery for brides, especially a bridal necklace, then scroll down to see some of the latest necklace designs spotted on real brides and celebs.
We all know how much value gold jewellery holds in Indian weddings. And since a necklace is the most important piece of bridal jewellery, we have compiled a list of 30 gold necklace designs for you to take inspiration before making or buying your wedding jewellery!
1. A gold matte necklace that's chic and contemporary
Image Source: Azva
If you are not the one to wear shiny yellow gold jewellery, then this matte gold necklace is just the right choice for you!
2. A pendant necklace that's oh-so-elegant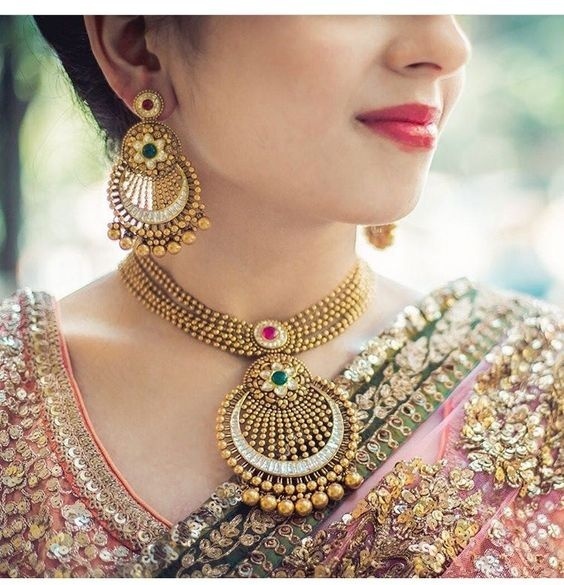 Simple and lightweight, this gold pendant necklace looks like a complete stunner, especially if you are planning to wear a heavy bridal lehenga or silk saree for your wedding!
3. Minimal gold necklace with precious stones
A lot of brides these days are opting for lightweight and minimal gold pieces as their wedding jewellery. It also makes sense, as you can easily wear these necklaces or earrings to other occasions after your wedding. These necklace designs are just like that. They are simple, minimal and perfect to wear with all kinds of outfits from silk sarees to anarkali suits.
4. Traditional gold necklace for the old-school bride
Intricate, yet stunning, these gold necklaces are ideal for the bride who likes to keep it simple and stick to traditional styles.
5. Layering multiple gold necklaces like a total boss!
Image Source: The Cheesecake Project
For the bride who wants to go all out with her wedding jewellery, this is just the perfect inspiration for you! Totally love how this gorgeous bride has layered different gold necklaces with each other without overdoing it. Also, isn't it amazing how she has worn matte gold necklaces and shiny yellow ones together?!
6. Pairing two gold necklaces to make a beautiful bridal jewellery set
Image Source: Silver Sand Memories
Just look at this stunning bong bride who is slaying her traditional Bengali look with two gold necklaces of different lengths and gold jhumki earrings!
7. A statement choker necklace that is some major #bridaljewellerygoals
Image Source: Dipak Studios
This gold necklace takes wedding jewellery for brides to a whole new level. This choker necklace worn with a pair of matching earrings are perfect to form a bridal jewellery set and complete your bridal ensemble.
8. Spiked gold necklace paired with another necklace studded with emeralds
Image Source: Drita Photography
How radiant does the bride look in this minimal ivory and gold saree paired with two gold necklaces of the same length! And the gold jhumkis, uff!
9. Traditional Rajputana gold necklace that's a statement in itself
Image Source: Deepti Khaitan Makeup
This Rajput-style gold necklace looks every bit royal. If you want to stick to just one bridal necklace, but want it to be the attention-grabber, this design is the way to go!
10. Heavy pendant necklace designs that look totally gorgeous!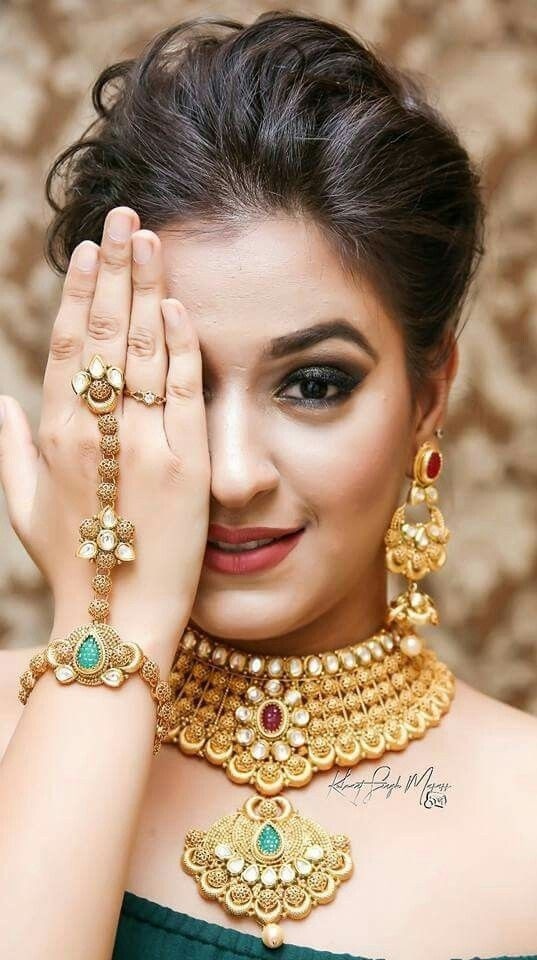 If you want to wear a pendant necklace, but want something heavy and intricate, these necklace designs are absolute perfection. They will look even better if you match these pendant necklaces with similar earrings, mathapatti, nath and haath phool to make it into a complete bridal jewellery set.
11. A contemporary matte gold bridal jewellery set that's one of a kind!
If quirky and modern necklace designs are your choice for wedding jewellery, then this gorgeous piece is something you can draw major inspiration from!
12. An all-gold bridal jewellery set that's making the bride's skin glow!
Image Source: Tanishq
While this bridal necklace gives a heavy look, it is pretty comfortable and lightweight to wear. And the leaf motif it has looks absolutely stunning! Try to pair such a gold necklace with chandbali earrings and a large statement ring to complete you bridal look!
13. Traditional South Indian gold jewellery that's not temple jewellery!
Image Source: Studio Bird Song
If temple jewellery is not your style, here are some amazing gold necklace designs that traditionally belong to the different states of South India. And the way all the brides have layered their different styles of necklaces is just WOW! Their jewellery ensemble includes everything from the mango mala, to the gold laxmi haar! #MajorCrushing
14. A choker necklace with long temple haar is totally giving this bride some royal vibes
Image Source: Richa Dave MUA
An intricately designed gold choker necklace paired with a long temple necklace is perfect to wear with all kinds of bridal sarees or designer lehengas! And this bride, by pairing her wedding necklace with statement gold earrings, mathapatti and gold bridal nath has just taken her look to a whole other level.
15. A matching bridal jewellery set in gold and colourful gemstones
If you wish to wear the complete bridal jewellery set, but don't want to go overboard, then a matching gold jewellery set like this one is perfect to wear on your wedding day.
16. A contemporary necklace design at its best!
Image Source: Azva
This gold necklace right here is for the fun and experimenting bride who wants to try something hatke for her wedding. The modern design of this necklace with geometric motifs is nothing less than a work of art!
17. If royalty had a look, it would be this stunning gold necklace
A truly statement-making piece, this gold necklace draws inspiration from the Rajputana-style and makes it even more grander than its original self. Just wear this beautiful necklace with a deep cut choli and embroidered lehenga to look like a surreal queen! If you want to jazz it up a bit, then a passa or maang tikka will do the work. Skip the earring with this one!
18. Gold necklace gets a modern makeover
If you are all up for wearing heavy gold necklaces that shine brighter than the sun, then this necklace design is all the wedding jewellery inspiration you need! Totally digging at this bride's all-gold look!
19. Ace the minimal jewellery look!
Image Source: The Cheesecake Project
If minimalism is your second name, then this beautiful bride here can be the inspiration for your wedding jewellery. The layered gold necklace along with a heavy and long gold chain completes her look. Her minimal maang tikka and jhumki earrings are super-cute too!
20. Slaying the Maharashtrian look with traditional gold necklace designs!
Image Source: Sahil Thakkar Photography
Image Source: Sheetal Palsande
If you are planning to wear a Paithani for your wedding, this kind of bridal jewellery will look stunning with it. These two brides here have worn their necklaces in layers of various lengths. These traditional necklaces include vajratik, mohanmaal, Kolhapuri saaz and thushi that help complete the entire necklace set.
21. Major #bridaljewelleryinspo for Maximalist Bride
Image Source: Hitched & Clicked
A collar necklace paired with multi-layered rani haarnecklace and matching earrings is all you need in your bridal jewellery set. Oh, and this kind of wedding jewellery looks great with bright kanjivaram silk sarees too!
22. A beautiful gold jewellery set in antique finish
This necklace design is for those who prefer not to wear gold in its bright yellow and shiny form. This bridal necklace has a gorgeous antique finish and is studded with small gemstones to give it a royal look!
23. Intricate gold choker necklace with a multi-layered long necklace
Keeping the look simple yet traditional, this bride has chosen to wear a beautifully intricate choker necklace with a long multi-layer beaded necklace as her wedding jewellery. The matching earrings and maang tikka are just like a cherry on the cake!
24. Beaded Beauty
Keeping the beads theme common in her wedding jewellery, this bride looks radiant in a small pendant necklace, which she has chosen to pair with a longer multi-layer beaded necklace. The temple mathapatti, gold nose pin and large umbrella jhumkis just bring together her entire bridal look!
25. A statement floral gold necklace with an offbeat design
The beauty of this necklace lies in its minimal design. It takes the done-to-death floral theme in jewellery to whole other level by giving it a contemporary touch.
26. The beauty of this matte gold bridal necklace is just WOW!
Simple and traditional, this gold necklace is just the perfect bridal necklace if you are looking to wear a traditional design on your wedding day, but don't want it to be bright and shiny. The matte finish and muted yellow tone of this bridal necklace is a complete winner!
27. A stunning Jodha Akbar style bridal gold necklace
Okay, maybe not as huge and grand as the bridal jewellery worn by Jodha, but this gold necklace sure gives the same vibes! Totally love how the bride has gone all out and teamed her wedding necklace with earrings, maang tikka, paasa, haath phool and a nath!
28. Slaying a bridal look like none other with Temple Jewellery!
Image Source: The Cheesecake Project
Image Source: AshoKarsh
Image Source: Kalyan Jewellers
29. Tribal-inspired gold necklaces
Image Source: Azva
This tribal-style bridal gold necklace is for all those edgy and feisty brides who want anything but ordinary on their wedding day. The earthy tones of these necklaces make them a great option to pair with bright and popping silk sarees.
30. The layered coin choker necklace
Image Source: Azva
Giving the traditional coin necklace a spin, this beautiful bridal choker necklace by Azva has overlapping coins with intricate engravings and dainty kundan flowers that contrast beautifully with the antique gold finish!
Did these bridal necklace designs give you some ideas for your wedding jewellery?
Image Source: Pinterest unless specified.