45 Gorgeous Bridal Hairstyles to Slay Your Wedding Look!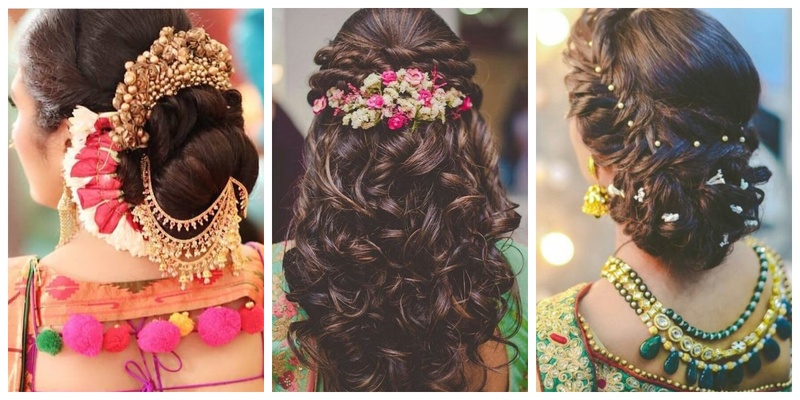 A wedding celebration has a lot to do when it comes to planning it. From the event flow to the location, from the decorations to the couture, a million tasks to be completed, just to have a perfect final day. No matter how intensely you plan, little things are easy to be slipped out of the list. Though all the brides keep their dresses and jewelry in check, makeup makes its way in the list, but hairdo misses it most of the time. Remarkably, as much as makeup is an important aspect of a bride's wedding look, so is a good bridal hairstyle. Depending on the kind of bridal look you have envisioned for your big day, you can choose from a range of bridal hairstyles to match your wedding outfit and makeup.
While there are thousands of beautiful Indian wedding hairstyles out there, choosing the perfect one for your D-day might seem like a task. Worry not, because our team has wholeheartedly curated a list of the 45 best Indian bridal hairstyles that you can browse through and show your hairstylist for inspiration. Right from the open hair bridal hairstyle to the classic bridal bun, I have listed all the trending Indian wedding hairstyles to make your search a little easier!
Bonus: We keep updating the blog so that you don't miss the new entrants when it comes to making your day a perfect one.
Super Gorgeous White Flower Bun
You can have a pop of color in your wedding decor or even your wedding dress, but it comes to tone it down and make your appearance look gorgeous, this white flower bun makes its way in. This bridal bun with a bunch of white flowers is perfect to wear with your bridal lehenga or saree on the big day. This bridal hairstyle with matha Patti looks great if you want to have an elaborate hairdo with your wedding outfit. It never goes out of season.
Open Hair Bridal Look- Way To Elegance
Not everyone can rock a bunch of flowers or a sleek bun when it comes to hairstyling. So, for the brides who like to keep it light on their heads, here is one of the most elegant looks of the season, the open hair look. If you are not the one to wear heavy hair accessories and want to keep your hair as natural as possible then this lovely Indian bridal hairstyle is just for you. Wear your hair straight with a small maang tikka and you're good to go!
The Strings of Flower- Amazing Bridal Hairstyle 
Image Courtesy: Paran Singh Photography
Flowers are a sign of romance and love. The more you have on your wedding day, the more beautiful the celebration would be. If this is what you probably think, then we have the perfect match for you. If you want to go big on flowers with your bridal hairstyle, then just let your hair down and wear as many strings of mogra flowers to get a fairytale princess look!
French + Fishtail Braid – Minimalist Bridal Hairstyle
Keeping it simple doesn't mean that you can't be glam. If you wish to keep your bridal hairstyle simple and classy, then there's nothing better than putting it in a classic french braid. Add some hair accessories to the braid to get a cute bride-sy look!
Simple Braid with The Traditional Naga Jadai
Image Source: Studio 31
Flaunting your accessories is surely not a bad thing when it is your wedding day. So, if you have a cool hair accessory that you wish to be the highlight for the day, then have a look at this bridal hairstyle. Here is a simple bridal hairstyle with matha Patti, and we hope your search ends right here. Love how this gorgeous bride has carried off a simple braid and accessorized it with naga jadai for her big day.
Go Big on Matha Patti
Nothing makes your bridal hairstyle more attractive than a beautiful hair accessory. So if you are planning to wear a multi-string matha Patti like this one, then a simple braid with lots of gajra should work wonders for you! Gajra is quite bridal in itself and the smell of it has its own charm. So, this combination is just on-point to make it big on your big day.
Voluminous Side Braid with Hair Accessories
Image Source: Klik Pictures
If you are planning to wear a silk-saree on your wedding day, then you can have a look at this classic bridal hairstyle. This one-sided voluminous braid goes well with silk sarees and with a touch of glam, it looks super bridal. So, accessorize your braid with cute hair accessories to give it a fancy bridal look!
Classic Bridal Hairstyle with Flowers
So, a lot of brides opt for buns and accessorize them with flowers that are either matching their outfit or contrasting it. A beautiful bridal bun with your choice of flowers is one hairstyle that will never go out of trend. If you want to keep your bridal look classic, this hairstyle is the way to go.
Braided Updo with a Touch of Flowers
Image Source: Jasmine Beauty Care
Brides love to look elegant on their wedding day, so why not choose a hairstyle that reflects the same. An elegant hairstyle for Indian brides, this dainty braided updo is perfect to wear with your reception gown or designer saree. Wear matching floral accessories to give it a bridal look!
Bridal Bun with a One-Sided Braid
Simple yet alluring, this Indian wedding hairstyle is for the bride who prefers simplicity over going all out. A side braid turned into a bun adorned with flowers is always a great idea for a wedding hairstyle. Tucking a small flower in the bun makes it even more attractive.
Matha Patti and Flower Bun
Some brides love to go all the way to be glam. This gorgeous bridal updo has a one-sided braid tied into a bun covered with flowers and a golden matha Patti to accessorize the whole look! What's not to love?
Graceful Braided Bun- An Elegant Bridal Hairstyle
A glamourous look is okay but a graceful look is just beautiful. A voluminous side braid that rolls up in a bun is an elegant marriage hairstyle that can be worn with anything from a saree to a gown! So, no matter what you picked as your wedding attire, this one will not fail you.
Gajra and Maang Tikka- Rocks Together!
If you are planning to wear a maang tikka with your bridal ensemble and want to put your hair up in a bun, then this simple Indian bride hairstyle is a great option for you. What's more? If you have short hair, don't worry, you can still rock this bridal hairstyle.
One-sided Fishtail Braided Bun
If you are looking for a bridal hairstyle with flowers, then this stunning updo is a great pick. The one-sided fishtail braid adds volume to the hair while flowers give it a royal bridal look! Imagine yourself in this updo, isn't it purely beautiful?
Open Hair Bridal Hairstyle with Floral Tiara
Image Source: The Wedding Salad
Do you want flowers in your hair but you don't want a bun? Then here is the way to get the best of both worlds. This fun and casual hairstyle is a great choice for brides who want to let their hair down for their mehndi or sangeet function. Add a floral tiara to long beachy waves and you are all set to look like a princess.
A Simple Bun with a Single Flower
Image Source: Ray Anthony Photography
It is not necessary to have a bunch of flowers and heavy accessories in your hair. If your bridal outfit and jewelry are heavy then it is best to keep your hairstyle and makeup minimal. This simple bun with a single flower is just the perfect hairstyle for Indian brides who wants to keep it simple.
Double Bun with Long Braid
Image Source: Andy Lim
This is a traditional Indian wedding hairstyle with two buns and a long braid that is embellished with hair accessories and long strings of gajra! Perfect to wear with a saree on your wedding day!
Puff Buns and Roses- Perfect Bridal Hairstyle
Yet another classic hairstyle chosen by a lot of brides, this one is super perfect. If you wish to add lots of roses and have a puffed bun hairstyle on your wedding day, then have a look at this one. Isn't this gorgeous?
Side-swept Fringe with Bun and Flowers
If you have a beautiful choker to show off and a heavy outfit with it, then this one is the best one for sure. This bridal hairstyle is no-frills and ensures that you have voluminous hair with a side fringe. You can add flowers of your choice that match or contrast your wedding outfit for that perfect bridal look.
Rose Bun with a Messy Fishtail Braid
Image Source: Ramaniya Glitterati
This beautiful bridal hairstyle with a rose bun and messy fishtail braid is perfect for your mehndi or sangeet. To take it a notch higher, you can add some baby breath flowers to the braid to give it a graceful look. It can also be a great look for a marriage hairstyle if you are going to wear a saree.
Braided Crown and an Open-Hair Look
Let your hair down in soft waves with this cute bridal hairstyle that has a braided crown and burst of color with yellow marigold flowers. Could you find a better hairstyle for your mehndi afternoon? We bet that you would have fallen in love with it.
Bridal Hairstyle with Multicolor Flowers
Image Source: Jyoti Bhaya Makeup Artist
This graceful hairstyle right here is ideal to wear with a pastel-colored lehenga or saree for an outdoor day wedding. The simple bun with multicolor roses and baby breath looks just too gorgeous to give a pass! So, why settle on a single color, when you can have the most elegant look for your big day?
Bridal Bun with Hair Ornaments
If you have a crazy back design for your blouse, then you have to show it off. Choose this bun and you are done with decking up for the day. Hair jewelry is a big bridal fad and for all the right reasons. This beautiful bridal hairstyle has an elegant bun, which looks stunning only because of the multi-layers gold chains and elaborate gold Juda!
Matha Patti used on the Bun- Perfect Bridal Hairstyle
Image Source: Studio 31
Innovative hairstyles are ruling the bridal circles and this one is surely one of them! A matha Patti wore on the bun at the back and the rest of the hair that is let loose is just so gorgeous. Don't you think this is one of the coolest hairstyles that we have seen in a while?
Simple Updo with an Oversized Flower
It is surprising that how a simple look can be amped up so much that it defines elegance at its best. Have a look at this minimalist bridal hairstyle with flowers that will never go out of style. This elegant bun with oversized flowers is perfect to go with your reception outfit.
Bridal Hairstyle with Puff and a Floral Bun
Image Source: Jasmine Beauty Care
This lovely hairstyle is perfect for your big day. It has a big bun with puffed hair and lots of white flowers that make it ideal to wear with both a lehenga or a saree! You can switch the flowers with your choice and make it your own.
One-sided Loose Curls
Here's yet another Indian bridal hairstyle for all you brides who want to let their hair down on their big day. This side-swept loose curl hairstyle with flowers looks elegant and can be worn for any of your wedding functions. The best part is that it goes with every outfit.
Side Fringe Bridal Hairstyle
If you are a fan of Indian hairstyles for weddings, this one has a voluminous blow-dried side fringe with an elegant bun that is dressed in beautiful jasmine flowers. The takeaway with this one is that it looks amazing with Indian bridal outfits.
Bridal Hairstyle with Bouncy Curls and Tiny Flowers 
Keeping your hair open on your wedding day is a great idea, especially for your sangeet/reception functions. Take this bridal hairstyle photo for your inspiration and wear bouncy curls with small flowers matching your bridal outfit for a graceful bridal look.
Simple Bridal Hairstyle for the Minimalistic Bride
Nothing looks more classy than having perfectly blow-dried hair let down without any accessories. Wear a beautiful maang tikka or simple matha Patti with this hairstyle and you are good to go! Pairing this hairstyle with beaded dresses and warm colors is just heavenly.
Artistic Bun with Hair Accessories 
Image Source: Jasmine Beauty Care
A double-side braid rolled into a beautiful bun and accessorized with a pearl brooch. Is there anything about this wedding hairstyle you don't love? We are sure that if you are a bold bride and love everything glamourous, then this will steal your heart away.
Marriage Hairstyle with Strings of Gajra
The bun is super common when it comes to hairstyling your wedding day look. However, what stands out is the way you accessorize it. Totally love how this bride has worn her jasmine gajra in concentric circles over a simple oversized bun!
Styling Naga Jadai with Fishtail Braid
Image Source: HaHa Photography
A classic bridal hairstyle to wear with your bridal saree, this one has a voluminous fishtail braid with temple-style naga jadai! If you are going for a more traditional look, then this one is the way to go.
Bridal Hairstyle with a Low Bun and Reverse Maang Tikka
Did you ever think about reversing your Maang Tikka and making it look even better as if it was meant to be worn that way? This elegant bridal hairstyle with a low bun, jasmine flowers and maang tikka worn in the reverse is a great choice for brides who want to keep it simple while still being hatke!
Wedding Hairstyle with Tiara
This beautiful braided bun with a diamond tiara is a great bridal hairstyle inspiration for your wedding reception. Even better if you are planning to wear a gown with this hairstyle! You are sure to look like a royal princess in this one.
Messy Fishtail Braid with Baby's Breath
This bridal hairstyle with a side-swept messy fishtail braid and baby's breath is a great pick for your haldi or mehndi ceremony. Baby's breath is our personal favorite, they never overdo anything yet make everything look magnificent.
Voluminous Bubble Braid with Lots of Flowers
Isn't this wedding hairdo just too beautiful? The loose and stylish bubble braid with flowers and baby breath looks refreshing for a daytime mehndi or haldi event. You can have this one for your main day too.
Loose Curls with Flowers
This bridal hairstyle right here proves how good open hair looks with your wedding outfit. I, for one, am totally loving these voluminous loose curls dressed with cute little flowers! This can be your pre or post-wedding festivity hairstyle.
Curly bun and multicolor flowers- Magnificent Wedding Hairstyle
If a glamorous updo is what you want to wear on your big day, then this bridal hairstyle image is all you need to show your stylist for inspiration. The loose curled bun with multi-color flowers is totally stealing the show!
Open Hair with Long and Loose Waves
Who says that loose hair hairstyle is not for the main day look. A beautiful bridal hairstyle with dupatta, this one is as elegant as it gets. Totally love how the bride chose to wear her hair in loose and bouncy waves with a net dupatta to complete her look!
A Gypsy-Like Simple Bridal Hairstyle
Image Source: Ritika Hairstylist
Brides today want to have it all and are not shy of wearing their hair as they want! Perfect for a Mehendi function, this whimsical mix of curls and braids with a string of baby breaths is simple yet stunning for a bridal hairstyle!
Simple Bridal Hairstyle with a Touch of Magic!
Who said lockdown brides can't be glamorous at their intimate weddings? Agreed it is a simpler affair but this calls for magic and that's what this beautiful braids and waves bridal hairstyle is all about!
Of Butterflies and Flowers
How to turn a classic, delicate combination of flowers, braids, and curls into a stunning bridal hairstyle? Just throw in some butterfly accessories! It indeed is the best look for a trendy bride.
A Floral Bun Tiara
Lockdown weddings are simple but there's a lot of room to reinvent classic bridal hairstyles just like this neat bun with beautiful white blooms in perfect contrast to the bride's red bridal lehenga!
A Floral Innovation for your Bridal Hairstyle
What to do if the bride wants orchids and baby breaths in her bridal hairstyle? You make a beautiful bun and decorate it with flowers aka the perfect wedding day bun!
Aren't these hairstyles just lovely and no matter which one you choose for your day? Which one of these best bridal hairstyles 2020 inspired you the most?
Image Source: Pinterest unless specified