5 Bridal Wear Shops You Must Check Out in Defence Colony!
If you are getting hitched anytime soon, chances are that you will be visiting the capital city for the bridal wear shopping. There are many places for bridal shopping in Delhi and you will be spoilt for choice while looking for the perfect bridal wear. Whether you are looking for a wedding lehenga, saree of gown – these stores have something for everyone. Today, we will take you through the best shops for bridal wear in Defence Colony, Delhi.
Kisneel by Pam
Images: Kisneel by Pam
Asymmetrical cuts, experimental draping and a vibrant range of colours – these are a few things that define the exquisite collection by Pam Mehta. Her bridal collection includes pink, orange and metallic hues and makes it a much sought after collection among brides-to-be. Intricate work, attractive backs and ready-to-wear stitched sarees are among her exclusive collections.
Where: Kisneel Garments Pvt Ltd, D-23, 3rd Floor, Defense Colony, New Delhi – 110024
Dolly J
Images: Dolly J
Hand-woven textiles and age old techniques come together beautifully in Dolly J's creations and create a line of exquisite bridal wear for modern brides. They take pride in offering vintage embroidery and if you are the traditional bride, you are sure to love their collection. The brand has now grown in leaps and bounds and enjoys an international presence today. 
Where: D25, Defence Colony
Rimple and Harpreet Narula
Images: Rimple and Harpreet Narula
Established in 2000, this brand is a representation of the rich and diverse textile and craft available in the country. The deisgner duo is greatly influenced by the craftsmanship of travellers and nomads and create silhouttes that are exquisite and one-of-a-kind. 
Where: E-3, Ring ROad, Defence Colony, New Delhi
JJ Valaya
Images: Indian Roots Daily, Rediff
From bridal wear to gowns – JJ Valaya's work needs no introduction and your bridal shopping trip would be incomplete without a trip to this legend's store. Having been in the industry for almost three decades, this is one deisgner who surely knows how to make the bride stand apart. 
Where: D-18, First Floor, Block D, Defence Colony, New Delhi
Tarun Tahiliani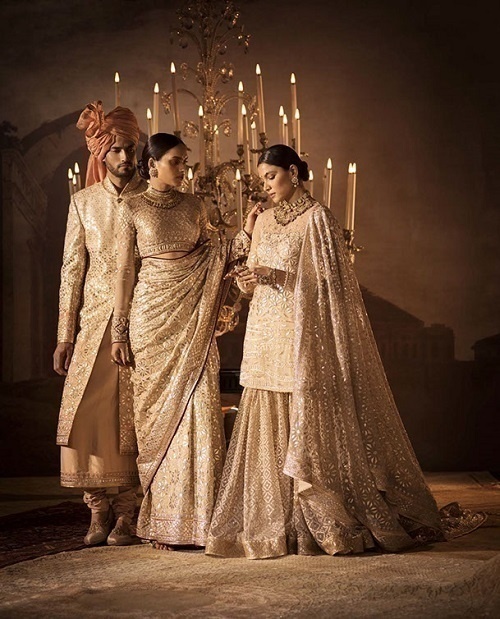 Images: Tarun Tahiliani
Every bride's dream deisgner has his very own store in Defence Colony and is a must visit for every bride-to-be who is shopping for bridal lehenga in Delhi. If you are planning to pull off a regal look for your D – Day, this is one store you must check out!
Where: D 25, First Floor, Defence Colony, Above Affinity Salon