5 Dainty Toe Rings that Brides can Consider for their Bridal Look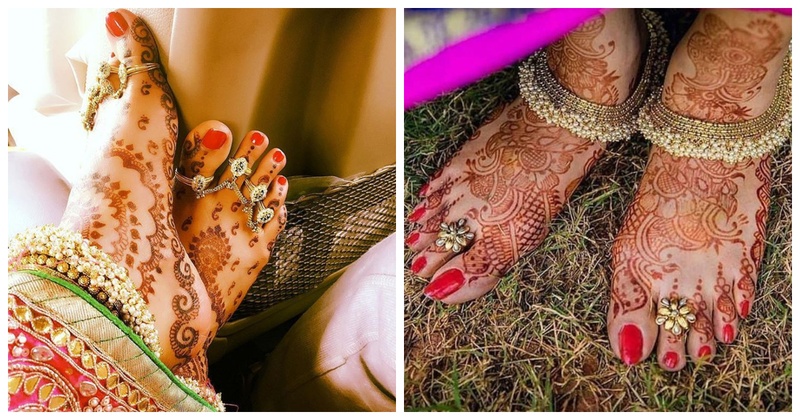 They are small, dainty and an essential part of a bride's trousseau. Although hidden beneath the lehenga, toe rings are very important for a bride and can make their feet look attractive.
It is believed that wearing toe rings connect the body with the earth, and silver being a good conductor absorbs the polar energies from the earth and transferring them to the woman's body, thus, rejuvenating her. In the olden times, it was also believed that toe rings were to be worn by married women for good health as well as to regulate the menstrual cycle and increase the chances of conception. Unmarried Hindu girls, however, wear toe rings on the third toe to help ease menstrual pain.
Nowadays, you can choose your toe rings in gold or silver, encrusted with pearls, diamonds or even gemstones! Take a look at 5 dainty toe ring designs that you can consider wearing for your weddings:
1. If you want something fancy, how about a pair of gold toe rings that have been lined with mini pearls?
2. On the other hand, if you want something simple and delicate, take a look at this silver option which has green and purple stones embedded.
3. Instead of just one toe ring on each foot, you can opt for a set of toe rings for every toe and have it attached together with a chain.
4. Florals do not necessarily have to be confined to your outfit. You can fiddle around with florals in your jewellery and have a really pretty pair of toe rings made in the design!
5. Kundan work is very popular when it comes to Indian bridal jewellery. Along with your necklace and earrings, you can feature that cut in your toe rings too.
Image Sources: Pinterest
Which is your favourite design from the five? Let us know in the comments below!