5 Days, 5 Cities: A Pre-Wedding Shoot in the Heart of Turkey!
Lovers in the zenith of their romance, offbeat jaw-dropping locations, and sizzling chemistry.
Any guesses what I am talking about?
A pre-wedding shoot it is!
The concept of pre-wedding shoots has become quite the rage in the past few years and for all the right reasons! Ditching the not-so-comfortable outfits, the mandatory drab poses, and the run-of-the-mill expressions, couples are going all out with experimenting when it comes to pre-wedding shoot ideas. From casual pre-wedding shoots in pajamas, while binging on pizzas to ones at exquisite larger-than-life locations, these have come a long way…
Kunal and Anmol opted for some awe-inspiring locations and nailed their pre-wedding shoot. The entire shoot was nothing short of a dreamy experience. Anmol was inspired by the song, 'Pehli Dafa' and she dreamt a dream so big, it was surreal! And it got better when the love of her life, Kunal, jumped right into the idea and turned her fairytale into reality.
Amidst the fairy chimneys of Cappadocia, the majestic Istanbul, the splendor of Antalya, the pristine white sands of Denzil and mysticism of Izmir, Anmol and Kunal planned their pre-wedding shoot and they chose Camera Crew to make their dream come true. Camera Crew is known for putting their heart and soul into making each moment right and beautifying your best memories through their photography and filmmaking skills.
In a shoot spanning five days, across five cities, Camera Crew team created pure, unmatched magic! Click here to know more about their shoot.
I've prepared a little lookbook for all the to-be-couples out there. You could bookmark this pre-wedding shoot for inspiration or simply go through the pictures for pure enjoyment:
Istanbul
Cappadocia
Ephesus
Pamukkale
Antalya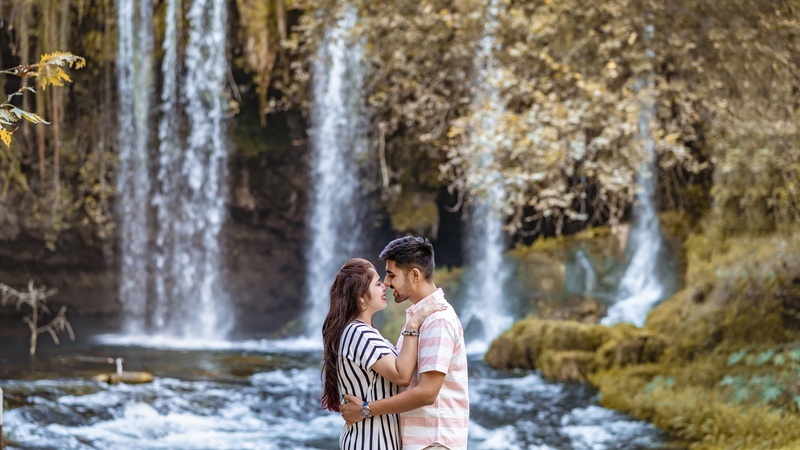 Insights from Camera Crew
"Turkey was a perfect place for seeking helpless pure romance and also a location which exudes opulence and luxury. We pinned down five cities in the trip – basically the heart and soul of Turkey. We set our foot into these places and we've made sure there is no shortage of emotional images to swoon over. We wanted the feeling of intimacy with a glamorous touch, both at the same time."
About Camera Crew (by Anmol)
"The whole team is extremely understanding, warm and welcoming! They didn't only create amazing pictures, but also memories for life. From my pictures, you can notice that I am not afraid or hesitant to fall in love with Kunal, despite being in front of the camera. We both were super comfortable in showing them what we were as a couple. It was absolutely effortless.
Tip from the charming  bride-to-be
"Go with the flow. Love the moment and live in the moment. It is supposed to be precious and not perfect! Your chemistry should leave the audience dumbfounded. Location is also a vital factor in a pre-wedding shoot. To sum it up, all you need is a great photographer, good locations and excellent chemistry.  And there is no way you won't be able to cherish it for anything less than a lifetime."
Are y'all inspired enough to embark on a similar fairytale-like journey?