5 Epic Outdoor Wedding Venues in Agra – The City of Love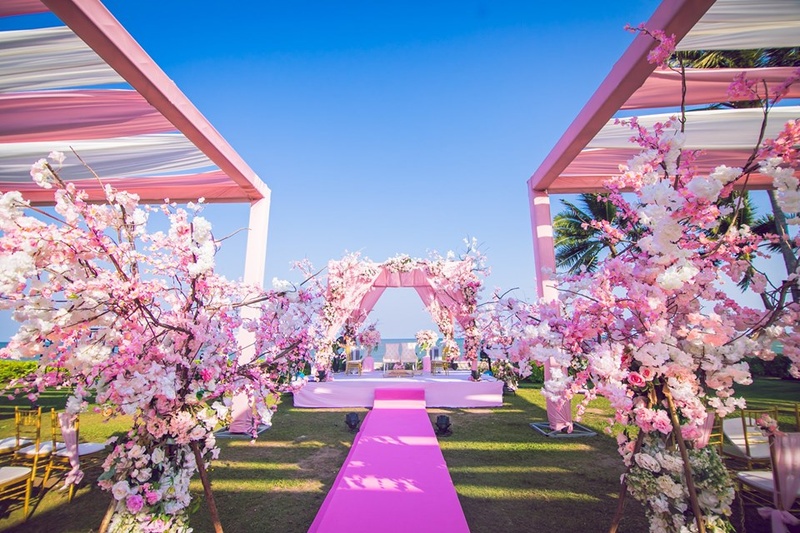 Whether you want a spectacular view of the Symbol of Love – The Taj Mahal as your wedding backdrop or enveloped by gardens of colorful blooms, Agra offers something for every couple. From whimsical gardens to rustic lawns, it seems there's an idyllic outdoor wedding venue in every corner of the city. Agra has sunny skies and a plethora of picturesque places, and architectural masterpieces, tying the knot here against a beautiful backdrop is sure going down in history. See our favorite picks of outdoor wedding venues in Agra to rock a happening destination wedding. Scroll down and book your favorite venue for your grand day.
Who doesn't know the famous wedding hotel in Agra, Ramada Plaza by Wyndham? It is pretty popular and offers the utmost comfort and luxury to celebrate your weddings in the most lavish way possible. It renders bespoke services to cater to your wedding requirements making your dream come to reality. You can send invites to over a thousand guests to have an outdoor celebration – so you don't have to worry about cutting short your guest list. Book this renowned wedding garden in Agra if you wish to celebrate your love in an open-air setting.  
Key Features:
5-Star hotel with state-of-the-art facilities
Multiple spaces for different functions
Luxurious lodging facilities
Ramada Plaza, Fatehabad Road, Agra
Address: Ramada Plaza, 672, Basai, Fatehabad Rd, Agra, Uttar Pradesh 282001
Landmark: Bamrauli Katara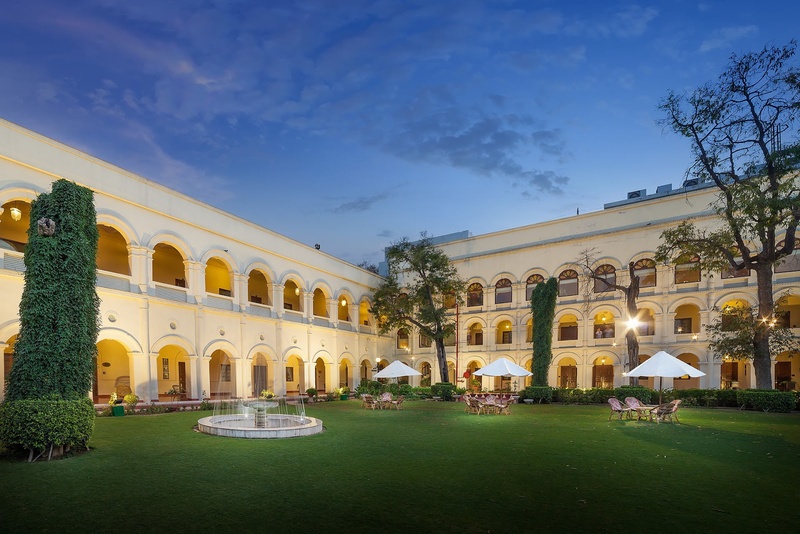 Built in the 1900s, The Grand Imperial, popular as the unique boutique hotel in Agra, is definitely a go-to wedding stop for couples planning to get married soon. This heritage hotel escalates your expectations as soon as you enter through the facade. It offers a timeless luxury to make your wedding look the best. This place reflects the glory of old times complemented by modern amenities. With the help of their efficient staff, everything seems to fall into place, and you won't regret choosing this venue for hosting your grand celebration. In fact, it won't be a surprise if you may want to celebrate all your future events here as well.
Key Features:
Impeccable services and hospitality
Wonderful lush green surroundings
5-star destination wedding venue
The Grand Imperial, Agra, Agra
Address: The Grand Imperial , 32 / 107-A opposite DM Bungalow, Mahatma Gandhi Rd, Chhipitola, Rakabganj, Agra, Uttar Pradesh 282001
Landmark: S R Hospital
This venue offers plush banquet halls and lawns, which are perfectly apt for a large scale wedding ceremony. If you wish to host your cocktail bash here or your mehendi or sangeet, in short, whatever event you like, they ensure to serve you with the best-in-industry services. This marriage lawn in Agra has the most amazing backdrop with the Taj Mahal in the picture. The decor of the venue is amazingly done by a team of experts, and you won't be able to take your eyes off it. Book this venue to celebrate your everlasting love! 
Key Features:
In-house decor and food services available
Seasoned culinary team to craft menus
Dedicated and experienced team
Hotel Clarks Shiraz, Tajganj, Agra
Address: 54, Taj Rd, Agra Cantt, Idgah Colony, Agra, Uttar Pradesh 282001
Landmark: Taj Road
Getting married under the blanket of stars is surely beautiful, but if it is at a royal wedding palace in Agra, then nothing can beat that. The warm hospitality offered here may woo your guests. You can count on to have all your rituals and ceremonies without any hiccup. This venue has multiple event spaces – indoor as well as outdoors – to choose from. They make your wedding celebrations look straight out of a movie. They let you relax and enjoy while they provide the utmost attention to detail.
Key Features:
In-house culinary team
Theme-based decor
Al-fresco pool area
The Mansingh Palace, Fatehabad Road, Agra
Address: 8, Fatehabad Rd, Bansal Nagar, Tajganj, Agra, Uttar Pradesh 282001
Landmark: Ram Tej Hospital
A destination wedding under a budget sounds, umm, impossible. But that was before you knew about our last venue on the list, MM Farmhouse. It boasts of a sprawling lawn for up to 1800 pax, giving you the freedom of hosting a big fat Indian wedding and that too destination style. They provide you with decor and food, so you don't have to go around the city searching for the perfect service providers. Book this wedding lawn in Agra and make your grand day even more special. 
Key Features:
Serves vegetarian and non-vegetarian delicacies
Ideal for an upscale wedding
Conveniently located venue
M M Farm House, Tajganj, Agra
Address: M M Farm House, Agra Shamsabad Raja Kherah Marg Rajpur Chungi, Near Police Station, Shaheed Nagar, Shamsabad, Agra, Uttar Pradesh 282001
Landmark: Shaheed Nagar Police Chowki
This was our pick on 5 epic outdoor wedding venues in Agra, where you can rock your destination wedding celebration. You can check out more banquet halls in Agra if you haven't decided yet.