5 Kalyana Mantapas in Bangalore, Where You May Have Magical Marriage Celebrations!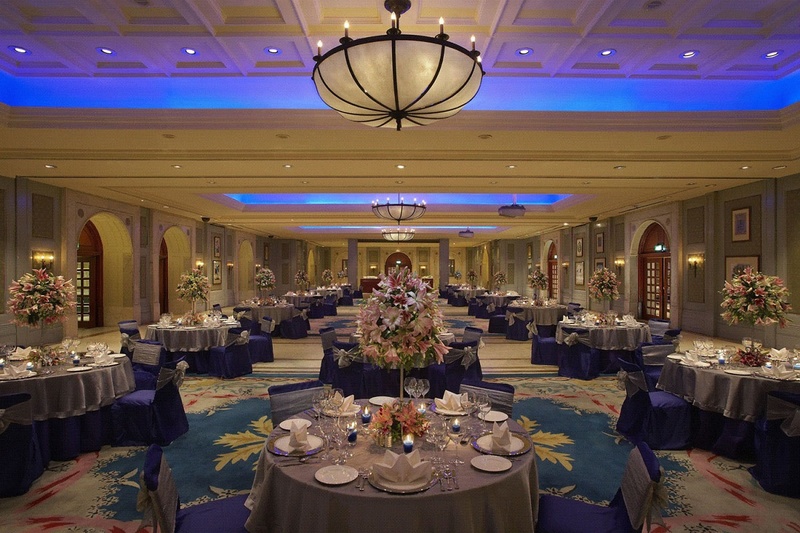 Bangalore, also known as the 'Silicon Valley of India,' is a reflection of modern India- energetic, vibrant, and progressive. This cosmopolitan metropolis attracts talented youth from all over India. The capital of Karnataka, it is the epicenter of Dravidian culture too. Whether you would opt for an arranged marriage or marry the love of your life, it has a myriad of options in terms of wedding venues. Posh hotels are aplenty, so are the wedding lawns, banquet halls, and wedding resorts. If, however, you would like to get wed in a traditional Hindu ceremony, then picking a comely kalyana mantapa would be a perfect fit for you. Been said that here are the kalyana mantapas in Bangalore that you must check out for a carnivalistic marriage celebration.
As its name hints, Pai Vista Convention Hall flaunts an amazing vista for your guests to soak in as they step onto the premises. One of the top kalyana mantapas in Bangalore, it has several lavish banquet halls of varying sizes for you to play host to your guests. The luxe banquet halls would enchant your guests with its regal decor. The magnificent ceiling possessing cluster type chandeliers would be the cynosure at this resplendent venue. Not to lag behind, the coruscating stage decked up with traditional decor would compete with the astounding ceiling to grab its share of eyeballs. Recessed lighting would augment the chandeliers to keep the place gleaming.

Pai Vista Convention Hall, Banashankari, Bangalore
Address: Pai Vista Convention Hall, 3/1, 27th Cross Road, KR Road, Opposite to Sevakshetra Hospital, Near Monotype, Banashankari 2nd Stage, Bengaluru, Karnataka 560070
Key Features:
Resplendent venue with regal decor
Lavish banquet halls
Lodging amenities
An award-winning architectural gem, MLR Convention Centre is hands-down one of the best kalyana mantapas in Bangalore. It not only comprises multiple banquet halls but also boasts of sprawling lawn, that may come handy if you wish to have an outdoor function too. The banquet halls don fabulous furnishings to charm your guests. Laced with state of the art amenities, it would further ensure world-class service so as to ensure total comfort for your guests. The in-house professionals would shoulder the decoration and catering responsibilities. Staying on the tip of their toes, they are always eager to go the extra mile to ensure that your big day celebration is a grand success.

MLR Convention Centre, JP Nagar, Bangalore
Address: MLR Convention Centre, JP Nagar 7th Phase, 7th Phase J.P. Nagar, Bengaluru, Karnataka 560078
Key Features:
Multiple spacious banquet halls plus a sprawling lawn
Ample parking space plus valet facility
Open catering and decor
Pai Vista Convention Hall – South End Circle is the second entry in this exclusive catalog from the house of Pai Vista Conventional Hall. Among the most popular kalyana mantapas in Bangalore, it has multiple lavish banquet halls of near equal size for you to welcome and segregate your guests. You have the opportunity to bring on board a decorator of your choice to work on the cosmetics. The regal and intricate decor at this palatial venue is a head-turner for sure. The jewel in the crown would be the ceiling, a sight to behold with its geometrical patterns and recessed lighting, that lets it resemble the star-studded sky. It would delight your guests with pure vegetarian dishes and desserts.

Pai Vista Convention Hall – South End Circle, Basavanagudi, Bangalore
Address: Pai Vista Convention Hall – South End Circle, Patalamma Temple Road, Near South End Circle, Basavanagudi, Bengaluru, Karnataka 560004
Key Features:
Serves pure vegetarian dishes and desserts
Multiple lavish banquet halls
Regal and intricate decor
Ebisu Convention Center in Yelahanka, renowned for its huge party spaces – Ebisu Palace and Ebisu Studio easily tops the list of large kalyana mantapas in Bangalore. Both of these party spaces are comprised of an attached banquet hall with a sprawling lawn. Both capable of hosting thousands of your kins, you do not have to worry about your expansive list of guests, if you opt for this majestic venue. This international standard multi-purpose venue has arts, artifacts; floral and traditional decor to enthrall your guests. The imperial ambiance is bound to make your guests feel special. An enormous parking lot here ensures that the vehicles of your guests are always secure.

Ebisu Convention Center, Yelahanka, Bangalore
Address: Ebisu Convention Center, Plot No 68/69, Opposite Regal Hospital, Hegde Nagar Main Road, Jakkur Post, Chokkanahalli, Balaji Layout, Yelahanka, Bengaluru, Karnataka 560064
Key Features:
Floral and traditional decor
Multiple attached spaces
Enormous parking lot
In sync with its name, Empire Yolee Grande is an imperial palace having banquet halls on multiple floors. In the league of large conventional halls in Bangalore, it flaunts expansive and posh interiors. These elegant banquet halls here flaunt fabulous furnishings. The huge pendant lights would appear as the cherry on the cake, and the recessed plus ceiling lighting would aid them to illuminate this spacious venue. The stunning traditional and intricate décor of the venue gives a special touch to your big day. However, in terms of food arrangement, you would have to bring a caterer to serve food platters consisting of your choice of viands to your guests.

Empire Yolee Grande, Frazer Town, Bangalore
Address: Empire Yolee Grande, 14 Pottery Road Opposite Bangalore East Railway Station Richard Town, Bengaluru, Karnataka 560005
Key Features
Opulent banquet halls on multiple floors
Stunning traditional and intricate décor
Flaunts fabulous furnishings
Have you scanned the kalyana mantapas in Bangalore thoroughly? Assuming your answer is affirmative, let the world know about the venue of your choice. In case you hail from the city itself, you may also state a venue of your choice and why this catalog should have originally included it. If you wanna window shop for more options, then visit the weddingz.in portal, it contains wedding venues aplenty.