5 Mouth-Watering South Indian Sweets You Must Serve At Your Wedding: Kuch Meetha Ho Jaye?!
Big shout-out to all the South Indian folks out there! Nalla irukingala?
This blog is going to be great for all you confused girls and boys out there who don't know how to plan their kalyane sapad. Seri?
Be it Karnataka, Tamil Nadu, Kerala or Andhra Pradesh, most of the South Indian sweets don't get the credit they deserve and we're here to turn that around. Because honestly, we think they're pretty damn dope. And we're pretty sure that Thalaiva would approve. What more do you need? 😛
 Trust us, you'll see for yourself once you find yourself at the bottom of this page with an approving nod – or googling Payasam recipes right after. 😉
So scroll on ahead to check out some of the best South Indian sweets that Rajnikanth and Kamal Hassan dote over!
MYSORE PAK
Mysore Pak is ghee-laden South Indian sweet usually referred to as the king of its kind in South and true to its name, any dessert platter is incomplete without it. Its fudge-like consistency makes it a melt-in-the-mouth dish that is usually the top choice for any South Indian wedding.
Places to try:
> Sri Venkateshwara Sweetmeat Stall, #179, Balepet, Bangalore-560053.
> Café Madras, 38 B, Circle House, King's Circle, Matunga East, Mumbai
> Sri Krishna Sweets, 1-1-92, RP Road, Patny Center, Opposite State Bank Of India, Secunderabad, Hyderabad
ADHIRASAM
Adhirasam is a crispy brown South Indian sweet-dish similar to a vadai except that it isn't savoury. One bite and your taste buds will thank you for the sweet, jaggery-cardamom flavour that you've rewarded them with. The best part is they function as a snack-cum-sweet that'll leave your tummy satisfied as well. Dessert turned meal: isn't that what everyone wants? 😀
Places to try:
> Sri Krishna Sweets Pvt Ltd, Priyadharshini Complex, 13th Cross, Indiranagar, Bengaluru
> Aiswarya home made catering service, 300/A,5th cross, Rameshnagar, Bangalore-37
> Hotel Saravana Bhavan, P-15, Connaught Circus, Beside Shivaji Stadium Bus Terminal, Delhi- 110001.
> 21 Saravana Bhavan Kenneth Lane, Near Egmore Railway Station, Egmore, Chennai 600008, India
 
PAYASAM
Payasam is a creamy milk-based pudding, basically the South Indian equivalent of the popular sweet dish Kheer. It is regarded as timeless and uses traditional ingredients like jaggery in place of sugar and coconut milk in place of dairy milk which adds a nice touch of good ol' Indian heritage to your dessert platter. Your impeccable taste will sure go a long way on your wedding day! Way to please your new in-laws, eh? 😉
Places to try:
> Banana Leaf, Juhu Versova Link Road, Mumbai, Maharashtra
> Mani's lunch home, 384, dabawala sadan, opp: Sri Bajan Samaj, Telang road, Matunga, Mumbai-400019.
> Dakshin, Sheraton New Delhi Hotel, 1st Floor, District Centre, Saket, New Delhi 110017
> Utupura, Beside Talwalkars, Eden Gardens, Road 10, Banjara Hills, Hyderabad
QUBANI KA MEETHA
This South Indian sweet is essentially made of dried apricots and Hyderabadi weddings are big on these. The perfect way to serve qubani ka meetha would be to top them with thick malai or silver varq. If you want to save a couple of bucks, do without the varq and add vanilla ice cream instead. Not to mention, all those apricot anti-oxidants should save you from the guilt-trip you're on!
Places to try:
Utsav, 2nd Floor Jyothi Elegance, Road No.36, Phase 1, Kavuri Hills, Jubilee Hills, Hyderabad, Telangana 500033
> The Pariwar Dhaba, 6-4-8, R R Dist, Airport Rd, Shivram Pally, Hyderabad, Telangana 500077
> Paradise, 484, Signature Square, CMH Road, Indiranagar, Bengaluru, Karnataka 560038
> Kama, Radisson Blu, Kaushambi, Ghaziabad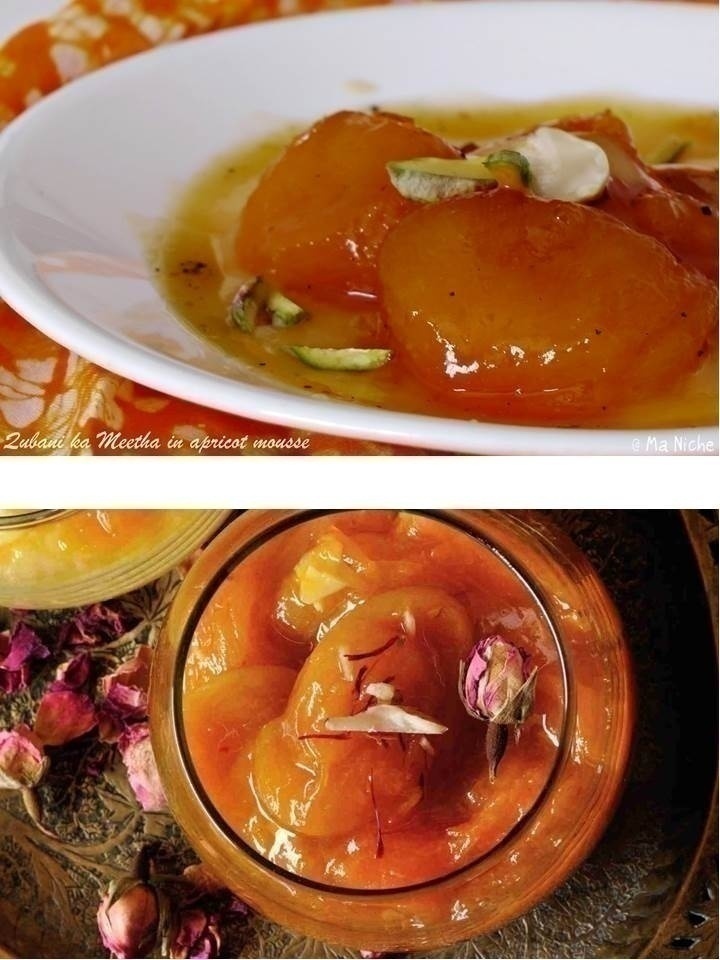 DOUBLE KA MEETHA / SHAHI TUKDA
Another Hyderabadi sweet, this South Indian bread pudding has its roots in Mughlai cuisine. As the name 'Shahi' suggests, it would make your wedding platter royalty-worthy. Comprising of bread and rich milk with dry fruits or kesar (saffron), double ka meetha/shahi tukda is a dessert fit for a king or queen, we'd say! And who doesn't want to feel royal on their big day. ☺ 
Places to try:
> Hyderabad House, Khilwat Ground, Charminar, Khilwat, , Hyderabad 500065
> Kallan Sweets, Shop 4-5, Bazaar Matia Mahal,Jama Masjid, New Delhi
> Bademiya, Tulloch Road, Apollo Bunder, Colaba | Behind Taj Palace Hotel, Near Gateway of India, Mumbai