5 Star Wedding Venues in Rajasthan
Known as the 'land of colours' and the 'land of kings and queens', Rajasthan is indeed a wedding paradise owing to its perfect ambiance and old world charm. Every city in this northern Indian state reflects the royal heritage and rich culture through its forts and elaborate palaces. There are a number of 5-star wedding venues in Rajasthan, which are best for couples looking for stunning locations amidst luxury and grandeur.So, give a glance at some of the best 5-star wedding venues in Rajasthan that are superb to host wedding functions.
The beautiful Radisson Blu in Udaipur is set on the banks of the Fateh Sagar Lake. The venue is surrounded by spellbinding mountain ranges and majestic palaces. The hotel has a well-equipped fitness centre, kids club and spa facility available for recreational purposes. With multiple halls, the largest pillarless ballroom for various wedding functions, lawn areas and a vast terrace section, the venue is suitable for reception parties, wedding functions and tasteful cocktail parties. Their in-house chefs offer an array of Rajasthani as well as other international cuisines. Click on the link for more such destination wedding venues in Udaipur.
Radisson Blu Udaipur Palace Resort & Spa, Rani Road, Udaipur
Address: B-1, Ambamata Road, Opp Aravali Hospital, Udaipur, Rajasthan- 313001.
Landmark: Rani Road
Ananta Resort & Spa offers a beautiful atmosphere and world-class luxuries to its guests. The stunning resort is situated in the lake city and spreads across 40 acres of land. It also offers a scenic view of the entire city of Udaipur and is situated in the hills with the highest peak of 150 metres. Their high-class amenities and on-site facilities are bound to please every guest visiting the Ananta Resort. The capacious hall and garden area is perfect for hosting pre-wedding and other wedding functions.
Ananta Resort & Spa – Udaipur, Kodiyat Road, Udaipur
Address: Bujhda, Tehsil- Girwa, Udaipur, Rajasthan- 313001.
Location: Kotiyard Main Road
The Leela Palace is not new to wedding celebrations and a known name in the hospitality sector. There is no better place to make your wedding beautiful and grand. Being a recipient of several national and international awards, the hotel beautifully combines quality services with world-class facilities and gives a lot of attention to detail. Whether the wedding functions consist of 10 guests or 1,000, the venue has 2 party halls that can be combined for a medium-sized gathering. Leela Palace also has a beautiful terrace area if you're considering post-wedding celebrations with friends.
The Leela Palace, Chandpole, Udaipur
Address: Lake Pichola, Udaipur, Rajasthan- 313001.
Location: Ambrai Road

ITC is a renowned name, and one of its best offerings is the Welcome hotel in Jodhpur. Situated at the Thar Desert, this venue pays tribute to the city of Jodhpur, which is laden with a rich history and culture. Apart from making your wedding ceremony a memorable affair by providing multiple banquet halls, the venue also allows you to host open-air wedding ceremonies in their gorgeous lawn. At ITC's Welcom Hotel, you can expect the best culinary experience and satisfy your taste buds. Click on the link for more such destination wedding venues in Jodhpur.
ITC Welcome Hotel, Shikargarh, Jodhpur
Address: Khasra No.53, Near Vidhyashram International School, Village Uchiyarda, Jodhpur, Rajasthan – 342027.
Location: Shikargarh
Taj Gateway is a tribute to the beauty of Jodhpur, and it believes in offering quick and the best service for travellers seeking a problem-free experience. The magnificent hotel is stretched across a huge patch of land and has aesthetically-designed rooms, keeping in mind the comfort and convenience of the guests. With a huge lawn area that has a seating capacity of 4000 guests, Taj Gateway in Jodhpur is the perfect location to host your wedding functions.
The Umaid Hotel- City Palace, Banar Road, Jodhpur
Address: Banar Road, Jaipur Highway, Jodhpur, Rajasthan- 342027.
Location: The Ummed Jodhpur park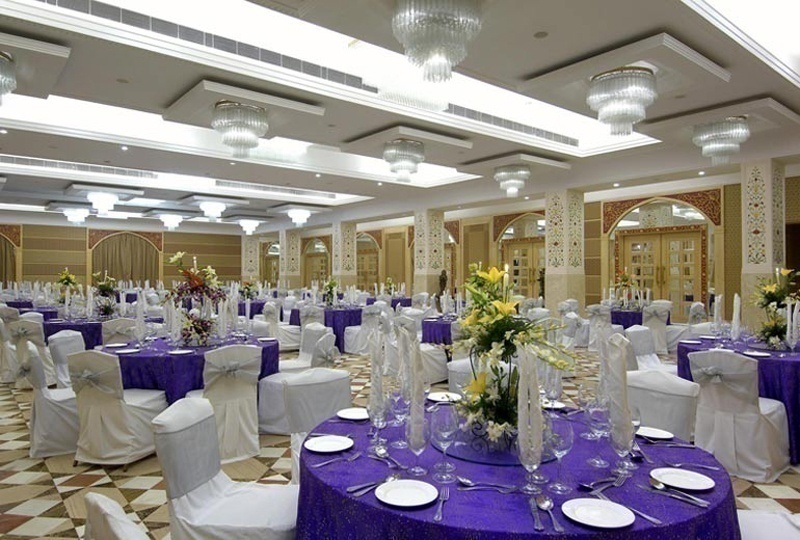 If you wish to host your wedding in royal style, then Le Meridien is the right place for you. The breathtaking architecture, which is a perfect blend of traditional and modern designs, is definitely something to watch out for. While the hotel offers multiple banquet halls and garden areas for various wedding functions, the two can also be clubbed to host a big fat Indian wedding. The venue is complete with modern amenities and convenient facilities. It provides a host of other facilities like currency exchange, translator, fitness centre and spa facility.
Le Meridien, Kukas, Jaipur
Address: Number 1, RIICO, Kukas, Jaipur, Rajasthan 302028
Location: Jaipur Junction Station
Fairmont is situated between beautiful mountains and has stunningly designed interiors. The hotel continues to be one of the most popular wedding venues in the city. The well-lit party areas make it the best bet when it comes to wedding celebrations. The rooms are intricately designed, adding a distinctive touch to the entire venue. The Grand Ballroom party area is spacious enough to host lavish wedding functions. The food at the venue is a great combination of authentic Rajasthani cuisines and other multi-cuisines.
Fairmont, Kukas, Jaipur
Location: Jaipur Junction
Address: 2, Riico, Kukas, Jaipur, Rajasthan 303101
This majestic structure is considered to be one of the most exotic wedding destinations in India. This 15th-century heritage hotel is extremely popular and has seven wings built across 6 acres of the garden palace. Speaking of weddings, Neemrana has been a spectator to grand weddings since ages now and has a stylish banquet hall along with two beautiful lawn areas for hosting an intimate wedding ceremony. The venue has beautiful hanging gardens, swimming pools and an Ayurvedic spa for guests to come and rejuvenate themselves post-wedding.
Neemrana Fort Palace, Neemrana, Neemrana
Location: Delhi-Jaipur Highway
Address: 15th Century, Delhi-Jaipur Highway, 122nd Milestone, Delhi-Jaipur Highway, Neemrana, Alwar, Rajasthan 301705.
So before booking the venue for your wedding, go through the above list of destination wedding venues in Rajasthan.