5 Star Wedding Venues in Udaipur for your Grand Marriage Affair!
Udaipur has always been at the forefront when we talk about grand wedding ceremonies and it has a lot to credit the history of the city. Also known as the city of lakes, this city of Maharajas' has a royal touch be it weddings or the cuisines that are served here. If you want plan a grand wedding in Udaipur, we've listed a few wedding venues in Udaipur that will surely ease your process in getting the bookings done.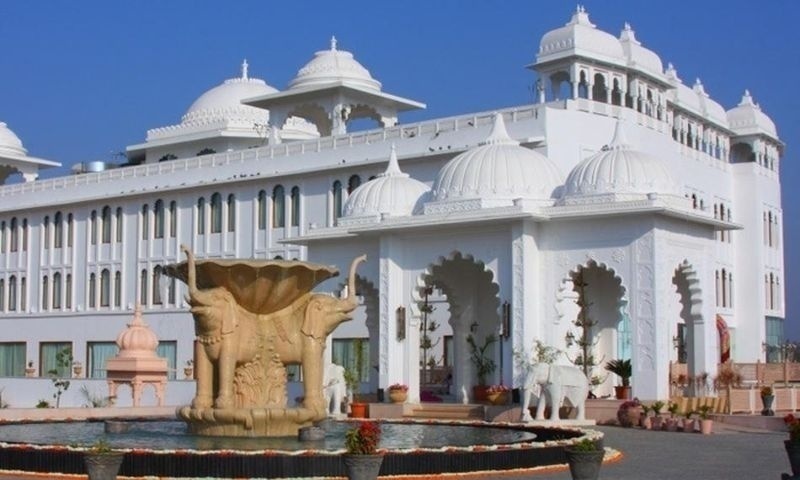 When we talk about royal and grand things, The Lalit Laxmi Villas Palace surely is something that you would associate with it. One of the most famous luxurious wedding venues in Udaipur, this place has a different air about it that will surely make your day special. The hotel has some of the most luxurious rooms for your comfort that will offer a stay that is worthwhile. You will be treated with Rajasthani food in both veg and non-veg that is a definite treat for your taste buds. When it comes to weddings in Udaipur, this place surely needs your attention. For an experience of a lifetime, get your bookings done at the Lalit Laxmi Villas Palace and enjoy their royal treatment.
Address: Opposite Fateh Sagar Lake, Udaipur, Rajasthan- 313004.
Key Features:
Royal Mewari Welcome with Dhol Nagada
Folk dances and evening cultural programs
Live Royal salute from bagpiper band in the evening
Traditional Puppet show at front Lawn in the evening
The word 'grand' does little justice to The Oberoi Udaivilas Palace. The vibes that you get here are totally different from what you get anywhere else. You can host all your wedding events, right from your pre-wedding shoots to receptions, they have covered everything for you. It is one of the best wedding venues in Udaipur which requires no introduction. The artwork around the property is simply mind-boggling and it catches your attention instantly. To celebrate your day in grand style, plan your wedding at the Oberoi Udaivilas palace and create memories for a lifetime.
Address: The Oberoi Udaivilas, Haridasji Ki Magri, Mulla Talai, Udaipur 313001.
Key features:
Wellness spa and gym at the venue
Private Yoga sessions at the venue
Heritage walk for the guests
Private city tour by boat
The City Palace in Udaipur is a well-known venue for hosting weddings. When we talk about destination weddings in Udaipur, this venue surely makes it way ahead than the rest. Planning a big fat India wedding here is a dream for most people as it has a perfect setting for your big day. Literally everything, from the smallest thing to the biggest, everything is grand at the City Palace. To experience the royal treatment at the City Palace Udaipur go ahead and get your bookings done.
Address: Shiv Niwas Palace, Udaipur, The City Palace, Udaipur, Rajasthan- 313001.
Key features:
Palace Band and Classical Music Sessions
Swimming pool and health care centre
Library available at the venue
Outdoor sports for guests.
What if we tell you that there is a scintillating 5-star property in Udaipur that allows you to host all your lavish weddings. The Leela Palace at Chandpole in Udaipur promises to be a special experience for your special day. If you're planning to host a wedding in Udaipur, the Leela Palace should definitely be on your list. Known for its artistic ambience which includes the banquet hall and the lawn, this place surely lets you celebrate your dream wedding in style. One of the best 5-star marriage wedding venues in Udaipur, you can definitely look forward to host your evening here.
 
Address: Lake Pichola, Udaipur, Rajasthan- 313001.
Key Features:
Cultural programs are arranged at the venue
Yoga classes are conducted for the guests
Suitable for hosting events amidst nature
Lakeside view adds to the opulence
When we talk about Fateh Garh there is something that stands out when compared to the rest of the venues. It's the spectacular view that we are talking about. Having a picturesque setting on your special day will definitely make your wedding day a grand success. You can host all your wedding-related events here at Fateh Garh at Sisarma in Udaipur. Marriages in Udaipur are always celebrated with grand gestures and you can celebrate yours at Fateh Garh, Sisarma, Udaipur, a royal wedding venue in Udaipur.
Address: Sisarma, Udaipur, Rajasthan, India.
 
Key features:
A trip for the guests to visit the rural outback of Udaipur
Offers a beautiful view of the city, lake and mountains
Outdoor activities arranged for the guests
Wellness spa available for the guests
Check out these wedding venues in Udaipur to host your royal wedding!!