5 Things To Expect From a Scorpio Bride
Oooh… it's the month of the Scorpio and friend or foe, everyone wants to know! That's exactly how famous these ladies are! Oozing oodles of charm and sensuality, Scorpio brides are charmers and can win over everyone with their smiles. We did a quick study of the Scorpio woman and here are five things that you can expect from a Scorpio bride or her wedding.
Scroll on to find out more about these sexy brides!
Scorpio Brides Will Make a Grand Entry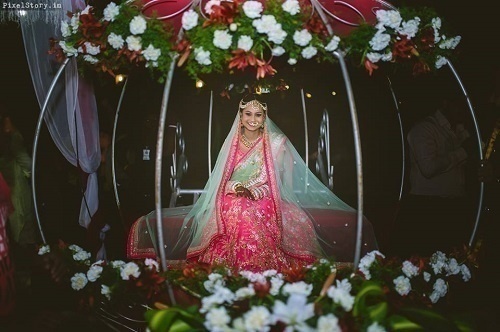 Image Credit: Pixel Story
Scorpios love everything intense and have a knack for making things larger than life. They want all eyes on them and a grand entrance does just that! Think Scorpio Brides, think palkis, carts and what not! Truly, these brides never cease to amaze us, do they?
Vibrant Colours at The Scorpio Bride's Big Day
Image Credit: The Creative Lens
They are a sucker for vibrant and fun colours which only adds to their grand wedding! From decor to giveaways – these happy brides will choose bright things that will stand apart from the rest!
Scorpio Bride – The Perfectionist
Image Credit: Foto Walle
When all is said and done, the Scorpio bride will want her way and is very serious about it! Scorpios are perfectionists and when it comes to their special day, it has to no less than a fairy tale!
Heartfelt Touches to The Wedding
Image Credit: Preach Art Photography
Scorpios have a fine taste in things and are sure to add these to the wedding. Scorpios love a good bouquet, a great love song and other finer things in life. The Scorpio bride is essentially feminine and you can expect plenty of flowers, a good playlist and some fine champagne among other things.
Scorpio Brides: The Sensuous One
Image Credit: The Royal Affair
Scorpios are sensuous creatures and Scorpio brides sure reflect that! These brides look the sexiest and will choose luxurious and gorgeous outfits which complement their natural persona – being sensuous and sexy!
*Cover Image Credit: Camera Crew – Rajesh