5 Tips to make your Wedding Decor look Lavish Without Spending Too Much
Who doesn't go starry-eyed about extravagant weddings? Who doesn't go all weak in the knees seeing gorgeous decor that looks straight out of a fairytale? We've all been there, ladies, trust me, we all have! As a to-be-bride, you'd be lying if you say you aren't smitten every time you scroll through your Instagram feed and come across wedding pictures. The glitz, the glam, the luxe- it transports you within seconds to a world far away from reality, where everything is nothing but BEAUTIFUL!
Now, we do know what we like, but as a bride, your wedding decor is not the only thing your partner and you have to spend on, right? There is the venue, the outfits, the jewellery, the food, wedding favours, and loads of other miscellaneous costs. However, if you're thinking you can only have top-notch decor at your wedding if you have a splashy budget, think again! Ladies, having good decor at your wedding need not require a whole lot of bucks, but it sure does require using the right techniques.
The decor is definitely an important part of your wedding and an aspect which goes unnoticed by guests. On that note, here are quick tips to ensure your wedding decor is unmatched and impressive without burning a huge hole in your pocket:
1. Venue location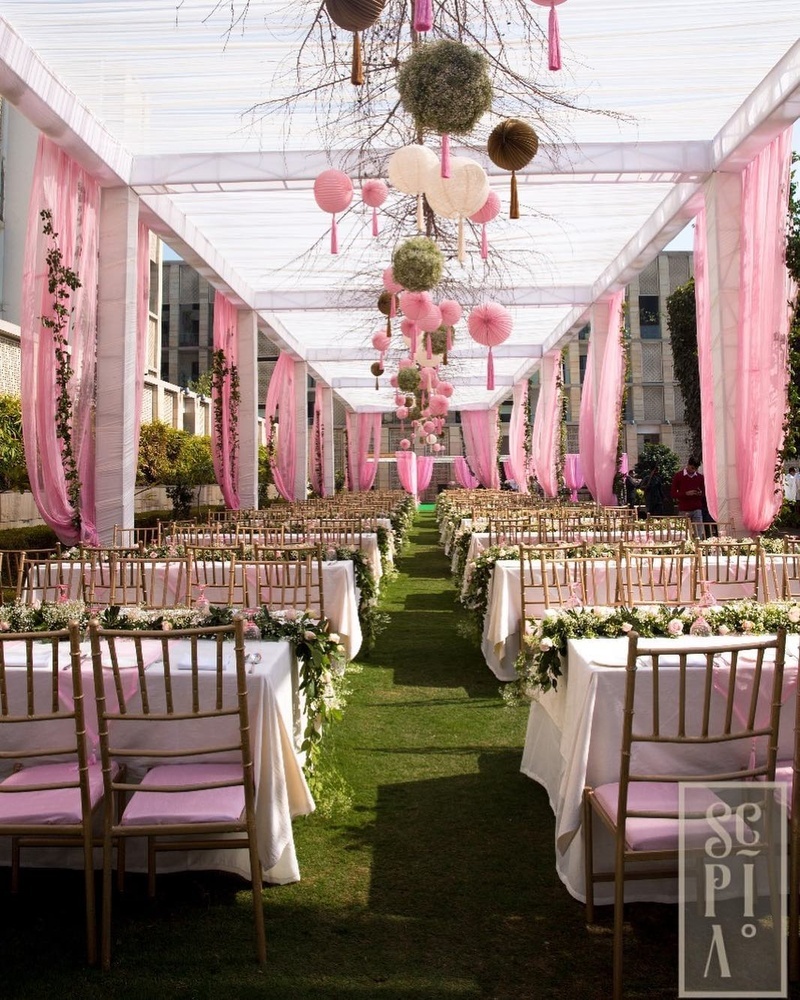 Image source: Sepia Events
Choose your wedding venue wisely, after all, it is the venue that will set a base for everything else. If you want to have larger-than-life decor opt for hosting your event in the countryside or a farmhouse rather than in the city, this will save you a considerable amount. 
Moreover, choose a pretty location where you wouldn't have to spend a fortune on the decor. You could go in for a hilly area, somewhere by the beach or with a botanical garden in the background.
2. Table setting
Image source: Altair Decor
Apart from the mandap, the table arrangements take up maximum space. Thus, it is imperative to pay a lot of attention to table decor. Don't load your tables with too many details and accents- this will only make it look less spacious and more cluttered. Also, it is preferable to use lighter shades for the table linen for the area to look more spacious.
3. Unconventional textures and designs
Image source: Atisuto
These days it is all about being hatke and unconventional, isn't it? Every wedding aspires to have something that is eye-catching and bespoke. Taking, for example, this eclectic paraphernalia, giving Rajasthani decor a whole new dimension.
4. Flowers here, flowers there, flowers everywhere!
Image source: Tanvi & Co.
There aa gazillion ways to incorporate flowers at your wedding and are comparatively a more reasonable decor element. You could have floral chandeliers or floral drapes. If you want it more economical, you could opt for something like ferns, foliage and baby breaths- these turn out cheaper!
5. Have a theme
Image source: Wedding Nama
Decor by: Altair Decor
Without a particular theme, your wedding decor can be all over the place. It is better to stick to a theme and colour palette in mind and work all your decor elements around that theme.
So, ladies, now you can make your decor dreams turn into reality without going bankrupt!