6 Adorable Ways to Include your Pet in your Wedding
A dog is a man's best friend, isn't it? Wrong. A dog (or cat) is God's greatest gift to mankind! Ask any dog or cat parent and they'd nod their approval. It is a known fact that our pets aka furry babies enrich our lives. They are simple and their love is unconditional, purer. As most of us strive to include them in our day-to-day activities and almost every aspect of life, it is only natural that you may want to include your four-legged baby at your wedding.
Image Source: Shaadi Magic
Yes, you heard that right – we are saying that you must include your pets in your wedding celebrations! How? We bring you 6 ways in which you can include your pet in your wedding.
But before that, here are a few things you need to make note of before you plan to include your puppy in the celebrations:
Image Source: Dipak Studios
Consider your Pet's Personality
This is perhaps the most important point before you plan anything around your pet. If your pet is the friendly sort, who loves to be around people and is comfortable around large crowds and children, be assured your pet will enjoy the attention and all the hullabaloo at your wedding.
Image Source: Gaatha.co.in
If your pet is old, we'd suggest to bring them over for some time as they may need more peace and quiet or arrange for a separate room or space where the dog can rest.
Check if Pets are Allowed
Yes, it is your wedding. You are paying all the bills. However, the venue may or may not allow pets. So, when booking your venue, ask about permissions regarding pets. If you are hell-bent on including your pet, then ensure you look for pet-friendly places only.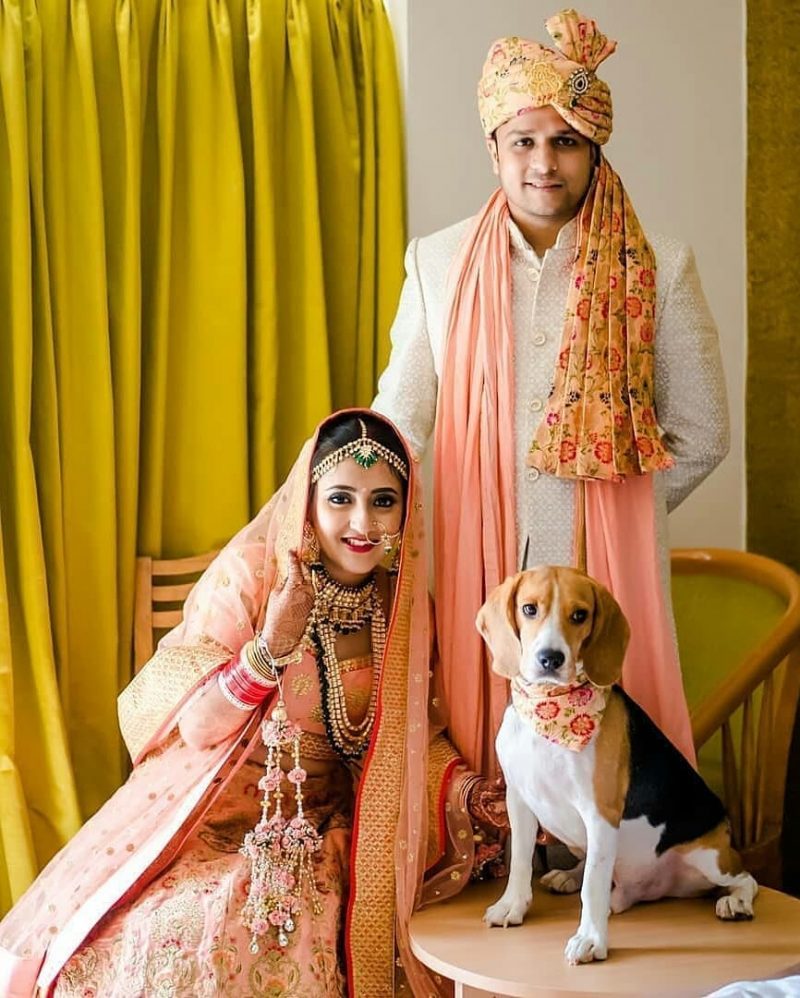 Image Source: Shaadi Magic
Let your Guests and Family Members know in Advance
This is very important. Not everyone is comfortable around pets. So, it is best to inform your guests beforehand that your doggo will be attending your ceremonies. Also, make sure you let everyone know that they are an integral part so the guests can behave themselves around your baby.
Comfort is Priority
Who doesn't love a pooch in an outfit, say a tuxedo or a tutu skirt? For our Indian weddings, couples get matching jackets made for their pups. However, do so only if your puppy is comfortable. If they are not used to wearing outfits, drop it. You can get them to wear a simple bandana or a new collar.
Image Source: Shaadi Magic
Introduce your Pet to your Photographer
Another important point. This should begin when you are planning your pre-wedding photoshoot. First of all, ask your photographer if they are comfortable around pet animals. If they are, it is best to let the dog get acquainted with the photographer before planning the photo options. If they know each other, things will be smoother.
Also, on the day of the wedding, you can plan fun shoots with your dog.
Get a Petsitter
Our four-legged friends are our babies and they need constant attention. Also, they want to convey their happiness, discomfort or many more things. At your own wedding, you'd be very busy getting ready, heading to the mandap and be surrounded by many relatives and friends. Your fur baby may feel left out. So, it is best to get a pet-sitter for the day who is already known to your dog. The pet-sitter will be responsible for your dog and be around them while attending your wedding. This ensures utmost comfort for your dog.
Consider the Distance and the Weather
There is no rule against travelling with your dog to your destination wedding. Just ensure their maximum comfort in terms of travel and accommodation. Fix everything in advance as you are responsible for them. If it is a local or domestic wedding, ensure the travel is comfortable for your pup else, they may fall ill.
Weather plays an important role in your pet's comfort. If it is too cold or too hot, your pet might not be comfortable. You may have to reconsider your plans to include your pet.
Now, let's look at ways in which you can include your dog in your wedding festivities –
1. Make a Grand Entry
Your bridal entry is very important. Every bride today wants to try something different. So, why not include your dog or dogs in escorting you out? While you walk under the phoolon ki chaddar with your brothers and sisters, your fur baby can lead the way!
2. Save the Date Ideas
Save the date ideas are a big rage and a great way to announce the date of your nuptials before anything starts officially. This is a good way to include your pet. Your dog can pose with your save the date posters or creative.
3. Pre-wedding Shoots
Like 'save the date', your doggo can be a part of your fun pre-wedding shoot too. In fact, you three (the to-be-spouse, doggo and you) can have tons of fun posing in funny ways.
4. Ring bearer/Flower Girl
A super cute way to include them in your wedding is to get them to do something like being the ring bearer or a flower girl. In case of a Hindu wedding, they can lead the bridal entry with a cute poster announcing the bride's arrival.
5. Include them in your Invite
A great way to let everyone know about your pet is to include them in your wedding invite.
Image Source: Gaatha.co.in
6. A Pet Cake Topper
Yes, along with the cute couple, the cute doggo topper will be a great addition to your wedding cake decoration!
We hope you enjoyed reading this blog and have enough inspiration to include your furry pals in your wedding ceremonies. Have more ideas? Do share them with us in the comments!