They say love triumphs all. Yes, even in these uncertain times where the
world is reeling under the weight of Coronavirus, love does triumph everything
else, including the need to postpone the wedding!
When governments around the world have declared a ban on gatherings, on travel or even stepping out of home unless necessary, some couples who were set to tie the knot in the months of March and April 2020, thought otherwise. No, they did not break any rules; they did not go with a large wedding or force anyone to travel. In fact, they got creative and tied the knot with little or no attendance.
Let's take a look 😊
1. Deal Signed!
Image Source: Malvika Sitlani Official
When a beauty and fashion influencer announce their engagement, you know something big, fashionable and dhamakedaar is in store for their upcoming nuptials. But thanks to Coronavirus, this was not to be. But it did not stop Malvika Sitlani and her man from saying 'I do'. They opted for court marriage to solemnise their journey in holy matrimony!
2. When Love Wins!
Image Source: Bindi Irwin
Bindi Irwin is a famous entity, following her father, Steve Irwin's footsteps to save the wildlife in her native Australia. She is an Australian TV personality and a conservationist. The 21-year-old married Chandler Powell in an intimate ceremony amidst the COVID-19 pandemic. They decided to go ahead with their wedding as they had been planning the event for nearly a year. She shared this message on her Instagram post – "Right now we're encouraging the world to hold onto hope and love, which will carry us forward during this profound time in history. Today we celebrated life and revelled in every beautiful moment we shared together in our Australia Zoo gardens. Mum helped me get ready, Robert walked me down the aisle, Chandler became my husband and together we lit a candle in Dad's memory. We shared tears and smiles and love. Thankfully, since we all live at Australia Zoo as a family, we could be there for each other. To everyone reading this – stay safe, social distance and remember LOVE WINS!"
3. The Calm in Chaos
Image Source: Teachingwithhappiness(Jennafer)
Most brides across the world dream of a fairy tale wedding, walking down the aisle in a dreamy gown, at a dreamy venue, to become one with the man of their dreams! Jennafer wanted these things too. But thanks to COVID-19, they had to change their plans. Jennafer and Ryan went ahead with a very intimate wedding sans any guests or parents. Sadly, even her grandparents couldn't attend the ceremony. But what really mattered is that even amidst all this chaos through the pandemic, two people in love strengthened their bond! Jennafer shared pictures of their wedding on her Instagram profile and a small note – "I think there's something special and pure that in the midst of all this chaos, we were able to have a ceremony that provided us with an intimate and irreplaceable memory of our day. Postponing the celebration until the summer, and giggling to myself because now Ryan will have 2 anniversaries to remember."
4. Take that Coronavirus!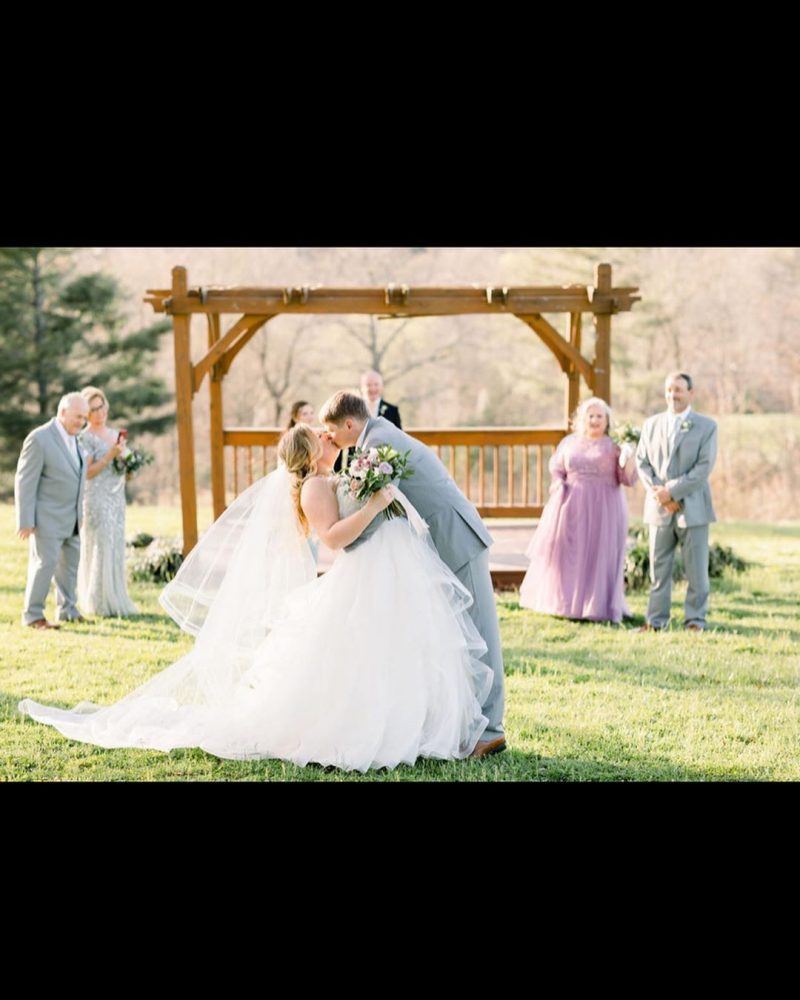 Image Source: Catchmeifyoucan23
Doing anything normal seems like a daunting task currently as the pandemic has shaken our beliefs in the most mundane of tasks. And in such a grim situation, when social distancing is the norm, couples sometimes take the leap of faith a little too seriously and literally… Britt and Nolan Smith tied the knot on 21st March 2020 amidst the whole lockdown scene. She shared her news on Instagram with this sweet message, "Take that coronavirus!! I came up with this plan at 3 AM Tuesday morning (I didn't sleep all week). We still got married in a private intimate ceremony on our original date 3-21-20 that way my dad's birthday will always be our anniversary (he passed away from ALS in 2003) also my aunt hand-stitched a patch of my mom's wedding dress who I lost two years ago (I met Nolan the week after I lost her I still believe they handpicked him for me) onto my dress (oh the feels) I had them with me on that day in spirit!! We can't wait to celebrate with all of our family and friends in December on our new postponed celebration date! We made the best out of the situation! All I needed was that mountainside and Nolan for my day to be perfect!"
5. Ready for Round 2 in 2021!
Image Source: Youmimatsustudio
Ever considered your apartment building's terrace as a wedding venue? Well, you should! Especially now just like Paula and Kencacc, a couple tied the knot on their terrace and promised to have a proper celebration in 2021!
6. Love Triumphs All
Image Source: Katlyn Cinicola
Love is a powerful emotion and feeling. And it does conquer all even in times of Coronavirus. Katlyn and Alex had always been crazily in love and so, they took a crazy but amazing step together, i.e., to tie the knot!
"When we were planning for our wedding, I think the part I looked forward to most was having our first look. I wanted our moment together to be special because it would be just the two of us seeing each other for the first time on our wedding day. Lucky for me, our wedding day came ten days early! We spent the whole day together and Alex was still a mess when he saw me for the 100th time that day. Getting married in a world crisis was crazy, but Alex has always loved me like crazy and I can't believe I get to be his WIFE." – Katlyn