6 Wedding Favours You Can Give Your Guests
Let's put it this way. Favours are guaranteed to add sentimental value to your celebrations. Amidst the preparations, planning and making every moment of your wedding day picture-perfect, you don't realise that the day zips by so fast. Why not make your loved ones hold on to those wonderful times? Isn't it nice to have something associated with your wedding as gifts? As long as you have fingers and thumbs, you don't have any excuse to skip this. So, put your thinking hat on and take a look at these great wedding favour ideas for your guests.
Sweet Treats
Slurrp! How about making your gifts edible? As much as we would like to undermine this idea, it never fails to make your guests go 'wow'. Of course, we are not talking about traditional mithais, cakes or cookies. Let's make it as exotic as possible, and it will get the attention it deserves. If you are planning to give it only to a few loved ones, why not get your aprons on and cook up some tasty treats? Yeah, new age is the way to go. How about custard-apple mithais, rose-petal barfis or a walnut and cinnamon barfi?
Cute Tote Bags
Add a spin to the regular clutches and get personalised totes for your guests. There's nothing better than a fun tote bag that is useful and stylish. Yes, go that extra mile and get heartfelt messages printed on the bag to throw in emotional value. You could opt for blingy bags or the subtle ones in cotton. No matter what you choose, don't forget to leave your personal touch.
Personalised Flash Drive
No matter how exciting your wedding celebrations are, the sad news is that they must come to an end. The good news? Well, you can give guests memories that will play on forever. Load a flash drive with your favourite photos and your very own playlist. Hopefully, guests will be pretty excited to watch your pictures and videos.
Disposable Wedding Cameras
That's something beyond quirky and unique. These cameras capture those happy and funny moments your guests would want to remember and share with everyone. Absolutely fun to use, they capture the wedding mood just right. Guests could capture pics that the wedding photographer may have missed. Before your guests start wondering what this tiny piece of gadget means, go clickety click. Encourage them to have a go at these disposable wedding cameras at your wedding and treat them with the best gift you could ever give – memories.
Mini Liquor Basket
Are you seriously considering giving liquor favours at your wedding? Sometimes, it's great to give your loved ones something you know they are really going to use. Nothing beats a bottle of finely selected booze. Your favourite bottles of champagne, red or white wine will always be appreciated. Want to make it more exclusive? Include personalised barware items like carafes, shakers, serving glasses, beer mugs and coasters.
Preserves and Chutneys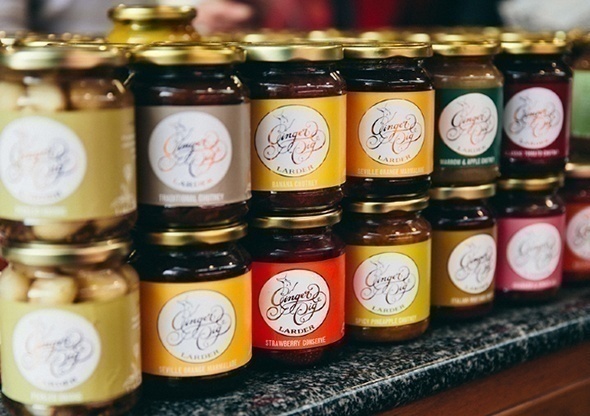 Remember those childhood days when your grandma used to make lip-smacking chutneys, homemade pickles and murabba? Well, India is all about family, love and traditions. So, why not treat everyone with packaged homemade preserves by distributing them? They can be stored for months and years without any hassle and don't go bad with heat like chocolates and mithai do.