7 Beautiful Mehendi Designs for Karva Chauth
Karva Chauth is celebrated in Northern India. Karva means 'pot' and chauth means 'fourth' in Hindi (a reference to the fact that the festival falls on the fourth day of the dark-fortnight, or Krishna paksh, of the month of Kartik). Married women and newly-wed brides get dressed in festive red ensembles and fast the entire day, without a sip of water or a morsel of food.
There are a number of theories supporting the origin of Karva Chauth. One hypothesis is that military campaigns were often conducted by men in far off places whereby men would often leave their wives and children to go off to war. Their wives would often pray for their safe return. Another story about the origin of this festival relates to the bond of feminine friendship. With the custom of arranged marriage being prevalent, the newlywed was supposed to reside with her husband and in-laws. Being new to the family, the custom arose of befriending another woman as her friend (kangan-saheli) or sister (dharam-behn) for life. This emotional and psychological bond would be considered akin to a blood relationship. It is said that Karva Chauth festival evolved to include celebrating this special bond of friendship.
From the red out outfit the jewellery to mehendi, there is a lot that married women have to do in order to be completely ready for breaking the fast when the moon finally comes out of its hiding amongst the clouds. Here are 7 Mehendi ideas for Karva Chauth:
1. Rather than filling up your hands with design, keep it simple by highlighting the bride and groom conducting the ritual of breaking the fast.
Image Source: Alankritaa by Rashi
2. If you don't want the bride and groom, draw only the bride. Beautifully decked in her bridal ensemble and holding the sieve, this mehendi design gives major Karva Chauth vibes!
Image Source: Mehendi by Sujitha
3. There is something special about celebrating Karva Chauth with your female relatives and girlfriends. You can capture that special moment with your Mehendi design.
Image Source: Pinal Mehndi
4. Another really pretty design of the bride standing under the starry sky and looking at the moon through the sieve.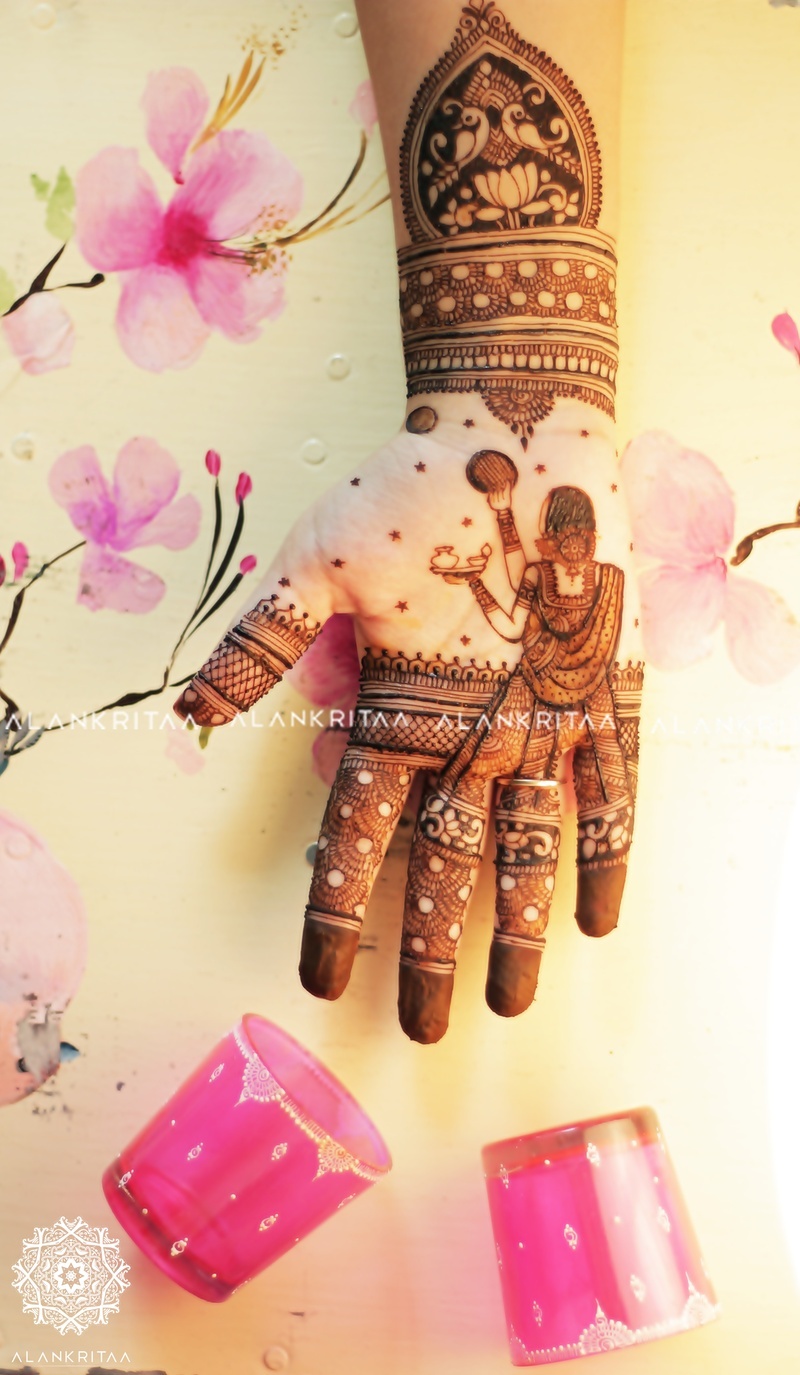 Image Source: Alankritaa by Rashi
5. You can also be a little playful with the Mehendi design by opting to showcase the breaking of the fast on one hand and the bride's Karva Chauth look.
Image Source: Doll Makwana
6. If you are keen on showing the bride and groom in your mehendi, this is another great design. From the diya to the glass of water to the sieve, all the small yet integral elements of Karva Chauth have been captured.
Image Source: Mayuri Mehndi Artist
7. One hand is the starry sky while the other hand is the bride – aesthetic, festive and stunning!
Image Source: Bridal Mehndi Artist
Hope this helps all the newly-wed brides and married women!