7 Brides Who Chose Colours Besides Red For Their Lehenga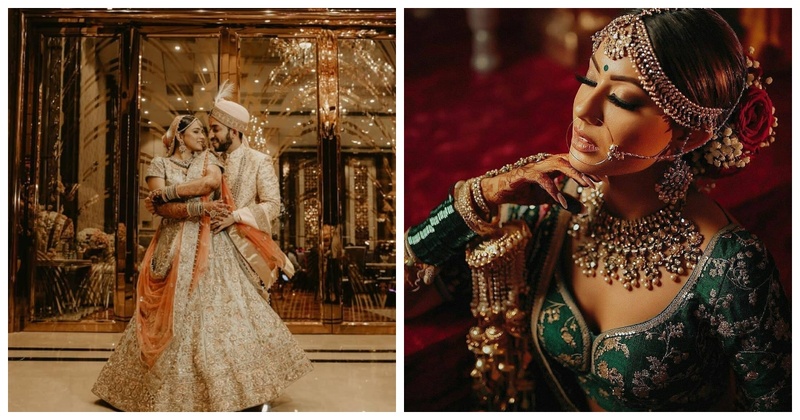 Although red is the go-to traditional colour for every bride who is picking out her wedding lehenga, modern brides are now looking at a variety of colours for her special day. Colours can also be paired with your partner to make the two scream couple goals all the way. So on a scale of which colours really stand out at a wedding, here are a few brides who parted ways with red as their main lehenga. They look fabulous and amazing and their pictures have come out just perfect.
1) A Gold And Orange Ensemble
    Image Source: Safarnamafilms
              This bride has picked a beautiful gold lehenga with orange and gold zari work, complete with an orange dupatta. She paired it with some beautiful gold jewellery, the blushing bride looked radiant and gorgeous. Her partner has picked colours similar to the bride and the two look perfect in their wedding attire. The decor of the venue adds to the sophistication of the couple shots. 
2) A Pink And Silver Ensemble
Image Source: Shutterdownphotography
             If you're ever looking for the perfect heavenly look, this bride has most definitely figured it out. With her pink and silver outfit with mixed matched gold ornaments, bring together a magical and loving wedding.
3) An Aquamarine And Pink Ensemble
          Image Source: tejnookala
                 This destination wedding needs the perfect outfit and the bride made sure she looks stunning on her wedding day. With coconut trees in the background, the bride has picked an aquamarine lehenga and dull pink dupatta for a summery look. She hasn't allowed her jewellery to take centre stage but has focused more on a relaxed beachy look for her special day.
4) A Grey Ensemble
            Image Source: keralaweddingz
              If grey ever seemed like a dull colour to you, this bride has definitely found a way to prove all those stereotypical thoughts wrong. This blue-grey outfit along with some elegant jewellery adds a touch of royalty to the wedding experience. 
5) A Purple Ensemble
Image Source: Nazranaanj
       This couple has taken the matching ensemble trend to the next level. With purple and gold as their main colours, they look immaculate and the beautiful smiles help share the love with the rest of the world. 
6) A Green Ensemble
      Image Source: Thefabapp
                This elegant bride has picked with green for her outfit on her special day. Though we see red predominantly in the background, it complements the green lehenga. Her jewellery adds to the feeling of royalty. With some dewy makeup and flowers in her hair, she has embraced a mix of both traditional and modernity in her wedding look.
7. A Rose Gold Ensemble
                                    Image Source: Bridesofsabyasachi
                   This happy bride has picked a gorgeous rose gold as her wedding colour. This bedazzled look is radiant and a great look for any bride. With some simple jewellery and a bright smile, she has perfected the happy bride look.
So, picking red for your lehenga colour is no longer a necessity. With the wide range of colours in the market, it may be difficult to pick the right colour.
 Let your imagination run wild and don't be afraid to play with colours because it is your wedding day