7 reasons to watch 'Veere Di Wedding', preferably with your girl-squad!
The most awaited 'wedding film of the year' is out now and we obviously had to go watch the first day first show! Scroll down to check out the reasons why you should go watch 'Veere Di Wedding' (preferably with your girl squad) –  
1. The Veeres themselves:
While four friends dealing with life, love, marriage and heartbreak isn't a new concept, what sets 'Veere Di Wedding' apart is – 'the veeres' themselves – the 4 power packed ladies who make their choices, stand by them and have the guts to live their life the they want!
There's nothing holding back these gutsy girls. They giggle and laugh over it and analyse their own situations in life with a certain objectivity, which many may or may not agree with.
2) It's refreshing:
It's refreshing to watch a movie that shows it's leading ladies in not just a progressive light, but also with umpteen flaws and cracks. It gives them the freedom to make mistakes and move on and that's the beauty of it.
3) They have kept it real:
The four leading ladies break the proverbial glass ceiling with their sexy stilettos. We've rarely seen women on screen who are so uninhibited about their life, sexuality and desires.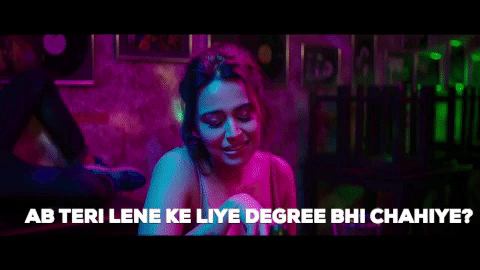 These girls are unabashed using cuss words to express their angst or get high and happy to let their hair down. They don't feel compelled to explain themselves or justify their actions, and that is one of the highlights of the film.
4) The movie is #friendshipgoals:
The best of 'Veere Di Wedding' is the vibe that these veeres share and their conversational chemistry. They are like any four millennial girls who live their life carefree.
5) The dialogues:
There are some superb laugh-out-loud moments though, and some of the best dialogues are delivered effortlessly.
6) The clothes:
There is no way you wont like the clothes these 4 have worn in the movie, be it the causal dresses, the beach wear or the sangeet & wedding wear. Kudos to Rhea Kapoor for doing a FAB job with the leading ladies!
7) Sumeet Vyas is the boyfriend we all need:
Not only is he looking his cute self, but has acted very naturally (like always). In this big career jump movie for him, Sumeet Vyas has proved that he is definitely an upcoming star in the bollywood industry!
What I felt missing though :
I wanted to feel a bit more for every character. A little more detailing in writing, could have added more heart to the story. While the conversations are engrossing, a lot of time is lost in the girls' chatter as the movie doesn't quite move forward.
That aside, the film is still a kind of a therapy or a realisation that all of us need! Life is not a fairytale but that shouldn't stop us from dreaming!