7 Things to keep in mind while getting your lehenga stitched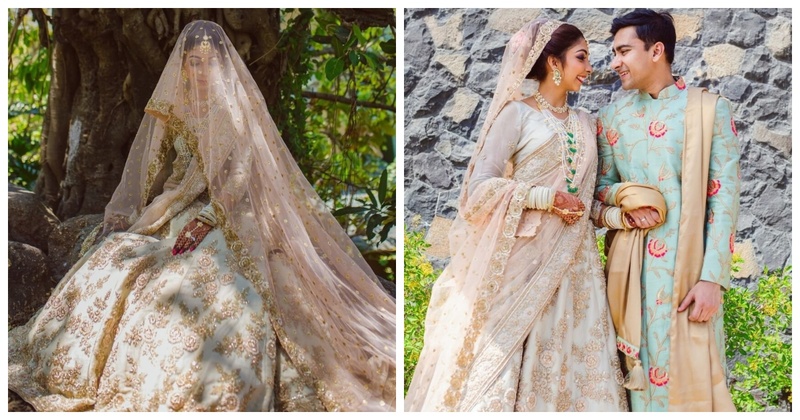 As kids we've made innumerable trips to the darzee so that he can stitch wonders out of pieces of fabrics. In the dawn of readymade garments, people have forgotten the humble masterji who can weave magic with his fingers. Masterji pitaji ki patloon ek bilaang choti bhi kar sakte hai, aur aapke liye lehenga bhi stitch kar sakte hai! Tailor and handmade clothes enthusiasts like my mum will run to the masterji at a drop of the hat.
If you are not very sure about the readymade lehengas and prefer to customise your own, there are 7 things that you need to keep in mind-
1. Blouse Pads
Image source: The Styles by Sha
If you plan to wear a backless blouse or a deep back blouse, it is advisable to ditch the bra. Opt for bra pads instead. Make sure the pad is a perfect fit and is neither too thin nor too thick. Disproportionate pads make for a ugly scene!
2. Avoid Measurements During Periods
During periods our body retains water and makes us bloated. Avoids going for measurements when you are on your periods, it might mess things up!'
3. Heels
Image source: White Frog Productions
Wear heels when the masterji is trying to measure the length of your lehenga. Either wear the heels you intend to wear on your wedding day or another pair of similar height. You don't want to trip cause the lehenga is too long or show off your ankles cause it is a bit too short!
4. Bra
Remember to wear the correct bra when you go for the measurement. A wrong bra can misguide the tailor. Also, if you intend to wear a bra, make sure the length of the back of your blouse doesn't give a peep show of your bra strap/hooks!
5. Margin
Image source: Razz Films
Makeup Artist: Shahid Naar
It is always advisable to leave some margin when getting a blouse stitched. You can always tighten/loosen it as and when needed!
6. Arms & Elbows
Image source: Mahima Bhatia Photography
The arm hole and the elbow fits need to be perfect. Too tight and you'll be super uncomfortable!
7. Fabric
Image source: Zohaib Ali Photography
Bride: Diipa Buller- Khosla
When you go to select the fabric keep some basic things in mind like the weather and time of the wedding. You don't want to wear velvet during hot summer months or sheer nets during the cold winters!
And for the brides who don't believe me when I say it is possible to get a lehenga stitched, meet real bride Taseer! She bought fabrics from a shop in Santacruz and customised her lehenga according to her whims and fancies!
Image source: The Wedding Salad
Have some faith in your tailor and go get your lehenga stitched!