8 Anita Dongre Lehengas that We Loved!
It is no secret that I am hopelessly in love with Anita Donge's bridal couture. The soothing pastel palette, the delicate embroidery and her signature gota patti work makes my heart so happy! She derives inspiration from Rajasthan, the desert land where gota patti originated. 
 Having spent her summer holidays in Jaipur, the influence reflects in each and every breathtaking collection if hers.  I know I am going to be an Anita Dongre bride (if I am successful in robbing a bank!)! So, naturally, the curious cat got the better of me and I decided to check what kind of hole will be created in my pocket. Yes, I found out the price of some of my favourite lehengas!
1. The Calida Lehenga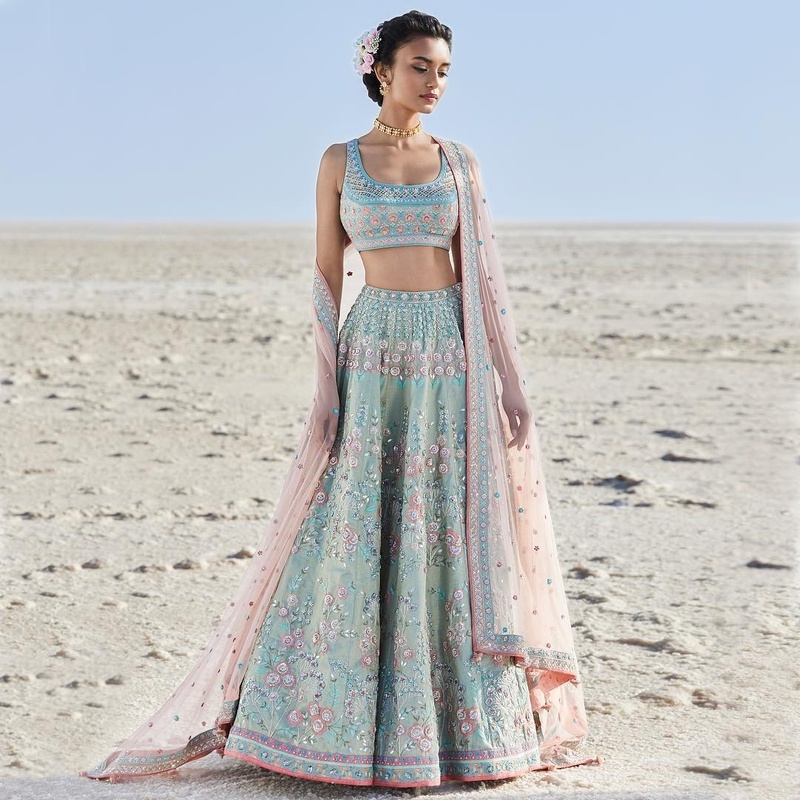 Price: INR 343,000.
This powder blue lehenga with blush pink dupatta is easily one of my favourites. The lehenga is beautifully embroidered, inspired by the flowers that  bloom in Rajasthan's tropical forests.
2. The Briallen Lehenga
Price: INR 320,000
With wild forest flowers embroidered to perfection, this sage lehenga is meant for a royal wedding.
3. The Damia Lehenga
Price: INR 325,000
The Damia lehenga is embroidered with floral motifs onto exquisite silk. Contemporary yet classic!
4. The Innayat Lehenga
Price: 99,000 INR.
A pristine white lehenga with floral motifs. What else do you want?
5. The Nereida Lehenga
Price: INR 280,000
This sunny yellow lehenga with wild roses embroidered onto it is a perfect fit for the sunshine bride! I simply love the border of this lehenga!
6. The Luna Lehenga
Price: INR 280,000
A stunning peach lehenga paired with a sage dupatta is meant for a day wedding overlooking a lake!
7. The Aari Lehenga
Price: INR 350,000
Anita Dongre describes this beautiful lehenga as "a quintessential lehenga with intricately embroidered florals, embellished with pearls, sequins, zari, zardosi and our signature craft gota patti, all wrapped in a delicate peach drape."
8. The Prianka Lehenga
Price: INR 99,000.
Anita Dongre's signature gota patti and floral motifs makes the yellow lehenga prettier!
Brb, going to break the bank!