8 Brides who wore Different but Stunning Chudas on their D-day!
The red or maroon and white or ivory bangles have always been synonymous with Bridal chudas, and our bride-to-be still love them!
However, over the past few years, the traditional chuda has witnessed a change in colors like blue, pink, peach, and many more, to match the brides' needs.
But, that's not all – some brides are setting new trends by ditching the concept of chuda altogether and going in for more stylish, ultra-mod and unique choices. As I sat rummaging through the internet, searching for the best alternatives to chudas, I came across heaps of inspiration. From subtle glass bangles to chunky lac kadas, brides are nailing it with their hatke bangle combinations.
Here's me listing the most alluring alternatives that caught my attention:
1. Silk thread bangles and kadas
Image source: Simmy Makwana
A drool-worthy combination of silk thread bangles merged with humongous temple kadas. Not to miss the guttapusalu work on these exquisite ones. This is a graceful, elegant alternative to the quintessential chuda.
2. Gold OTT bangle combination
Image source: Deo Studios
For all those who think a heavy embellished outfit won't go well with OTT jewellery, think again!
Edgy ethnic kangans, bangles studded with pearls and magnanimous kadas with intricate designs- a combination you should definitely bookmark if you want to go all out with your bridal ensemble!
3. Green and gold bangles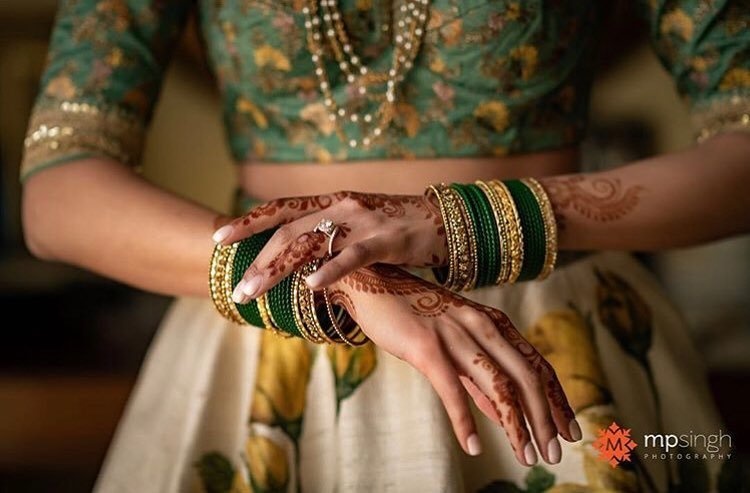 Image source: MP Singh Photography
If you are a bride who likes to keep it simple, sleek and minimalistic, these green bangles combined with blingy gold ones are a perfect choice!
4. Keen on green
Image source: Aanal Savaliya
Keeping it elegant and ethnic, this bride paired her green lehenga with lac kadas and studded 3D bangles!
5. Traditional treat
Image source: Aanal Savaliya
Gold lac kadas with multi-coloured studs, paired with red gota bangles; sandwiched between 3D studded bangles.
6. Alluring metallic bangles
Image source: Black Tie Project
Who wouldn't want to flaunt some edgy and unique jewelry pieces on their D-Day? This bride pairs her blingy lehenga with metallic bangles, and  I can't keep calm!
7. Keeping its super-simple
Image source: Morviimages
Brides-to-be, if y'all are interested in keeping your look ultra-simple, while also being comfortable, opt out for just a pair of kadas.
P.S- When you're bangles don't end up getting caught up with your outfit, you can thank me! 😛
8. Bold and Burgundy
Image source: Hitched & Clicked
How about these bold, burgundy glass bangles sandwiched between traditional studded kadas with intricate designs on them! A great alternative to the red and ivory combo!!
Gals, are y'all ready to go 'Bole chudiyaan, bole kangana?'