8 Budget-Friendly Yet Heartwarming Wedding Favours For Your Guests
Millennial couples have in the past few years established that wedding favours are almost a must to impress your guests, having wedding favours is ultimately your choice. It is not a rule! In fact, it is only a reminder to your guests about how important they were to you and by giving them a small token, it is likely they remember your wedding each time they see or use it.
However, there is one hitch that couples at times complain of!
No brownie points for guessing, it is how expensive these can get especially if you have a massive guest list. It wouldn't be feasible to not give everyone wedding favours, right?
With this dilemma in mind, I have curated a list of reasonable wedding favours that will surely not burn a hole into your pocket. Here you go:
1.Every wedding function has a whole lot of dancing involved. Dancing in your party shoes can be quite tiring and probably painful for some guests, especially women in heels.
Keep comfy rubber slippers as an alternative and let guests carry it back home.
2. For a stationary lover, this is a brilliant idea. Your guests will be reminded of your wedding each time they use this pencil.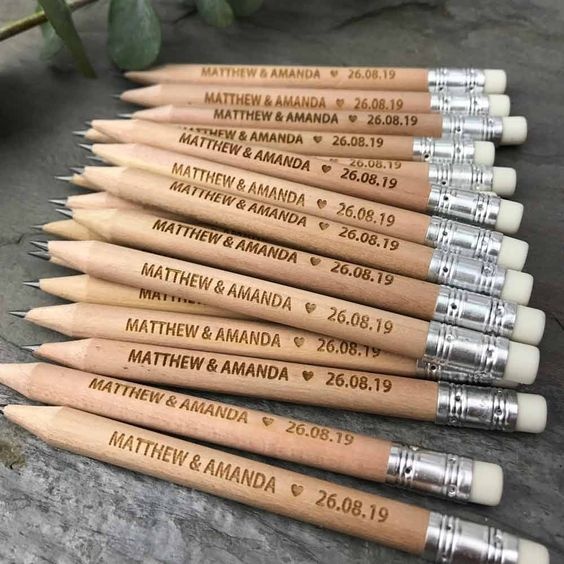 3. A tiny box of personalised seeds with the name of the couple and their date of marriage written on the seeds.
You can plant these seeds in your backyard. I love this wedding favour- it is innovative, personal, and keeps you reminded of the wedding.
4. Guests do deserve a sweet treat for popping by, don't they?
5. Tiny magnets for your fridge- super reasonable and super-cute!
6. A box of fresh mints with the name of the couple and their date printed on it.
7. A heartwarming message engraved on a wooden keychain- a brilliant way to thank the guests and a useful favour too!
8. I find this as the best wedding favour; it could because of the 'Perfect match' written on the box of
matchsticks or probably because it is a reasonable favour, yet so cute.
So, you need no longer fret over your budget. Instead, surprise your guests with these cheaper yet heartwarming wedding favours!