8 Jewellery Sets to Pair with Your Pink Bridal Outfits
The next thing on a bride's checklist after selecting an outfit, is selecting her jewellery. Many factors have to be taken into consideration when selecting your bridal jewellery- budget, comfort, wearability, and undoubtedly the colour of your outfit.
You do not want to be wearing jewellery which fails to complement your attire and results in a disastrous ensemble, do you? From ever-green polkis to edgy diamonds, you have a bevy of jewellery types you can pair with your pink lehenga, to make your bridal look work!
So, whether you want something which blends with the outfit or something which is contrasting, here are some brides you could take inspiration from:
1. This beautiful bride wore a stunning polki set with blue sapphires, emeralds, and cutesy Japanese pearls.
Image source: Safarsaga Films
2. An extravagant Sabyasachi Dil Guldasta lehenga paired with a statement Polki choker, an exquisite haar, traditional earrings, and a classic nath. Not to miss the emerald pearls, which add that bit of contrast!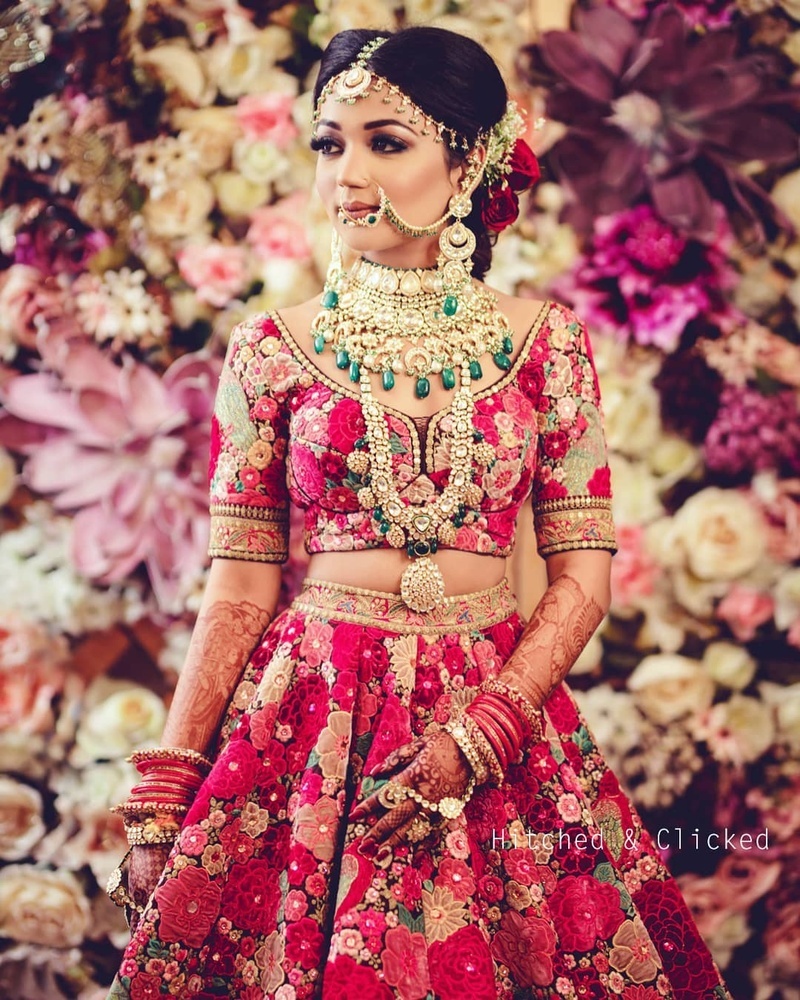 Image source: Hitched and Clicked
3. Amazonites, diamonds, and emeralds make this bride and ace decorator Tanvi Puri's jewellery set a must-have! It goes perfectly well with her light pink shimmery lehenga.
Image source: Hitched and Clicked
4. This bride has paired her heavily embellished rani pink outfit with a poki set which had emeralds and green beads and extremely tiny pearls.
Image source: Simmy Makwana
5. A dramatic gold choker studded with kundans, rubies and emeralds, a matching maangtikka and classic nath– seems to be a perfect combination with the light pink suit.
Image source: Mehar Photography
6. A gorgeous pink lehenga with quirky motifs paired with an unconventional jewellery set made up of polkis, pearls, and emeralds is a perfect recipe for a SUPER-HIT ensemble!
Image source: Hriya Marfatia
7. This bride's ensemble proves that polki and emeralds are a perfect fit with fuschia pink. Not to miss the bride's paanch-lada haar and ethnic matha patti.
Image source: Doll You up by Shradha
8. An offbeat matha patti and a Rajasthani aad necklace- this bride made the right choice when it comes to pairing up her jewellery with the magenta pink outfit.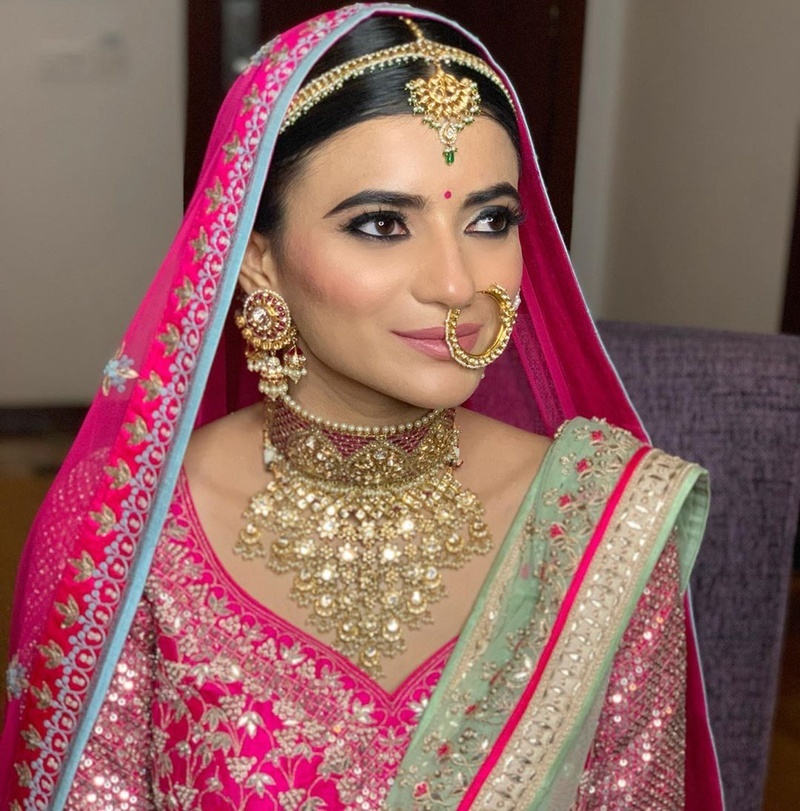 Image source: Doll You up by Shradha
Now, if you have a pink lehenga in mind or if you have already chosen one, you know exactly what to pair it up with.