8 Unique and Latest Bridal Mehndi Dresses You Should Give a Go
Time is ticking, your big day is fast approaching. Pre-wedding functions are about to commence and you've castoff all your energy and super imaginative power in finding your ultimate bridal outfit that now you've totally blanked out on what would look best on you on your mehndi ceremony. So, you've decided to simply go with a lacklustre churidaar and salwar or a traditional lehenga, after all its just a mehndi function and the highlight will be more on your intricate mehndi design rather than the outfit. Right?
Wrong!
If you're already investing ample amount of time and effort into looking drop dead gorgeous on your wedding day, why look pale on your pre-wedding functions?
Lovelies, we are always here to assist you find the best in fashion when it comes to finding an ideal bridal outfit for your pre, during or post wedding functions.
Therefore, on your behalf, we've run high and low researching, to bring to you these 8 unique mehndi outfits that could make you look "chumeshwari"!
Go Flirty – Short or Half Skirt Lehenga
Mehndi ceremony demands you to show off that gorgeous bridal mehndi design, so why not do it in style. A long flowing lehenga will of course be comfortable and traditional, but it will involve you to lift and have someone else hold the flair while the henna work on your legs is being done. Why should you or others bear the brunt, instead of enjoying the function? Go short and flair and flaunt those sexy legs while you get your mehndi done. You could have the same kind of lehenga design on it, only thing this will be shorter, chic and flirty. Give it a try! 
Go Sexy – Slitted Lehenga
Not to bold to carry off a short lehenga, fine! Keep the long length and give it a sleek slit. Sideways or front slits either way, keep it classy. This will let you simple slide your gorgeous legs out of the slit, rather than holding it up all the while.
Dare to Wear – Mix and Match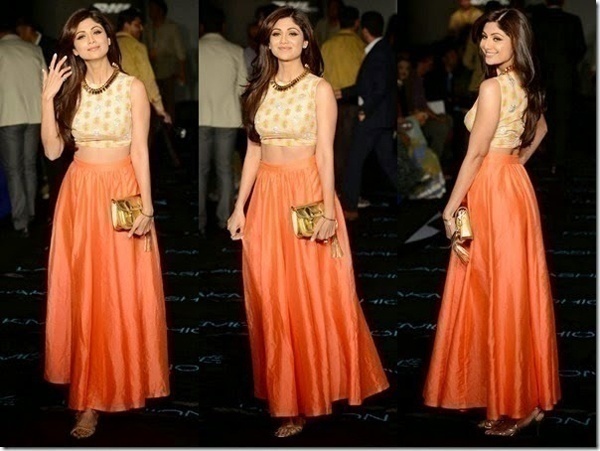 With the above two style suggestions, by now you must've got a fair idea that you don't need to be all traditional and a plain-Jane when it comes to dressing up for your pre-functions. Go rustic or bold; bindass, as we like to call it with classy options in mehndi dresses for brides. Experiment with your look with a mix and match style to prove to the world that you're no less of a style diva. Wear a crop top with a lehenga or a dhoti salwar teamed with a high low or jacket style kurti to simply amplify your look. One of the most comfortable of all fashion styles, a dhoti salwar is just perfect to get that offbeat and uber cool look.
Revive an Old Fad – Sharara
"Sharara, sharara, main hu ek sharara" ok sorry for that, but the word just makes that song pop into our head. We recently spotted Tabu donning the sharara like an empress and thought it would just look impeccable on you. Revive this once-upon-a-time fad by wearing it at your mehndi ceremony.
Don a Man's Style like a Boss – Sherwani Kurta with Lehenga or Parallel Pants
Yes, we know you'd be thinking sherwani kurtas have long sleeves, what about the arm length mehndi you ought to smear? To that we'd say, who said your sherwani kurta won't look dapper when sleeveless. Team them up with a lehenga or a 3/4th parallel pants to give you a lean posture and head-turner look. 
Be a Trendsetter – Straight Fitted Kurta with above the ankle pencil pants
Just like three fourths parallel pants you can wear ankle or slightly above the ankle length pencil pants, which you can roll up while having your mehndi done. You can team them with a straight fitted kurta to achieve a lengthy posture and look debonair.
Make Cool Casuals Look Elegant – Cape Style Kurti with Hot pants
Want to stay chic and casual on your mehndi day then you could opt for a beautifully embellished cape style kurti and team it up with whatever you're comfortable in. Be it a skirt, jeans or hot pants to raise your oomph factor.
If these cool and trendy ideas and inspirations have delighted your bridal musings, start shopping! But remember to pick colours that suit your skin tone and a fit that hides your flaws. After all the spotlight is on you, steal the show.
Before you rush to shop for these latest bridal mehndi dresses, take a look at our online shop for bridal wear available at great prices.