8 Visa Free Destinations for your first or umpteenth honeymoon!
We Indians love the word 'free'. Phir woh 'visa free' hi kyon na ho! Visa free countries are relatively cheaper to travel to and make a great destination for your honeymoon. Check out these 8 honeymoon destinations that either demand visa on arrival or don't require one till a stipulated date.
1. Dominica
If you prefer tranquility over parties and appreciate nature, Dominica is the place for you, my friend! Dominica is one of the most under-appreciated destination for travel. Which means you have plenty of privacy there! The waterfalls, national parks and the Boiling Lake are world famous and must visits in Dominica! Dominica breaks all the stereotypes about the Caribbean Islands.
Visa Status: Visa on arrival.
Things to do: Visit the boiling lake, Wotten Waven, hiking, etc.
Pro tip: Soothe your sore muscles in the natural hot springs of Wotten Waven.
2. Fiji
Fiji is an archipelago of more than 300 islands. Fiji calls out to water-babies from all over the world each year and flaunts its reefs and lagoons (some still undiscovered). It is the unrivalled destination  for scuba diving and receives the maximum number of divers than any other in the world. Experts can even sign up for the shark dives!
Visa Status: Visa upon arrival.
Things to do: Scuba diving, snorkeling, kayaking, etc.
Pro tip: The country works on 'Fiji time'. They are super relaxed and stress free. Don't get annoyed when your food reaches late!
3. Turks & Caicos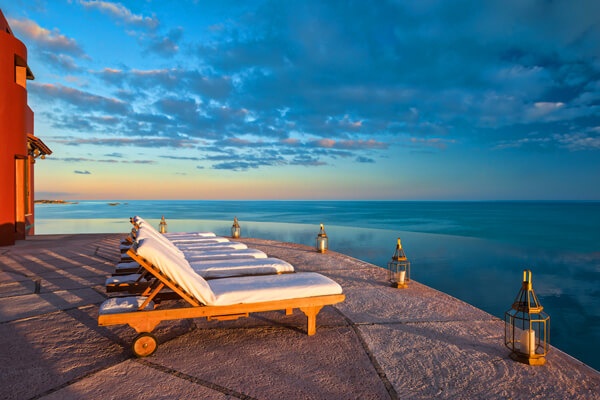 Bahamas is an exotic destination by itself but Turks and Caicos are something entirely different! You know what else Turks and Caicos has? Adult hotels and nudist beaches! It's a kinky place, kids! Psst..want to know about other kinky places?
Visa Status: Visa free upto 30 days.
Things to do: Swim with dolphins, trek and just sunbathe on their beautiful beaches.
Pro tip: Please please read about the nudist beaches before you head to a non-nudist one thinking that all beaches are!
4. Vanuatu
Vanuatu is a quaint tropical island unexplored by many. They have some of the friendliest locals who treat you like their own. Vanuatu has the world's only underwater post office! It is also the place where bungee jumping originated.
Visa Status: Not required for upto 30 days.
Things to do: Diving, snorkelling, bungee jumping, etc.
Pro tip: Local customs are strictly followed and people are religiously sensitive. Do not wear beachwear anywhere else than the beaches.
5. Bolivia
If I had to select a few words to describe Bolivia, I would say- diversity of landscapes, stunning natural beauty, rich culture and traditions, exclusive wildlife and friendly people. There! Do I need to state more reasons?
Visa Status: Visa on arrival.
Things to do: Explore nature, interact with the locals (try the local food!) and just be in awe of Bolivia's hospitality!
Pro tip: Try to coincide your trip with South America's renown festival Oruro Carnaval.
6. Cook Islands
Often called as the 'best kept secret' in the Pacific Ocean, the Cook Islands make for a perfect hideout. You'll be floored by its natural beauty and warm habitants!
Visa Status: Not required for upto 31 days.
Things to do: Snorkelling, fishing, surfing, etc.
Pro tip: Not many people know about this place..which means ample of privacy (wink wink, nudge nudge!)
7. Madagascar
The first Madagascar movie had me convinced that I want to go there. If not for it blue waters, sandy beaches and lush green fields, then definitely for the cute lemurs! You can opt for something different as  Madagascar offers many different opportunities for volunteering and giving back, such as wildlife conservation with Lemurs, construction or social work. Do let us know if you stumble across a wild party of animals singing and dancing!
Visa Status: On arrival for 30 days.
Things to do: Kite and windsurfing, kayaking, deep sea fishing and wildlife tour.
Pro tip: Do try their home brewed rum!
8. Bhutan
The happiest country in the world, Bhutan as an international honeymoon destination will have you smiling widely instantly. The picturesque valleys and A1 hospitality will make your day. Cheese is one of the staples there so don't forget to try the cheese chilli curry with rice!
Visa Status: Not required. You need only your passport and voter ID card.
Things to do: Meditate at the monasteries, mingle with the locals and try the local cuisine!
Pro tip: Spring is the best time to visit this quaint place.
All free things are amazing..just like these visa free countries for your honeymoon!