The Kinkiest Honeymoon Destinations around the Globe!
We Indians are one of the horniest people and our 1.3 billion and counting population speaks for itself! There is no denying that we like it kinky, baby! Honeymoons are meant for sex but you ever thought about going the extra mile? There are certain hotels around the globe that provide you with some favours and some places where partial or full nudity is permissible. Don't shy away now, I know you're already excited! I got 10+ such places for you to recreate 50 Shades of Grey in your way!
1. Hedonism 2, Negril
Fancy nudist beaches, skinny dipping, hot tubs and jacuzzi? Then Hedonism || in Negril, Jamaica is the best place for your honeymoon. They also have a "romping shop playroom". Alas, public sex is not allowed!
Know more about Hedonism ||  here.
2. Castle Milkersdorf, Germany
Love frivolous activities? Then head to Castle Milkersdorf in Germany! Castle Milkersdorf is famous for its "flexibility" and swinger parties. If you and your partner sway in that way, you're going to experience one hell of a party! During Castle Milkersdorf's exclusive erotic parties, guests are encouraged to watch, be watched, and get to know other guests in a purely sexual setting. The resort's approach to all out sex parties guarantees that guests have the time of their life, and push their inhibitions to the limit.
Know more about Castle Milkersdorf here
3. Cove Haven Resort, Pennsylvania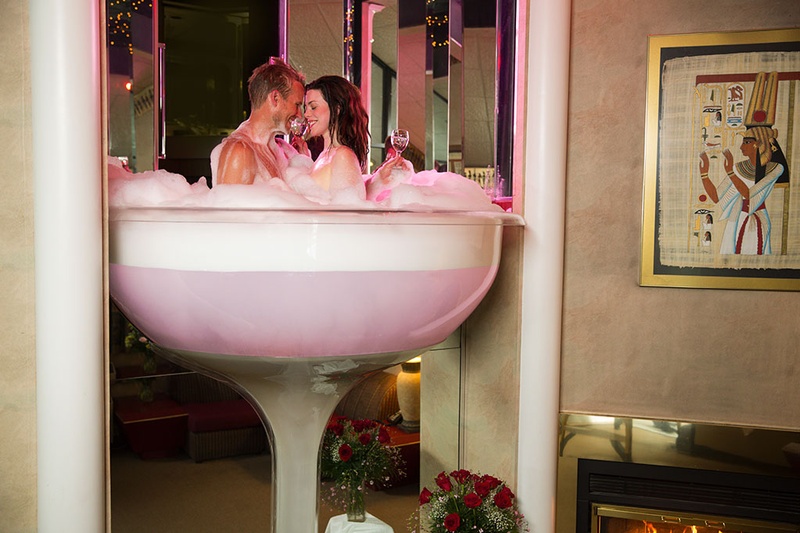 Empty your pockets my dear, for Cove Haven's lavish suite is going to make you drool! The champagne suite tower has a 7 foot tall champagne glass shaped tub and also in an indoor heart shaped tub! You can also have a secret gift package delivered to your room!
Know more about Cove Haven here.
4. Desire Pearl Resort & Spa, Riviera Maya, Mexico
Desire Pearl Resort designed in a way to provide you with maximum pleasure and sexual satisfaction. In some parts of the resort clothing is optional…pssst..public sex is also allowed! They also have a 'Fantasy Menu' which can be designed according to you. Sone pe suhaaga!
Know more about Desire Pearl Resort here.
5. The Standard Spa, Miami
Wish to take a break from your routine life? The Standard Spa in Miami is an adults only retreat to heighten your senses with the variety of spas that they offer. Indulge in the exotic treatments and let yourself go!
Know more about the Standard Spa here.
6. Village Naturiste, France
Hailed as the capital of nudism,Village Naturiste in France doesn't have a nude beach but has an entire town where nudity is allowed! All your steamy adult sex vacation dreams are going to come true!
Know more about Village Naturiste here.
7. Palms Casino Resort, Las Vegas
Las Vegas is notoriously famous for being the 'sin city'. Palms Casino Resort's erotic suite is full of sexicitings stuff! Rotating bed, mirrored ceilings (woaah), stripper poles, etc!
Know more about Palms Casino Resort here.
8. Turks & Caicos, Bahamas
Bahamas is an exotic destination by itself but Turks and Caicos are something entirely different! Turks and Caicos has many adults only hotels and nudist beaches. The  Caribbean never fails to surprise!
Know more about Turks and Caicos here.
9. The Drake Hotel, Toronto
Canada is known for it kind hearted and humble people. Don't let their soft hearts fool you! Canadians are quite kinky themselves. The Drake Hotel in Toronto is famous for its sexy afterparties and the X Club. The hotel features an in room pleasure menu, bondage tape, vibrators, etc.
Know more about Drake Hotel here.
10. Temptation Cancun Resort, Mexico
Trust Mexico when it comes to keeping it sexy! Temptation Cancun Resort is world renown for their theme nights, afternoon activities and topless spaces.
Know more about Temptation Cancun Resort here.
So my kinky children where do y'all plan to go?