A friendly bra guide for all types of blouse(s)!
Brides already have hundreds of things running through their minds. They become slightly paranoid and think everything is going to go wrong at their wedding. We asked our readers about their apprehensions and a few of them seemed to be common to all. The 2 things that scare brides the most are –
a) What if I suffer from a wardrobe malfunction?
b) What if my makeup runs out and I look like a racoon halfway through the function?
Let's tackle the former part in this blog. The latter deserves a separate blog altogether! Wardrobe malfunction: anything that causes distress to you cause of your outfit. Like a rip in the stockings, a popped button or two, a weird boob poking out (I mean..we've all been there!) Chances are that you are either wearing a lehenga or a saree at all the wedding functions. Did you know that there are right types of bra for every blouse out there? Bamboozled? I was too!
If you think it doesn't matter and that you can wear your regular bra under every blouse..girllll you are wrong! But luckily for you, I, your fairy godmother is here to educate you about the different kinds of bra that you should wear under different blouses!
1. The perfect bra for an off – shoulder blouse!
When you feel like wearing an off shoulder blouse, wear a strapless bra under it. Don't be under the impression that strapless bra don't support your breasts well. The ones from Clovia are excellent and do their job well!
2. The perfect bra for a push-up blouse
Push up blouse but sagging breasts? Nah girl, you gotta wear the push up bra! Uplift your gallsss!
3. The perfect bra for a heavy work choli!
4. The perfect bra for a wide neck blouse!
A balconette bra is the perfect fit for your wide neck blouse!
5. The perfect bra for a low neck blouse!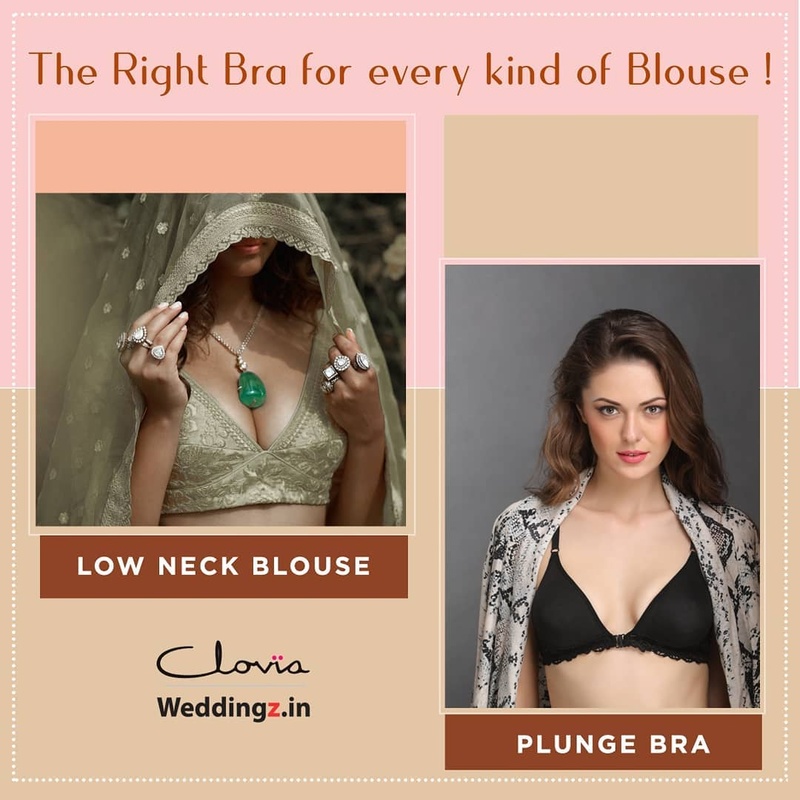 You don't want your bra to play peek a boo, do you? So wear the plunge bra na!
6. The perfect bra for a backless blouse!
No brainer, this one!
Next time someone asks you "choli ke peeche kya hai", show them this blog!