The steps you hear in your subconscious are of your birthday approaching. So, do you have a plan on how to make it special this year? Sure-shot you have that covered. What about the venue? If you are sketching everything from scratch to make it unique from not only your peers but also from your previous occasions then instead of going to your regular pub, you should think out of the box. Well, this blog would aid you as it contains the most hip and happening birthday party places in Guwahati.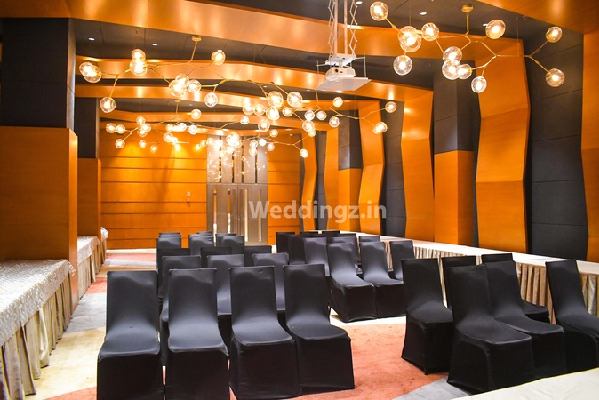 The Ornate Hotel, Guwahati is among the best birthday party places in Guwahati. The venue has a couple of party halls with a gathering capacity of small to midsize functions. It has a great staff that would aid you in making your bash a memorable one. The decor team decorates the venue to improve on the aesthetics and thus augment the happy and celebratory vibes. The expert chefs at this star rated hotel would serve multi-cuisine delicacies in both vegetarian and non-vegetarian viands. You don't need to worry about your guests arriving for the function from far off places, as the venue also provides comfortable accommodation.
The Ornate Hotel, Paltan Bazaar, Guwahati
Address- The Ornate Hotel, Dr. B Borooah Road, Opposite Nehru Stadium, Ulubari, Guwahati, Assam 781007
Key Features
Enormous parking lot with valet facility
Multiple party halls
Lodging amenities
Vivanta Guwahati on GS Road is among the top birthday party places in Guwahati. It is considered to be one of the best retreats in not only Assam but also the entire seven sister states. It offers world-class amenities without losing its local flavor. You are allowed to decorate the venue by hiring top-notch decorators of your choice. Your guests would be served with multi-cuisines food platters of both vegetarian and non-vegetarian viands. You may also add alcoholic beverages to the existing menu to the cheers of your accumulated guests. It has plenty of rooms to let your guests relax and rejuvenate. 
Vivanta Guwahati, GS Road, Guwahati
Address- Vivanta Guwahati, Nikita Complex, GS Rd, Khanapara, Guwahati, Assam 781022
Key Features
Ample parking space plus valet facility
Plenty of rooms for accommodation
A cluster of party halls
Hotel Parnil Palace is among the popular birthday party places in Guwahati. It is an incredible spot to have your loved ones gather and celebrate your birthday bash. It has an extraordinary vibe and the in-house stylistic decor group can additionally enrich the setting as per your specifications. Besides, it has an in-house catering team to serve your guests with delightful multi-cuisine rarities. The setting has an intriguing atmosphere which causes everybody to feel invited. It has several party halls plus a stunning terrace for you to play host to your guests. It does have several rooms that will come handy for your guests who turn up for your function from other cities.  
Hotel Parnil Palace, Zoo Road, Guwahati
Address- Hotel Parnil Palace, Zoo Rd, Tiniali, Ambikagirinagar, Guwahati, Assam 781005
Key Features
Indoor catering and decor for enhanced services
Ample parking space plus valet facility
Rooms for lodging amenities
Hotel Awesome Palace on GS Road in sync with its name is one of the budget birthday party places in Guwahati. It is a perfect venue to host your birthday parties and other ceremonies. It is located on Hanuram Boro Path which makes it easily accessible for all to reach there. It has an expert team of caterers who will pamper guests by serving luscious vegetarian and non-vegetarian food platters. The lavish décor of the venue gives a special touch to your big day. It gives you the freedom to get your own caterer and decorator from outside to customize your festivities. It has halls that are ideal for small and medium-sized functions. Subtle and charming, the halls have furnished decor, lovely lights, and ooze warm vibes. 
Hotel Awesome Palace, GS Road, Guwahati
Address- Hotel Awesome Palace, Hanuram Boro Path, Opposite Passport Seva Kendra, Ganeshguri, Walford, Guwahati, Assam 781007
Key Features
Multiple party halls that can be attached for convenience
Open catering and decoration
Lodging amenities
Set in a tranquil sector of Assam, the resplendent Radisson Blu Hotel Guwahati is among the most beautiful birthday party places in Guwahati. This hotel boasts of stellar amenities and offers scenic views of the surrounding verdant hills. It rests at a serene location outside of the city bustle. Its convenient location on NH-37 makes transportation around the city a breeze with easy access to Lokpriya Gopinath Bordoloi International Airport (GAU) and the nearby railway station. Your guests can explore the local wildlife at Deepor Beel or visit cultural sites including Hindu temples and museums like Kamakhya Temple, Purva Tirupati Shri Balaji Temple, and Sankardev Kalakshetra. It has plenty of spacious rooms and suites to accommodate your guests and you.
Radisson Blu Hotel, Tetelia, Guwahati
Address- Radisson Blu Hotel, NH37, Gotanagar, Tetelia, Guwahati, Assam 781033
Key Features
Sprawling lawns plus multiple banquet halls
Spacious rooms and suites
Well-connected locality
Now that you have checked out the premier birthday party halls in Guwahati, which one do you think you are heading to? Mention it in the comments section and the corresponding justification. In case you are also seeking a venue for an upcoming wedding, feel free to check out the weddingz.in portal.