A Love-Filled Nikah held at ITC Fortune Landmark, Indore
How adorable is it when couples incorporate elements from their love story into their wedding? A beautiful Nikah held at ITC Fortune Landmark, Shehneela and Shehzaad's first interaction being 36,000 feet above ground level, their connections being found through Orkut and Facebook – this .couple's story redefined our faith in love and even in technology. We like to think of their love story as a typical KJo Rom-Com. After their first interaction on that plane, they lost all kinds of contact but technology and the love-gods were weaving up the most beautiful story! They even had the negatives of the Bollywood love story – even though they were from the same religion, different castes – the question of marriage was a little difficult but love pulled them through! Their destination wedding held at ITC Fortune Landmark was their greatest testament of love 
Shot brilliantly by Amour Affairs, who captured their fun-filled, happiness-filled, love-filled communion of two in all its beauty!
What did you enjoy most about planning your wedding?
More than the planning we enjoyed every moment of the overall experience. Right from getting consent of our parents , to deciding dates , shortlisting venue , getting a pre-wedding shoot , conceptualizing & customizing our wedding invites , Inviting everyone personally , Exploring & ideating our wedding outfits , Pre marriage functions at our respective native , ensuring hospitality for our family & friends of highest order & enjoying every bit from start to end. Though no one thing can be singled out but funniest memory from our wedding was delay due to travelling from Groom's end which literally meant all 3 functions were conducted back-to-back literally leaving no room for us to take a breather in between! 
The Wedding Invites!
We HAD to mark out a special section for Shehneela and Shehazad's invites not only because of their extra quirk factor but also because of how they aced the personalization game! They decided to perfectly incorporate their first interaction with each other in this wedding card designed by Pink Whistle Man. Quirky quotes matched so well with the wedding events of this beautiful couple – this is one wedding idea you should definitely steal!
The Engagement
Shehneela is the best thing happened to me in my life. Marriage to me is a friendship wrapped & labelled with love, care & compassion between two souls till eternity. Sailing through toughest tides & times together which makes the ride of our life less turbulent & tiresome. – Shehzad.
The engagement, also called the ring ceremony was kept simple and fresh. A stage decorated with clustered flowers in hues of red, pink and white contrasted beautifully with bright yellow drapes. Both Shehneela and Shehzaad, or as their friends called them #ShinyWedsShazy had just rounded up their first lap in their destination wedding held at ITC Fortune Landmark, Indore and were ready for the final one!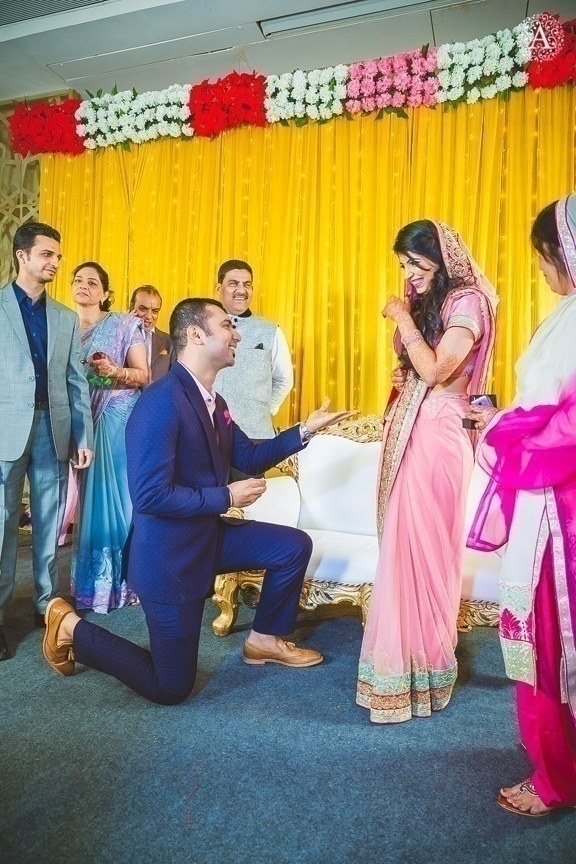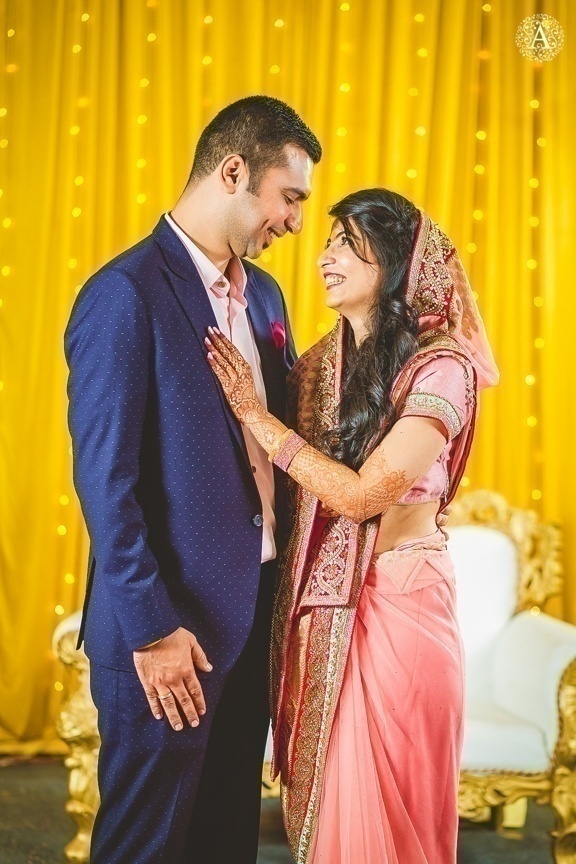 The Nikah
A traditional Nikah with a gorgeous bride in gold and groom in marsala. Shehneela picked a wedding saree which was filled with understated elegance. No over-the-top embroideries or extravagant sequins, her gold and beige net saree had a bold border and delicate gold buttis all over the pleats. While this dapper groom was seen in a marsala velvet sherwani which drew a tasteful combination between this bride and groom. 
Looking back, was there a moment that you remember from your wedding that stands out as the most wonderful and cherished moment of the day?
Priceless moment of "Kabool Hai" getting pronounced which not only formalised our marriage both also both families got married to each other for life!
The Reception
From childhood to adulthood you do attend umpteen weddings imagining yourself on your wedding Day with respect to Looks , Hair , Make-up , Outfit , Colour  theme , Dos & Don'ts surfacing out of individual experiences throughout your life but our approach to getting out Wedding outfits was pretty simple. We wanted to be comfortable in our own skin & clothes we were to put on! We both have affinity towards classy & elegant stuff which we can carry to the best. – Shehneela
Shimmer was this bride's A-game and she pulled it off like a pro! An ombre gold and sky blue lehenga with floral and leaf patterned embellishments was an ideal outfit choice for their open-sky evening reception. 
Advice for Brides-to-be 
Do not panic. Its your day. It's the day you have been waiting for. Your attitude should be come what may 😉 I have tried it myself and believe me that really helps. Leave aside all the worries and smile to the fullest because that's what is going to make you look gorgeous. Make prior bookings for Mehendi, Makeup and pre-bridal to avoid any last minute hush hush. Do not do any kind of dieting. Have plenty of water eat nuts, ghee, maa ke hath ka khana and whatever your favourite dish is.
Photographer – Amour Affairs
DJ and EMCEE – ITC Fortune Landmark, Indore
Hair and Makeup –  Shivani, Colors Salon, Usha Nagar, Indore
Bride – Kalki, Mumbai
Groom – Akhilesh Pahwa, Delhi
Decorator – ITC Fortune Landmark, Indore
Mehendi – Monica, Mangal City
Caterer – ITC Fortune Landmark, Indore