A Wedding-Day Timeline for Brides Who Want to be Stress-Free
Planning a 'Big Fat Indian Wedding' is no mean feat, is it? 
It is a mission and a complicated mission. A mission which can very well fall apart and crumble if not executed to the 'T'. This means everyone who has been given the responsibility to carry out any task, has to carry it out to near perfection. None of this will hold any value if there is no POA or Plan of Action.
Now, as a to-be-bride, you may think you will have a whole lot of things to do on your plate. While you have spent the last few months in stress- sorting out dates, shopping for outfits and matching jewellery, meeting vendors, food tasting, venue recce, sending out invites, makeup trials, etc, you do deserve a hassle-free and zero-stress D-day! In my opinion, it is best to take one step at a time and simplify things for yourself by delegating work to siblings, relatives, and friends.
Here is a personal wedding day timeline for you to follow, sans any error, to ensure a smooth affair, coupled with you enjoying yourself rather than stressing:
7 hours before the wedding
Be alone for a while. Let it soak in that you are going to tie the knot soon, actually pretty soon. Don't bother about preparations at this hour. Mentally calm yourself and think positive. If you feel nervous it is best to call up your to-be-husband as he is the only one who will be able to relate to you at this time.
5 hours before the wedding
It is best if you eat something as once the makeup starts, it will be cumbersome for you to eat and you will not even have enough time on hand. East something light like milk and cereal or fruits or a sandwich.
4 hours before the wedding
It is time for the makeup artists, stylist, photographers, and videographers to come in. Make sure you have a couple of close friends with you at this time. Having friends near you can help you lighten up and you can ask them for any help if required.
3 hours before the wedding
Take a quick update on everything through your friends or on call. Make sure everything is in order. Also, keep yourself well hydrated.
2 hours before the wedding
You should be completely ready by now. This will make it easier for photographers to spend more time with you for better bridal portraits. Keep a 15 minute buffer period before getting ready, in case the photographer wishes to click your wedding outfit and the jewellery pieces separately.
Image source: Hitched and Clicked
1.5 hours before the wedding
Make sure all your family members are ready. This will give you sufficient time to click pictures with them as well. Even if they are busy with work, try to gather all of them for a bit.
Image source: Lucier Photography
30 minutes before the wedding
Take a loo break, drink something, and check if you're makeup and outfit is alright. Fix whatever possible. It is almost time for you to walk under that phoolon ki chaadar and reach the mandap, so ensure your Dad, brothers and other members who will walk with you are ready.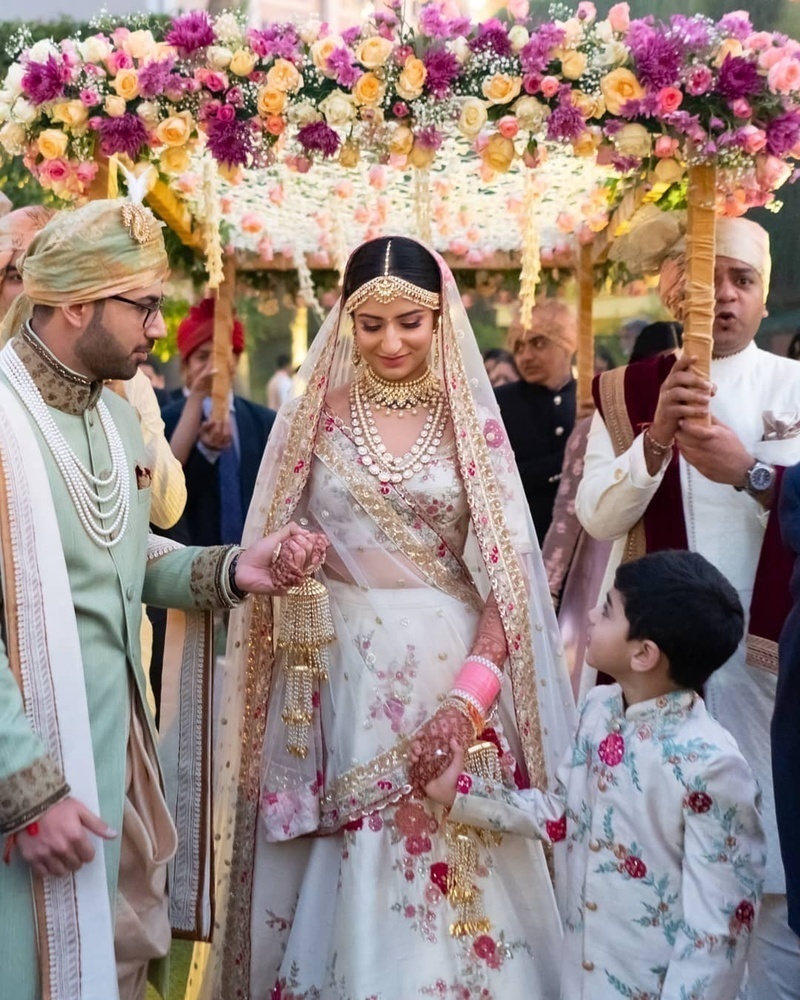 Image source: ShutterDown photography
Shaadi-time
Congratulations on becoming Mrs from Miss! You are finally married and your wedding is a huge success.
Checklist before making your timeline:
– If you are not getting ready at the venue, don't forget to include your travel time.
-Be ready for any delays as delays are inevitable. Keep a 15 mins buffer time for everything. 
-Make sure the baraat is on time. Many weddings are delayed solely because of the baraat being late.
-Don't create the timeline on your own. Make sure you involve your parents, in-laws, and of course the groom.
-Have backups for everything.
Lastly, breathe in and breathe out.
Cover image source: Plush Affairs