Since independence, Odisha has made major strides. Once part of the Bengal province under British governance, it is one of the most rapidly progressing states in the eastern part of India since its independence. In sync with its economic progress, society has embraced liberty, especially the youth. Not many years back, most youngsters use to opt for arranged marriages at an early age as per the guidance of their parents. Today, in sharp differentiation, just 20 percent of youngsters wed before they arrive in their late twenties. In contrast, nowadays they leave their homes and set up themselves as independent people in metro cities like – Kolkata, Mumbai, and Delhi. They tend to focus on their careers till the time they meet that exceptional individual with whom they wish to share their future. Two "I's" become a "We." And in words of the contemporary award-winning American author – "A great marriage is not when the 'perfect couple' comes together. It is when an imperfect couple learns to enjoy their differences." So, if you have reached that stage in your life and are eager to say "I do" then here are the wedding venues in Odisha for you to have a resplendent nuptial ceremony.
Akin to its position on the list, The Presidency in Nayapalli is amongst the top wedding venues in Odisha. The banquet facility here comprises of a cluster of banquet halls, making it simply perfect for wedding ceremonies and receptions. One of the most preferred hotels in Bhubaneswar, it is designed to flaunt astounding architectural features. This Bhubaneswar hotel emanates immense warm vibes to comfort your guests with its magic of generosity and hospitality. The juxtaposition of artistic interior works alongside the architecture makes it an extraordinary venue to have your D-Day celebrations. It leaves no stone unturned to please your guests. Your outstation guests arriving to attend your glorious functions in Bhubaneswar will avail the opportunity to stay in one of the luxury rooms and suites.
The Presidency, Nayapalli, Bhubaneswar
Address– The Presidency, 1471/A, NH16, Near ISKON Temple, ESIC Quarters, Nayapalli, Bhubaneswar, Odisha 751015
Key Features
Ample parking space plus valet facility
In-house decor and catering
A cluster of banquet halls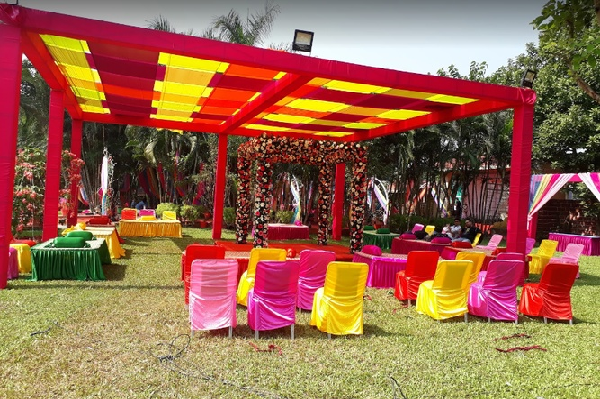 Surya Mukhi Resort, considered as one of the most beautiful wedding venues in Odisha, is an excellent setting for wedding festivities. This setting can be considered as your one-stop destination for all your wedding functions, engagement ceremonies, and receptions. The sprawling lawn can without much of a stretch suit enormous social occasions. The dazzling stylistic theme of the setting gives an uncommon touch to your D-Day. Innovative decorators are provided by the venue itself to make your occasion all the more optimal and opulent. You can procure external food providers to treat your guests with an illustrious dining experience, comprising of multi-cuisine delights. Situated close to Infocity Square this site is easy for your invitees to drive in.
Surya Mukhi Resort, Chandrasekharpur, Bhubaneswar
Address– Surya Mukhi Resort, Infocity Ave, Infocity, Chandrasekharpur, Bhubaneswar, Odisha 751016
Key Features
Multiple sprawling lawns plus a colossal banquet hall
Colorful and fabulous furnishings
Open decor
Hotel Hindustan International, Bhubaneshwar, is one of the prominent luxurious wedding venues in Odisha. Reckoned as one of the best wedding hotels in Bhubaneswar, it scores high on all the standards of luxury and comfort. While at the same its pricing is reasonable and affordable to help tourists and denizens alike to enjoy its welcome. It has multiple lawns plus several banquet halls for your guests to gather and be witness to your nuptial ceremonies. It is equipped with modern amenities like luxurious rooms, a lounge bar, restaurants, cafe, and hence organizes delicious feasts to treat your guests. The hotel is located in the epicenter of the city with easy access to both Airport and Railway station making it a prime destination for your big day.
Hotel Hindustan International, Laxmisagar, Bhubaneswar
Address– Hotel Hindustan International, A-112, Shriya Talkies Street, Janpath Road, Opposite ICICI Bank, Unit 3, Kharabela Nagar, Bhubaneswar, Odisha 751001
Key Features
Multiple lawns plus several banquet halls
Luxe lodging amenities
Lies in the city-center
Hotel Mahabir Sheraton is among the popular wedding venues in Odisha gracing the Chakra Tirtha Road of Puri. It has multiple banquet halls plus a stunning terrace for you to welcome your guests. The administration staff comprising of experienced professionals would engage with your guests in a cordial manner. The closeness to all significant business places such as shopping centers would let your guests an opportunity to roam around and enjoy. It also lies close to the Jagannath temple and thus can also be used as a pilgrimage paradise by the more religious section of your guests.
Hotel Mahabir Sheraton, Chakra Tirtha Road, Puri
Address– Hotel Mahabir Sheraton, Chakra Tirtha Road, Badasirei, Puri, Odisha -752002
Key Features
Multiple banquet halls plus a stunning terrace
Open decor and catering
Lodging amenities
Last but not least by any means Hotel Royal Suites in Laxmisagar is one of the best wedding venues in Odisha. The combined capacity of the banquet halls can be used to host relatively large-sized gatherings. It has a cozy and cheerful ambiance that makes your special day even more remarkable. You can avail of the special catering and décor services provided by the hotel and make your event more majestic and extraordinary. The venue is very well known for its food quality, and it also allows you to add alcohol to the menu. Located at a very prime location, reaching the venue won't be a problem. Along with that, the venue ensures you impeccable lodging services and courteous staff at your service.
Hotel Royal Suites, Laxmisagar, Bhubaneswar
Address– Hotel Royal Suites, H.B Colony, Juhi Block 7, Satya Nagar, Bhubaneswar, Odisha 751007
Key Features
Marvelous ceiling with colorful light fittings
Top-notch amenities
Prime locale
After going through the aforementioned wedding venues in Odisha, which one do you think you would like to head to for your wedding festivities? Mention it in the comments section. Good luck for your Big Day.